CFB – Expert Recap and Grades – Week 7 (Oct 12)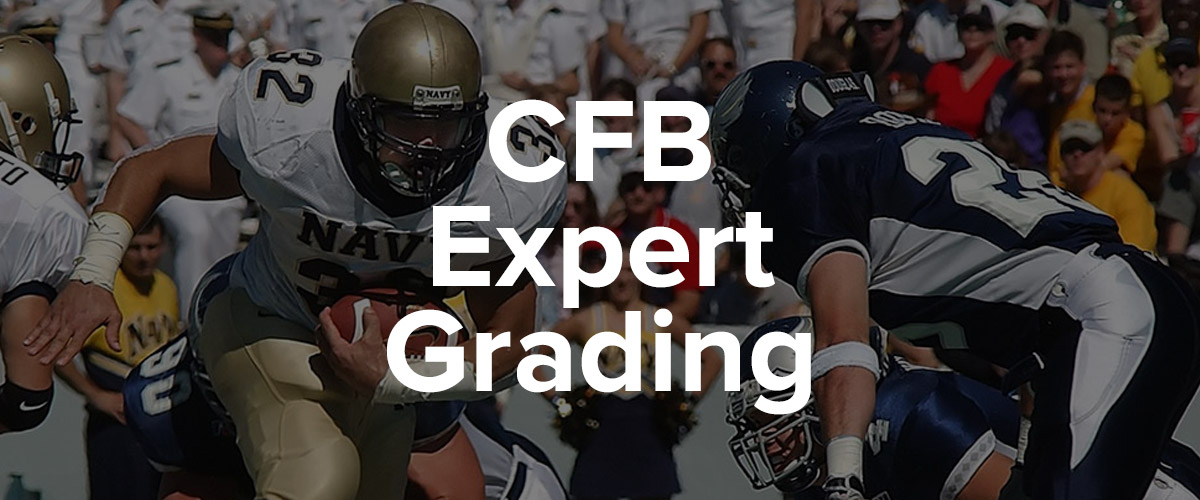 CFB DFS Expert Recap Week 7
Welcome to our CFB DFS Expert Recap for Week 7. Week 7 saw our in-house Single Pick jump into 1st place by itself. It was, by far, the most intriguing week of games we've had so far. This week doesn't quite have the marquee matchups but everything is interesting from here on out as we grind our way towards the end of the season. Be sure to check out our full CFB Expert Grading and make sure you're reading our weekly Consensus article which is typically posted around 9am CT on Saturday mornings.
As a reminder, most of our CFB content will be part of our premium membership. Now is a great time to sign up for our premium content so you are all set for the football, CFB and NFL, season! Our premium membership will get you access to all of our content!
Be sure to come back each week for a review of the Industry Consensus picks highlighting the top (and bottom) grades for the week and season from the experts we are tracking.
On to the Week 7 grades, class is in session!
Consensus Recap – Week 7
The Consensus stayed consistent with last week. A 3.45 score positioned the Consensus in 13th out of the 22 experts that submitted selections.
Week 7 (Score: 3.45 / Rank 13th out of 22) – The Consensus had a nice week last Saturday. One third of the 33 Consensus plays scored "A" or better including seven "A+" grades.
Head of the Class – Week 7
Each week I will highlight a few of the top experts for the week. Here are the experts that deserve a "gold star" for Week 7 based on their cumulative grades for all players they touted this week. Overall, the scores were a bit lower than the previous week.
#1) Daily Overlay Single Pick (Score: 10.00) once again topped the experts with a RB pick. This week it was Eno Benjamin.
#2) DFS Karma (Score: 8.20) made some big noise in Week 7 as four of their five plays scored an "A+" grade.
#3) DailyRoto Optimizer (Score: 5.50) scored an "A+" grade with half of their eight plays for the week.
Head of the Class – Week 7 (By Position)
Sometimes there is just that one class that you excel in. In this section, I will highlight who the top experts were at each position for Week 7.
QB – DailyRoto Optimizer, DFS Karma (10.00) both scored two "A+" grades at the QB position.
RB – Daily Overlay Single Pick, DFS Karma (10.00) both played Eno Benjamin and his "A+" grade.
WR – NumberFire (6.00) topped the experts at WR with one "A+" and a "C" grade.
Study Time – Week 7
If we are going to give a gold star to the top experts of the week, we also need to determine which experts might need to put in some extra study time to pull up those grades. Here are the Week 7 experts that didn't make the grade this week.
Rotoworld (Score: 1.38) finds the bottom-2 for the second straight week. Six of their eight plays picked up failing grades
Sports Gambling Podcast (Score: 0.00) endured a failing grade from Devin Duvernay with their only pick of the week.
Extra Credit – Week 7
In this section, I will look to give some extra credit to experts that received an A+ grade for a player where they were the lone expert to recommend. Week 7 extra credit goes to the following:
A+ – Charlie Brewer (DailyRoto)
A+ – SaRodorick Thompson (Fansided)
A+ – Jack Plummer (EliteFantasy)
Head of the Class – Season
Here are the top experts in the Overall Standings after Week 7 of the season. Our in-house Single Pick sits alone at the top after the Eno Benjamin "A+" play.
#1) Daily Overlay Single Pick (Score: 6.33)
#2) DailyFantasyInsider (Score: 5.44)
#3) Sportsline (Score: 4.93)
The DailyOverlay Industry Consensus starts out in 19th place in the overall standings out of 27 experts with a DO score of 3.14.
Thanks for reading. Look for this article weekly and don't forget to drop us a line in the comments, if you're looking for anything in particular that you don't see here.
Follow me on Twitter @mbutlerOK