NBA – Industry Expert Consensus – November 1st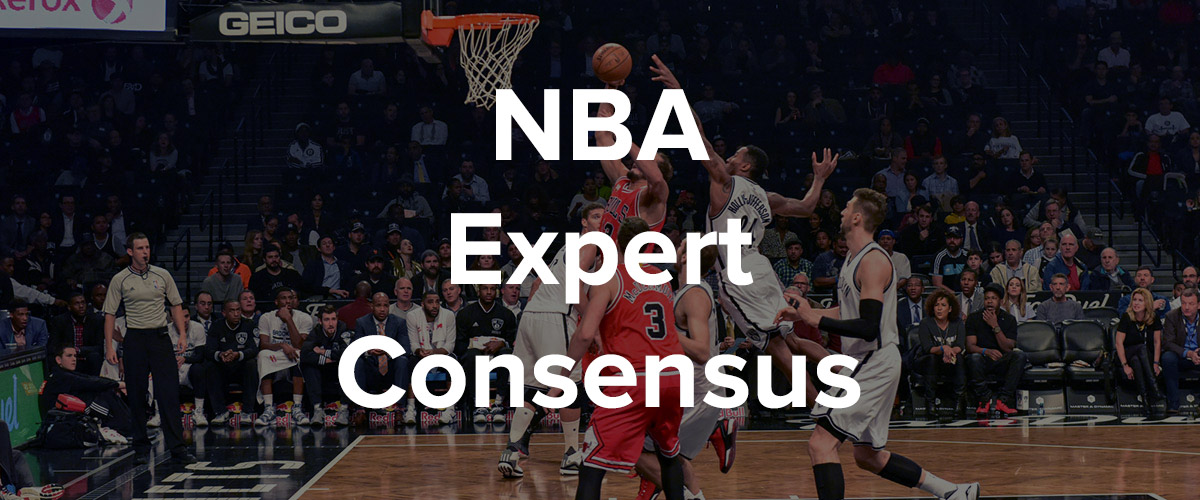 NBA DFS Expert Plays November 1st
Only two games with a Vegas total of 220 or more but one of them is the highest total we've seen in years. I bet you can guess which game that is. Several nice values in our "Cash" section tonight so utilize those guys to grab some superstars. Good luck!
The Weighted Consensus for the NBA uses each expert's current DailyOverlay score to generate a Weighted Consensus ranking. To calculate the Weighted Rank Score, each expert's DailyOverlay score for players is weighted on a sliding scale from 1 to 5 with the top expert in the current standings being weighted with a five while the last place expert is weighted with a one. This method gives the higher rated experts picks more weight when compiling the overall player rankings for the day. Finally, we will include all players that generate a Rank Score of at least 10.
As a reminder, most of our NBA content will be part of our premium membership. Now is a great time to sign up for our premium content so you are all set for the NBA, NFL and PGA seasons.
Cash
| | | | | | | |
| --- | --- | --- | --- | --- | --- | --- |
| Name | Team | Price | Proj Cash | Proj GPP | Total Count | Rank Score |
| Andre Drummond | DET | $9,500 | 75% | 49% | 18 | 58.11 |
| James Harden | HOU | $11,000 | 70% | 46% | 15 | 47.87 |
| Daniel Theis | BOS | $4,000 | 63% | 42% | 13 | 41.44 |
| Russell Westbrook | HOU | $9,800 | 20% | 18% | 9 | 30.07 |
| Eric Gordon | HOU | $4,000 | 42% | 28% | 9 | 27.89 |
| Derrick White | SA | $5,200 | 32% | 24% | 9 | 27.83 |
| Giannis Antetokounmpo | MIL | $10,900 | 20% | 18% | 9 | 27.14 |
| Marcus Smart | BOS | $4,900 | 42% | 28% | 9 | 26.76 |
GPP
| | | | | | | |
| --- | --- | --- | --- | --- | --- | --- |
| Name | Team | Price | Proj Cash | Proj GPP | Total Count | Rank Score |
| D'Angelo Russell | GS | $8,900 | 19% | 18% | 8 | 24.78 |
| Kyrie Irving | BKN | $9,000 | 14% | 15% | 8 | 24.27 |
| Caris LeVert | BKN | $6,000 | 26% | 21% | 8 | 24.12 |
| Gordon Hayward | BOS | $6,100 | 26% | 21% | 8 | 23.13 |
| Jayson Tatum | BOS | $7,000 | 17% | 16% | 7 | 22.44 |
| Tristan Thompson | CLE | $6,800 | 20% | 18% | 7 | 21.30 |
| Anthony Davis | LAL | $10,600 | 11% | 13% | 7 | 20.96 |
| Danuel House Jr. | HOU | $4,000 | 22% | 17% | 6 | 18.80 |
| Jeremy Lamb | IND | $5,600 | 15% | 15% | 6 | 17.84 |
| Richaun Holmes | SAC | $5,500 | 15% | 15% | 6 | 17.64 |
| LaMarcus Aldridge | SA | $7,100 | 14% | 13% | 6 | 17.40 |
| Malcolm Brogdon | IND | $8,800 | 14% | 13% | 6 | 17.29 |
| Domantas Sabonis | IND | $8,700 | 10% | 10% | 5 | 15.26 |
| Luka Doncic | DAL | $9,700 | 7% | 9% | 5 | 15.15 |
| LeBron James | LAL | $9,900 | 7% | 9% | 5 | 14.71 |
| Lauri Markkanen | CHI | $7,500 | 10% | 10% | 5 | 14.71 |
| Otto Porter Jr. | CHI | $4,300 | 17% | 13% | 5 | 14.57 |
| Clint Capela | HOU | $7,400 | 10% | 10% | 5 | 14.52 |
| DeMar DeRozan | SA | $7,200 | 6% | 8% | 4 | 14.21 |
| Derrick Rose | DET | $5,700 | 8% | 9% | 4 | 12.71 |
| Draymond Green | GS | $7,700 | 6% | 8% | 4 | 11.75 |
| Kevin Love | CLE | $9,300 | 5% | 8% | 4 | 11.03 |
| Rudy Gobert | UTA | $7,800 | 6% | 8% | 4 | 10.71 |
Vegas Totals Over 220
Rockets/Nets (244)
Spurs/Warriors (222)
Hope you find the right combination to cash! Follow me on Twitter @mbutlerOK