NFL – DFS Industry Expert Consensus – Week 6 (2021)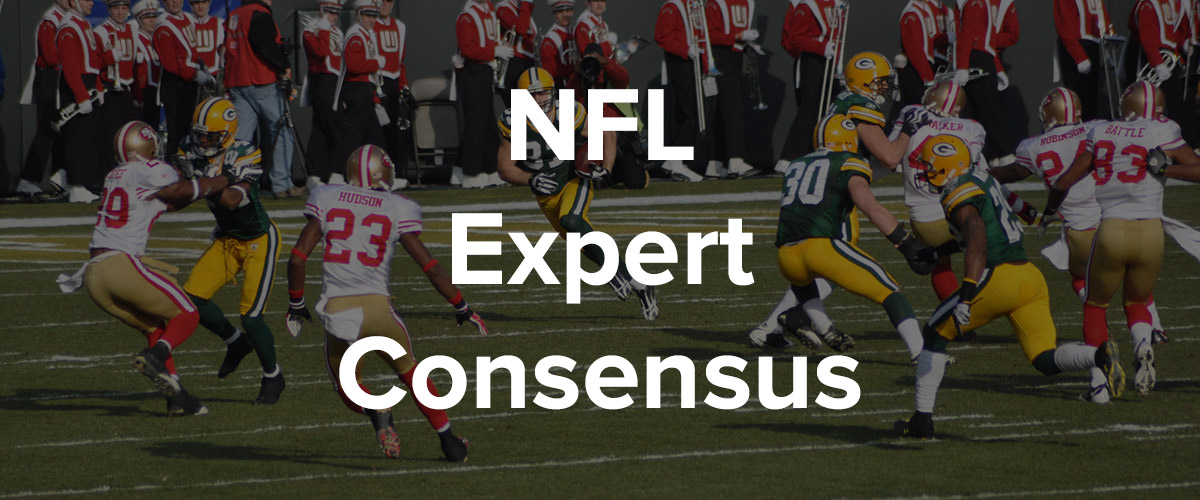 NFL DFS Picks – Week 6
Just a 10-game main slate of NFL action on Sunday which has condensed the top DFS plays at each position. Who do the analysts and optimizers have at the top of the list for Cash games and which players are viable pivots for GPP lineups? Find out in the Weighted Consensus Rankings.
In this series, we will publish a consensus of NFL DFS experts' recommendations that take into account each expert's current DailyOverlay score to generate a Weighted Consensus ranking for each position. To calculate the Weighted Rank Score, each expert's DailyOverlay score is weighted on a sliding scale from 1 to 5 with the top expert in the current standings being weighted with a five while the last place expert is weighted with a one. We also list the projected Ownership Percentages for Cash and GPP leagues to help you identify some players that could be good low-owned contrarian plays. We will include all players that have a Rank Score of at least 8.0.
This article is part of our premium content, so be sure to sign up to get this great snapshot of who the DFS Industry Experts recommend.
Here is the NFL Weighted Consensus list for Week 6…
QB
Cash
| | | | | | | |
| --- | --- | --- | --- | --- | --- | --- |
| Name |  Team |  Price | Cash % | GPP % | Count | Rank Score |
| Lamar Jackson |  BAL |  $    7,400 | 25% | 12% | 18 | 67.04 |
| Patrick Mahomes |  KC |  $    8,300 | 15% | 11% | 17 | 57.25 |
| Taylor Heinicke |  WAS |  $    5,800 | 14% | 10% | 16 | 51.56 |
GPP
| | | | | | | |
| --- | --- | --- | --- | --- | --- | --- |
| Name |  Team |  Price | Cash % | GPP % | Count | Rank Score |
| Justin Herbert |  LAC |  $    7,300 | 8% | 7% | 10 | 33.37 |
| Joe Burrow |  CIN |  $    6,300 | 5% | 6% | 7 | 23.94 |
| Matthew Stafford |  LAR |  $    6,700 | 4% | 5% | 5 | 17.02 |
RB
Cash
| | | | | | | |
| --- | --- | --- | --- | --- | --- | --- |
| Name |  Team |  Price | Cash % | GPP % | Count | Rank Score |
| Darrell Henderson Jr. |  LAR |  $    6,000 | 53% | 22% | 19 | 67.61 |
| Kareem Hunt |  CLE |  $    6,200 | 53% | 22% | 19 | 67.30 |
| Jonathan Taylor |  IND |  $    6,600 | 40% | 18% | 15 | 54.80 |
| Khalil Herbert |  CHI |  $    4,600 | 41% | 19% | 16 | 52.44 |
| D'Andre Swift |  DET |  $    6,300 | 34% | 17% | 14 | 44.86 |
| Austin Ekeler |  LAC |  $    7,900 | 17% | 15% | 12 | 42.17 |
| Darrel Williams |  KC |  $    4,900 | 20% | 16% | 13 | 41.18 |
GPP
| | | | | | | |
| --- | --- | --- | --- | --- | --- | --- |
| Name |  Team |  Price | Cash % | GPP % | Count | Rank Score |
| Devontae Booker |  NYG |  $    5,400 | 6% | 6% | 5 | 18.88 |
| Joe Mixon |  CIN |  $    6,400 | 7% | 7% | 6 | 16.93 |
| Javonte Williams |  DEN |  $    5,000 | 6% | 6% | 5 | 15.01 |
| Ezekiel Elliott |  DAL |  $    7,100 | 5% | 6% | 4 | 14.40 |
| Antonio Gibson |  WAS |  $    6,500 | 5% | 6% | 4 | 14.04 |
WR
Cash
| | | | | | | |
| --- | --- | --- | --- | --- | --- | --- |
| Name |  Team |  Price | Cash % | GPP % | Count | Rank Score |
| Davante Adams |  GB |  $    9,000 | 27% | 18% | 15 | 55.63 |
| Keenan Allen |  LAC |  $    6,400 | 27% | 18% | 15 | 50.44 |
| Jakobi Meyers |  NE |  $    5,500 | 17% | 13% | 12 | 43.74 |
| Tyreek Hill |  KC |  $    8,500 | 17% | 13% | 12 | 40.08 |
| Terry McLaurin |  WAS |  $    7,100 | 16% | 12% | 11 | 39.64 |
| Ja'Marr Chase |  CIN |  $    6,700 | 12% | 11% | 10 | 35.55 |
| Tee Higgins |  CIN |  $    5,300 | 11% | 10% | 9 | 29.05 |
GPP
| | | | | | | |
| --- | --- | --- | --- | --- | --- | --- |
| Name |  Team |  Price | Cash % | GPP % | Count | Rank Score |
| Michael Pittman Jr. |  IND |  $    5,500 | 11% | 10% | 9 | 26.68 |
| Van Jefferson Jr. |  LAR |  $    3,400 | 9% | 8% | 7 | 24.42 |
| Cooper Kupp |  LAR |  $    7,900 | 7% | 7% | 6 | 23.66 |
| Amon-Ra St. Brown |  DET |  $    4,200 | 7% | 7% | 6 | 18.59 |
| Courtland Sutton |  DEN |  $    6,200 | 7% | 7% | 6 | 18.07 |
| DJ Moore |  CAR |  $    7,300 | 4% | 6% | 3 | 12.09 |
| Sterling Shepard |  NYG |  $    5,000 | 4% | 6% | 3 | 11.40 |
| Tyler Boyd |  CIN |  $    5,400 | 4% | 6% | 3 | 10.80 |
| Robby Anderson |  CAR |  $    4,800 | 4% | 6% | 3 | 9.86 |
| Robert Woods |  LAR |  $    6,100 | 4% | 6% | 3 | 9.14 |
TE
Cash
| | | | | | | |
| --- | --- | --- | --- | --- | --- | --- |
| Name |  Team |  Price | Cash % | GPP % | Count | Rank Score |
| Ricky Seals-Jones |  WAS |  $    3,000 | 21% | 20% | 20 | 65.71 |
| Travis Kelce |  KC |  $    7,000 | 20% | 19% | 19 | 65.06 |
| Mark Andrews |  BAL |  $    5,200 | 17% | 16% | 16 | 57.19 |
GPP
| | | | | | | |
| --- | --- | --- | --- | --- | --- | --- |
| Name |  Team |  Price | Cash % | GPP % | Count | Rank Score |
| Hunter Henry |  NE |  $    3,900 | 5% | 5% | 5 | 17.81 |
| Jared Cook |  LAC |  $    3,200 | 6% | 6% | 6 | 16.57 |
| Darren Waller |  LV |  $    6,600 | 4% | 4% | 4 | 13.45 |
| Dalton Schultz |  DAL |  $    4,900 | 3% | 3% | 3 | 10.70 |
D/ST
Cash
| | | | | | | |
| --- | --- | --- | --- | --- | --- | --- |
| Name |  Team |  Price | Cash % | GPP % | Count | Rank Score |
| Ravens |  BAL |  $    2,300 | 9% | 9% | 8 | 29.81 |
| Colts |  IND |  $    3,500 | 9% | 9% | 8 | 27.11 |
| Lions |  DET |  $    2,100 | 8% | 8% | 7 | 21.37 |
| Vikings |  MIN |  $    2,900 | 7% | 7% | 6 | 21.13 |
GPP
| | | | | | | |
| --- | --- | --- | --- | --- | --- | --- |
| Name |  Team |  Price | Cash % | GPP % | Count | Rank Score |
| Browns |  CLE |  $    2,600 | 6% | 6% | 5 | 16.49 |
| Texans |  HOU |  $    2,200 | 6% | 6% | 5 | 15.81 |
| Packers |  GB |  $    3,600 | 5% | 5% | 4 | 14.57 |
| Rams |  LAR |  $    4,700 | 5% | 5% | 4 | 14.09 |
| Cowboys |  DAL |  $    3,200 | 3% | 3% | 2 | 8.32 |
Price is based on DraftKings