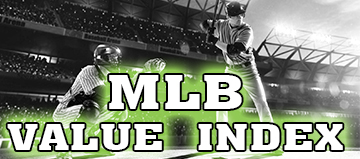 I got cute yesterday and faded Clayton Kershaw from my cash lineups. I don't know why I did it, but I did and I am ashamed.
I talked about not paying up for pitching yesterday, but it was Kershaw and I always play Kershaw in cash. Sometimes we can get into our own heads I guess.
But we move on to today and get away from said negative choices and try to learn from them.
Today we have a full 15-game slate and there are some awesome pitching plays up top and a lot of crap beneath.
As I said yesterday and mentioned above, I have been having success not paying up for pitching in cash games (and arcade mode).
But tonight is going to be hard not to pay up for both Jacob deGrom and Alex Wood. I probably won't roster Wood because I've faded him this long and now he's super expensive despite the matchup. But they are facing two of the worst offenses against the handedness starting against them.
I also started naming my favorite stacks of the night. When I do this, sometimes I won't recommend any of the players from those teams, some I will.
For tonight, in no particular order, my favorite stacks are Texas, Detroit, Rockies, Diamondbacks, Cleveland, and the NY Mets, I could see getting behind the Mariners, but I don't know if I am going there.
Analysis: He's the top overall pitching option on the slate. He's priced like it, but he's facing the Phillies at home. My rule is to always play deGrom at home. He's got 30+ fantasy points in 3 straight games. The Phillies are 26th in team wOBA against RH pitching this season and strike out at a 22% clip. For cash games, deGrom is the guy.
Analysis: I do love my Rangers tonight, but I could see them and Mike Pelfrey trolling me. Pelfrey has really not been blow up this year, but I think it's time. Odor has been so cold lately, but he's got hits in back-to-back games and a couple of steals. One of those hits was against Corey Kluber. So at this price and against Pelfrey in a hitter's park, why not Odor? He's 2-for-6 with a HR against Pelfrey, for what it's worth.
Analysis:  Hitting a HR off of Kluber and I am sucked in. Mazara and a few other Rangers are underpriced tonight in my book. No one ever rosters Mazara, but I will tonight. He's 2-for-3 with a double and a HR. Pelfrey is allowing 35% hard contact against lefties and owns a .239 BABIP against lefties. It's time for Pelfrey to get rocked.
Analysis: People are going to want to play Robbie Ray, and I get it. But I will not be one of those people. They are 5th in team wOBA against lefties and this game is in Chase Field. Robbie Ray has been giving up a ton of hard contact to RH bats to the tune of 39%. He's limited the damage against them, but his .249 BABIP against righties suggests regression is coming. Arenado also is 7-for-20 with 2 doubles, a triple, a home run and 3 walks against Ray in his career.
Analysis: The storybook hasn't come alive for Trevor in 2017. But he's still more than holding his own against lefties. Honestly, I don't know why he's hitting down in the order instead of in the meat, but the Rockies are winning and so what they are doing is obviously working. Anyway, Story is super cheap and is one of my top value plays. He's got a .281 average with a .398 wOBA, a .328 ISO and a 43% hard contact rate against lefties this season. Against Ray, he's 4-for-8 with two bombs.
Analysis: I hate that Longo is priced up for his matchup against Chris Tillman. But they just faced each other and #teamBvP lives on. In that meeting, Longo launched his 9th career home run against Tilly, who is probably a worse pitcher now than the current form of actress Jennifer Tilly. Longo is 20-for-66 off Tillman with 4 doubles and a triple as well. The 9 home runs stand out, but this is kind of a boom or bust play at this price.
Analysis: Another rule I've adapted is play Lance McCullers at home. Look, I get it. He's facing the Yankees, but Minute Maid Park has been one of the lowest scoring ballparks in the majors this season. As for McCuller's home/road splits, he is 4-0 with a 1.95 ERA with 48 Ks in 37 IP. The Yankees are one of the top offenses in the majors against RH pitching, but they can't do damage if they don't hit the ball. Jacoby Ellsbury and Brett Gardner are liabilities in this lineup right now, Matt Holliday and Castro are hurt, so that leaves Judge and Sanchez with Didi Gregorious. The rest of this lineup right now consists of Romine, Tyler Wade, Miguel Andujar and Ronald Torreyes. It's not that formidable and you can pitch around Judge without him having much protection. I don't know if I can go McCullers in cash games, but he will definitely be in my GPP lineups tonight. He's freaking $8,800!
Analysis: Michael Pineda is dead to me. Carlos Correa is one of my favorite cash game plays. He's expensive and I love Story a ton, so Correa becomes a GPP guy for me. He's red hot and crushes RH pitching. He also crushes Michael Pineda, who has been struggling of late. Against Pineda, Correa is 6-for-10 with 2 doubles, three home runs, two walks and no strikeouts. Sorry Pineda, but you are in trouble.
Analysis: The guy loves to lead off. He's said it. He's proved it. Tonight the Cards go home to take on Tanner Roark, a poor man's Chris Tillman. Wait, no that's not right…yes it is. Roark sucks. Against lefties this season, Roark has allowed a .370 wOBA and a 1.84 HR/9 rate with a 32% hard contact rate to lefties. Give me Carpenter as an arcade mode, one-off, cash-game play.
Analysis: Man four days in a row! That's gotta be a Value Index record, but DraftKings refuses to price up Miggy. He's produced in each game I've recommended him in the past three days, so why fix what isn't broken. In fact, I love the Tigers as a whole tonight. They are at home taking on Josh Tomlin a reverse-splits pitcher with a terrible track record against Detroit. Miggy is the cheapest of the Tigers' bunch for cash games. Against Tomlin, he is 9-for-25 with a double, a homer, four walks with only 1 strikeout against. Against RH bats in 2017, Tomlin has allowed a .377 wOBA, a 1.90 HR/9 rate and a 34% hard contact rate.
Analysis: This is strictly a punt BvP play. I do not want to pay up for catcher today because of the pitching, so I am going all the way to the bottom to play Gomes. The Indians are taking on Anibal-Sack Sanchez, who is tit for tat with Tillman and Pelfrey for the gas can I want to set fire to the most, figuratively speaking. This is why I love the Indians today, too. But Gomes is ridiculously low-priced. He has struggled in June, but when you go up against a gas can who you have success against, surely you can muster up some comfort at the plate and get your mind right. Now, we have to hope Gomes is in the lineup, but against Sanchez in his career, Gomes is 7-for-20 with a double, triple, two home runs and a walk.
Analysis: I already had all of of my plays filled out, but then when I saw the 50% hard contact rate and the 0 home runs allowed to lefties this season for Robbie Ray, I couldn't leave Blackmon off. He's dominated Ray and his price is way down and it's just kind of silly if you don't play Blackmon tonight. There are a few things I love when I see BvP numbers – mediocre players who dominate the starter such as Jon Jay against Johnny Cueto and lefty bats who have BvP against lefty starters. The numbers are overwhelmingly in Blackmon's favor against Ray. He's 12-for-23 with a triple, two home runs, two walks, one strikeout and three steals. I think I have just convinced myself to ride and die with the Rockies tonight, especially since they and the D-Backs play the last game of the night. Nothing like a hammer for your GPP lineups!
https://dailyoverlay.com/wp-content/uploads/2017/04/MLB_Value_Index-360x159-1.jpg
159
360
Stephen Monahan
https://dailyoverlay.com/wp-content/uploads/2018/07/logo.png
Stephen Monahan
2017-06-30 04:26:24
2017-06-30 04:26:24
MLB Value Index - June 30