MLB – Industry Expert Consensus – July 27th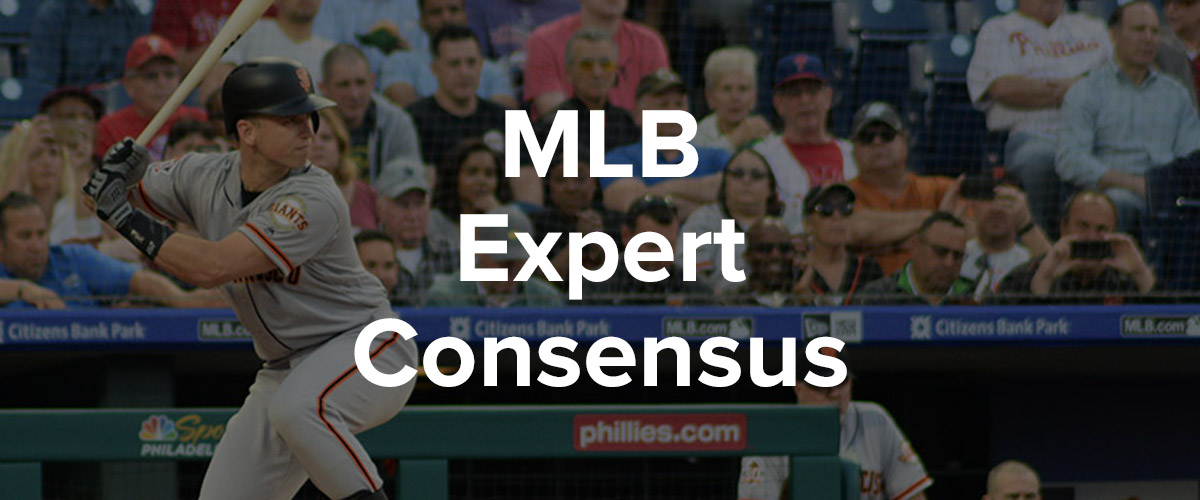 MLB – Industry Expert Consensus – July 27th
It's time to kick off the first full week of MLB. That said, there were certainly some concerning pieces of news coming out today about COVID. Let's hope they can put that in the rearview and make a season happen. Good luck!
The Weighted Consensus for the MLB is where we publish an in-depth version of rankings every day that considers each expert's current DailyOverlay score to generate a Weighted Consensus ranking.  To calculate the Weighted Rank Score, each expert's DailyOverlay score for hitters and pitchers is weighted on a sliding scale from 1 to 5 with the top expert in the current standings being weighted with a five while the last place expert is weighted with a one. This method gives the higher rated experts picks more weight when compiling the overall player rankings for the day. We will include all players that generate a Rank Score of at least 8.0.
Scroll to the bottom of the article for the "Top Stacks" section that lists out the teams with the most hitters being recommended by the experts today. Also, be sure to check each team's lineup when it is released and watch the weather before finalizing your lineups.
Let's play ball!!!
P
| | | | | | | | |
| --- | --- | --- | --- | --- | --- | --- | --- |
| Name | Pos | Team | Price | Cash % | GPP % | Count | Rank Score |
| Josh James | SP | HOU | 8600 | 53% | 35% | 14 | 42.56 |
| Tyler Glasnow | SP | TB | 8900 | 44% | 28% | 10 | 34.02 |
| Adrian Houser | RP | MIL | 8300 | 16% | 13% | 5 | 14.19 |
| Steven Brault | RP | PIT | 4300 | 15% | 12% | 4 | 11.57 |
| Mike Montgomery | RP | KC | 6500 | 12% | 10% | 3 | 8.13 |
C
| | | | | | | | |
| --- | --- | --- | --- | --- | --- | --- | --- |
| Name | Pos | Team | Price | Cash % | GPP % | Count | Rank Score |
| Willson Contreras | C | CHC | 4800 | 21% | 16% | 7 | 22.09 |
| Salvador Perez | C | KC | 2900 | 16% | 13% | 5 | 15.36 |
1B
| | | | | | | | |
| --- | --- | --- | --- | --- | --- | --- | --- |
| Name | Pos | Team | Price | Cash % | GPP % | Count | Rank Score |
| Pete Alonso | 1B | NYM | 5600 | 20% | 14% | 7 | 19.29 |
| C.J. Cron | 1B | DET | 3300 | 20% | 14% | 7 | 18.38 |
| Mitch Moreland | 1B | BOS | 3700 | 16% | 12% | 6 | 16.48 |
| Yuli Gurriel | 1B | HOU | 3700 | 7% | 7% | 3 | 8.54 |
| Carlos Santana | 1B | CLE | 4100 | 7% | 7% | 3 | 8.46 |
2B
| | | | | | | | |
| --- | --- | --- | --- | --- | --- | --- | --- |
| Name | Pos | Team | Price | Cash % | GPP % | Count | Rank Score |
| Jonathan Schoop | 2B | DET | 3400 | 20% | 15% | 6 | 16.25 |
| Jose Altuve | 2B | HOU | 5000 | 11% | 11% | 4 | 12.42 |
| Keston Hiura | 2B | MIL | 4400 | 11% | 11% | 4 | 11.84 |
| Whit Merrifield | 2B/OF | KC | 4000 | 9% | 9% | 3 | 10.67 |
| Niko Goodrum | 2B/SS | DET | 4300 | 9% | 9% | 3 | 8.36 |
SS
| | | | | | | | |
| --- | --- | --- | --- | --- | --- | --- | --- |
| Name | Pos | Team | Price | Cash % | GPP % | Count | Rank Score |
| Adalberto Mondesi | SS | KC | 3500 | 26% | 18% | 8 | 22.01 |
| Xander Bogaerts | SS | BOS | 4200 | 15% | 12% | 5 | 13.73 |
| Alex Bregman | 3B/SS | HOU | 5100 | 8% | 8% | 3 | 8.85 |
| Javier Baez | SS | CHC | 4700 | 9% | 9% | 3 | 8.78 |
| Francisco Lindor | SS | CLE | 4900 | 9% | 9% | 3 | 8.60 |
| Niko Goodrum | 2B/SS | DET | 4300 | 9% | 9% | 3 | 8.36 |
3B
| | | | | | | | |
| --- | --- | --- | --- | --- | --- | --- | --- |
| Name | Pos | Team | Price | Cash % | GPP % | Count | Rank Score |
| Eugenio Suarez | 3B | CIN | 4600 | 26% | 17% | 9 | 27.61 |
| Jose Ramirez | 3B | CLE | 5000 | 19% | 14% | 6 | 17.81 |
| Rafael Devers | 3B | BOS | 5200 | 16% | 12% | 5 | 12.82 |
| Alex Bregman | 3B/SS | HOU | 5100 | 8% | 8% | 3 | 8.85 |
| Kris Bryant | 3B | CHC | 5500 | 8% | 8% | 3 | 8.19 |
OF
| | | | | | | | |
| --- | --- | --- | --- | --- | --- | --- | --- |
| Name | Pos | Team | Price | Cash % | GPP % | Count | Rank Score |
| Michael Brantley | OF | HOU | 3300 | 32% | 21% | 9 | 27.34 |
| J.D. Martinez | OF | BOS | 4700 | 29% | 20% | 8 | 23.41 |
| Nick Castellanos | OF | CIN | 4500 | 26% | 18% | 7 | 19.94 |
| George Springer | OF | HOU | 5400 | 17% | 13% | 5 | 14.00 |
| Jorge Soler | OF | KC | 3800 | 17% | 13% | 5 | 12.42 |
| Yoenis Cespedes | OF | NYM | 4300 | 17% | 13% | 5 | 10.92 |
| Whit Merrifield | 2B/OF | KC | 4000 | 9% | 9% | 3 | 10.67 |
| Andrew Benintendi | OF | BOS | 3700 | 12% | 11% | 4 | 10.52 |
| Phillip Ervin | OF | CIN | 3000 | 9% | 9% | 3 | 9.83 |
Top Stacks
Red Sox (5) – Moreland, Bogaerts, Devers, Martinez, Benintendi
Astros (5) – Gurriel, Altuve, Bregman, Brantley, Springer
Royals (4) – Perez, Merrifield, Mondesi, Soler
Cubs (3) – Contreras, Baez, Bryant
Indians (3) – Santana, Lindor, Ramirez
Tigers (3) – Cron, Schoop, Goodrum
Reds (3) – Suarez, Castellanos, Ervin
Follow me on twitter @mbutlerOK