How I use the DailyOverlay consensus plays to build lineups
by:  Vengven/DailyCrusher   a/k/a  Greg Peters
---
I use it for both GPP and Cash games.   I have been successful with cash games and in GPP's have won the Run & Gun on FantasyDraft, the Carolina Million on Fantasy Draft, with just one entry,  just this week I qualified for the DraftKings King of the Beach with two entries in the $20 tournament.   So how do I use the consensus, here goes:
Here is my winning King of the Beach lineup last week:  (notes below it):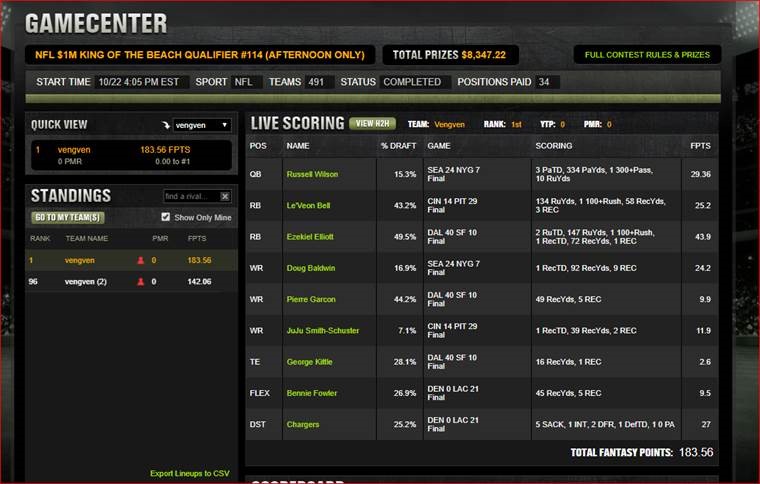 I only entered twice and went with Wilson in both (#2 QB in our consensus)
Everyone else other than Baldwin and Juju were on consensus.   On my 2nd entry, every player was on consensus and it still scored 142
For GPP's I will frequently go "off board" for 1-2 picks.   I picked Baldwin because in GPP's I almost always (98%) team up a WR or TE with the QB I'm playing.   (in my second entry I teamed up Wilson and Graham) so went with Baldwin in this one.  I then picked off the consensus but because I went RB salary heavy I had to finalize the final spot on my roster with an off the board pick.
With large pool GPP's I will frequently take 1-2 players off the board (not in consensus) to either tie a WR/TE to my QB, play a contrarian play against the field or out of necessity for the final spot.
---
Now here is my cash game lineup on Fanduel from last week with notes below:
This was a strange one because we only provide and grade the DraftKings slate but I play both on FD and DK.   So playing the picks on FanDuel is fine as long as the salaries aren't out of whack, you have to watch that.
Every play was "on the board" except for QB I went with Brady which isn't in the DK slate because it was Sunday night.   I just thought he would be solid which is what you want in a cash game.  However,  I could have outdone those points with any of the top 3 QB's in the consensus.
In cash games I try to get as many picks as I can that are in the top half of the consensus for any particular position, I especially like top ranked RB's for cash.  I repeated the same thing at FantasyDraft.
Below is my FantasyDraft cash game lineup where I entered it in (30) $5 double ups.  All players other than Ivory from consensus (he was late breaking scratch news so I shoved him in as last play, although it didn't really matter).   However, you do need to watch the late breaking stuff because that does shift things.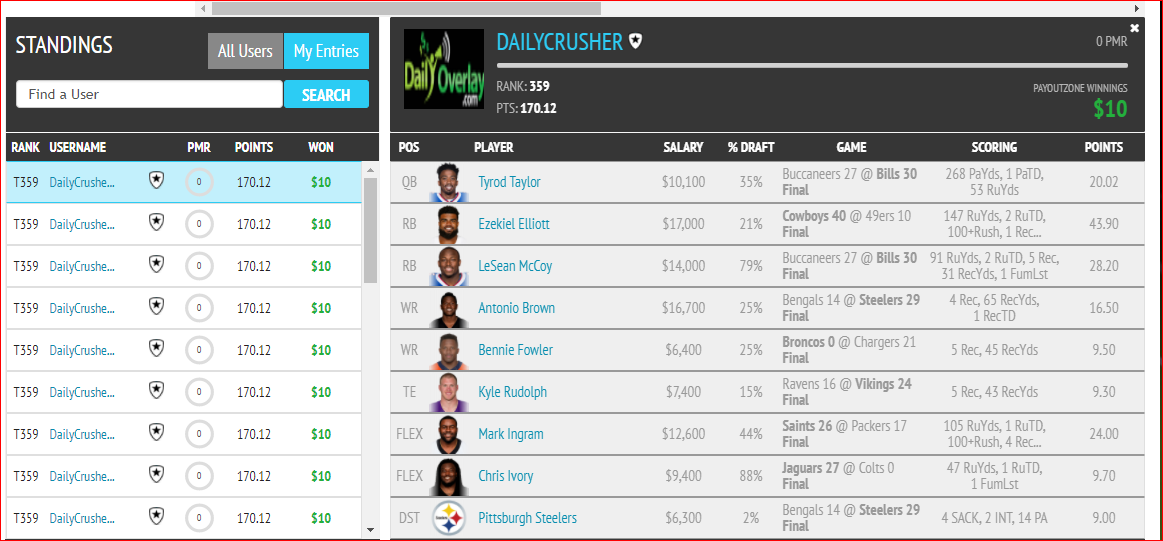 You won't win every week but our Weighted consensus plays are a great way to play both GPP's and Cash games.   GPP's just come in waves, you hit one big thing in a season and you make the season.   This season I have qualified for both the King of the Beach on DK as well as I won week one on FantasyDraft for the Carolina Million and I play 80-90% of my picks on both GPP's and cash games right off the consensus.
The key is that our consensus plays are weighted.   So we take the top plays from the best experts around the internet.   Many of them are in premium packages that we pay for.   We then generate a consensus and weight their selections based on how well they are doing this year which gives us the consensus plays.   It's not a perfect system but it has allowed me to quickly make lineups using great information.
https://dailyoverlay.com/wp-content/uploads/2019/07/NFL-lineup-POST.jpg
500
1200
DailyCrusher
https://dailyoverlay.com/wp-content/uploads/2018/07/logo.png
DailyCrusher
2017-10-26 06:47:21
2019-08-06 18:25:23
How to use the Consensus Plays