MLB DFS Beginner's Guide
Welcome to the beginner's guide to daily fantasy baseball. The daily fantasy landscape is growing each day, and ultimately, that's why you are here because you have interest in DFS (Daily Fantasy Sports).
This guide is to help you familiarize with terms and strategies that are paramount in building lineups and hopefully building your bankroll.
If you are a season-long fantasy baseball lover and lover of baseball overall, I almost guarantee you will get hooked. Good luck in our journey!
Vegas
Every experienced DFS player will most likely tell you this will be your starting point for all fantasy sports. A lot of research can be done for you just by looking at the Vegas lines first before doing any lineup creation.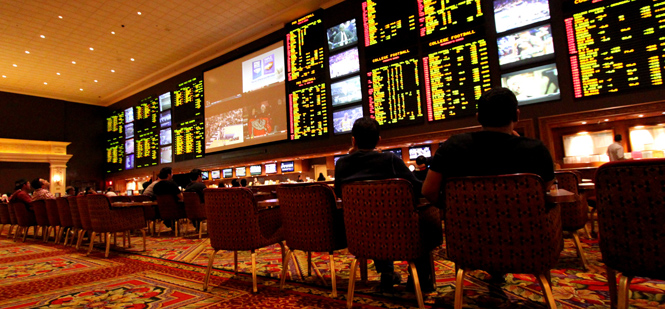 Three simple things to know about Vegas lines:
Over/Under Runs – O/U means over/under. If Vegas as a game at 10.5 runs, that means Vegas has high expectation of run scoring for this game. Average Vegas run totals are 7.5. A 7.0 or lower is considered low. Anything above 7.5 is considered high.
Moneyline – This is how you can see how Vegas favors a team's chances of winning or to see which starting pitcher likes over another. Typically there will be something that looks like this: LAD: -142, ATL: 132. What the line means are the Dodgers are favored to win, and Vegas has a favorable like for the Dodgers' starting pitcher. In Vegas, if you were to bet on the moneyline, you would have to put down $142 to win $100 because the minus means you are betting on the favorite. You have to risk more money to win less, but Vegas views it as a better chance for you to collect by picking the favorite. If you want to take Atlanta here, you have to put down $100 to win $132. Your chance of winning is reduced, but you win more. If a team has a moneyline of -200 or more, that says the starting pitcher and the team are heavily favored to produce and win the game. The bigger the number for the favorite, the better the odds. Also if a moneyline is something like -105, 103, then that's basically a coin flip and means Vegas pretty much doesn't have a great idea who will win or which starting pitcher will come out on top.
Run Line: You will always see a +1.5 or -1.5 for the "run line" or point spread in baseball. This is because there is so much variance in baseball. Football and basketball are different, so you will see varying point spreads for each game. I will get into those for football at a later date.
Weather
Weather arguably matters in baseball more than any other sport. Baseball won't play in the rain whereas football will push through. Knowing the possibility for rain is essential because your lineup can be killed if there is a rain delay in the fourth inning and your pitcher doesn't come back out after the weather has cleared, or when a game doesn't play at all.

I've learned to follow Kevin Roth on Twitter. He's a DFW weatherman who does weather updates twice a day for another fantasy sports site. He's THE guy though that I trust and look at daily over any other weather tool I've ever used (I'm definitely not calling him a tool).
The second weather factor to recognize is wind. If there are 15-20 MPH gusts at Wrigley Field blowing straight out to center, that means there's a good chance a long fly ball becomes a home run. Wind blowing in could have the reverse effect.
Lastly, there's temperature. If it's cold and dry, a ball is going to carry a lot less than if it's hot and humid. Keep temperature in mind when deciding a player to roster. It's not the end all be all, but something to keep in mind.
Ballpark Factors
If you are a baseball fan, you probably know about a lot of the hitters and pitchers parks around the league. Knowing which parks favor batters and which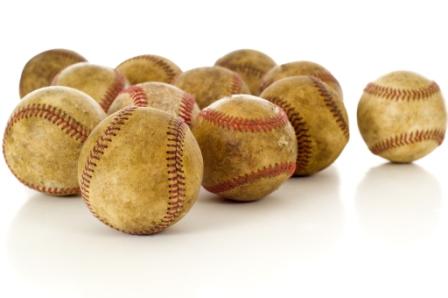 favor pitchers is a good thing to learn and keep in your back pocket. Coors is the most hitter friendly ballpark out there with the Rogers Centre in Toronto a close second. PNC Park (Pirates) and Petco (Padres) are two of the more pitcher friendly parks.
Target Field is a neutral avenue and doesn't favor the hitter or pitcher more or less. Knowing Yankee Stadium has a short-right field porch will help you target certain left-handed batters. All in all, know the ins and outs of each major league stadium. It matters, a lot.
Splits
A useful type of statistic to pay attention to and get familiar with are splits. Most notably, batter splits versus right and left-handed pitching. You will come to learn who the best hitters are against lefties and vice versa. For example, Nelson Cruz is one of the best RH batters against LH pitching in the league. That's common knowledge to most. What most people don't realize is that he is very good against RH pitching as well. Lefty-lefty matchups tend to be the easier hitter fades when making lineups, but don't overlook this matchup as there are lots of gems that can be found. Michael Brantley, Prince Fielder and Anthony Rizzo, to name a few, are some LH batters that are very successful against lefty pitchers. On the flip side, when researching pitcher stats, make sure you view their splits against batters as this could be very telling in what hitters you should give more of a look in a particular day. Another example is pitcher Kyle Kendrick. He's one of the worst pitchers in the league and he's the worst against left-handed batting. Reverse splits is another key stat to look at with pitchers. Some RH pitchers may actually shut down left-handed pitching with greater success than RH hitting (Drew Hutchison, Nick Martinez, etc.). Just be mindful of splits when picking players, it is a very important tool.
Sabermetric Statistics
Becoming a great DFS baseball player is more than just using batting average, home runs, ERA, etc. to choose players. While important, sabermetrics are where the goods are. I use FanGraphs every day to research the statistics I use to research. They have an entire glossary for all of the sabermetric stats. This is a beginner's guide and I am not going to throw that on your shoulders, but it will be good for you to check out very soon. Tips: Read up on BABIP, wOBA, wRC+, FIP, xFIP first. Also be sure to know that sample sizes matter. Someone who has played 5 games and has a .wOBA of .500 against RH pitching is most assuredly not going to maintain that pace throughout the course of the season.
Site Scoring
Each DFS site has different rules for scoring. You need to learn how each one is different. DraftKIngs' scoring differs from FanDuel and FanDuel differs from Yahoo! Sports, etc. DK gives bonuses for complete games, complete game shut outs, no hitters, gives way more points for home runs and steals than any other site. Pitchers also are penalized more for allowing hits, hit batters, walks AND earned runs whereas most sites just penalize for ER. Some sites value wins for a pitcher more than others, also. It's important to find the site you like and know the scoring because that will weigh heavily on how you view and rank a player over another.
Read the Experts, Don't Rely
I can't stress this tip enough. It's a very good thing to read the experts' content that is out there, but it's also a very good thing to not rely on it completely for picking players. Rather if you have a good feeling on a player, compare and reference experts to help you confirm your choice. There is value to reading expert picks and getting extra information that you might not have found, but you must make the lineups and sometimes your feeling on a player will payoff than someone else's.
Find your Strategy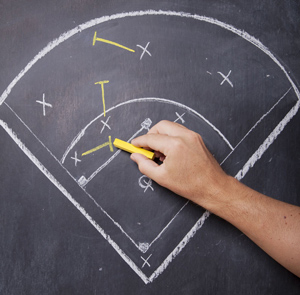 There are myriad of ways to roster lineups that are successful, but you must find what works for you. Some people like to always take top pitchers or the top hitters, some like to stack (see glossary of terms below), some rely heavily on Vegas to pick players, some like to only go contrarian (another term below), etc. You must find what works best for you and your success. To give you an idea, I like to find that one pitcher I love and use him in every lineup. I also will hedge against him in one lineup so that just in case he gets rocked, I have something to hopefully balance the bad outing. On two pitcher sites, this also allows me to use all of the other pitchers I like with that one guy. It is boom or bust, but again, it's what works for me, and what I like. That's all that matters.
Tournaments (GPPs) vs. Cash Games
You will start see the acronym GPP a lot and the term cash games. GPP is used to reference tournaments. It stands for Guaranteed Prize Pool. All sites have GPPs. These will usually have lots of openings for players to make multiple lineups and they are always guaranteed to run even if the maximum entry allotment doesn't fill completely. Tournaments are where you can win a lot of money at one time, but your chances of cashing in are reduced because the percentage payout is lower and there is a greater pool of lineups to compete against. Cash games is a term used for DFS games that payout 40-50 percent of the entrants. Head-to-heads, are just that, you versus another player, and 50/50s are fields where 50 percent of the field wins, but you only double the entry fee you put in. For example, if you play a $1 50/50 or Double Up, then your maximum winnings is $2 ($1 for entry fee + $1 winner). 50/50s usually have a payout of $1.80 as the remaining $.20 goes to the site. That money is called the rake. Every site takes in a percentage of money right off the top for each contest.
Stacking
Here's a term you will get familiar with very quickly, but it is a main strategy of DFS baseball. Stacking involves rostering two or more batters from one team. Some sites only allow 4 plays from one team in a lineup, some allow up to six. Stacking is usually a suggested tournament play as it can be boom or bust. However, stacking is relevant because it allows players to feed points to each other. Generally, you want to stack players who hit close to each other in the batting order.
For example, let's use the newly acquired Troy Tulowitzki and the Toronto Blue Jays. If we stack Josh Donaldson, Tulo and Jose Bautista against a lefty pitcher (because the Blue Jays are the top team against lefties), then you have produced a mini stack of players. These three players are most likely to hit 2-3-4 in the batting order, so if Donaldson walks, Tulo singles and Bautista hits a 3-run homer, then not only did Bautista pay off, but Donaldson and Tulo also get points for scoring runs. Cash games are not usually a place to stack because of the volatility. If you play the aforementioned players in a cash game, they all could go 0-for-4. Not only did you spend a lot of your salary for them, but they did nothing and you probably had to pay down for pitching. Thus, your team floundered. Cash games are more about safety and imperfections than boom or bust. Stacking in tournaments is the recommended play.
Bankroll Management
Having a budget every time you play is a very important habit to start. Sometimes you will go on a losing streak and you will find yourself putting even more money in the next time to help cover your losses. Then, the losing continue and now you are in an even bigger hole. Stop doing that. Make sure you have a budget such as only using 10 percent of your bankroll at a time. For example, if you have $50 in your account and you have a budget of 10 percent, then you will only allow yourself to play $5. Trust me, you aren't going to follow this advice and try to prove me wrong, and you are going to lose. It's OK though, we have to learn from our mistakes sometime. Trusting your budget is a very good way to keep your head above water and not get carried away.
Trust Your Gut, Forget the Losses, Have Fun
This most important tip I or any other DFS player can give you is to MAKE SURE YOU ARE HAVING FUN. Having fun is all that matters. If you are frustrated and not having fun, then something is seriously wrong and you need to take a break. After all, daily fantasy is a game within a game and games are supposed to be fun.
The second most important tip is to move on from your losses. Do not dwell on the times you lose, because you will lose, it happens to everyone. You have to forgive and forget. Mike Trout went 0-for-4 in your lineups the past 3 days? So what. He won't always put up that kind of crap, so don't let what is called recency bias affect your player selection.
The third tip: Trust your gut. It's OK to trust yourself and the reasons why you like a player. All you can do is play the guys you like and let the game on the field play out.
Fourth tip: Take a break. If you are on a losing streak and you keep pumping money in and you keep losing. Stop. Remove yourself from the game, sit on the bench, take a vacation, skip a few slates, do whatever you need to do to get away. It's important that you rest when you are hitless in your last 20 ABs.
Fantasy Baseball Glossary of Terms
Contrarian – To play players with low ownership
Stacking – Putting two or more batters from one team into your lineup.
Recency Bias – Drafting players because they did well for your lineups or not drafting players because they hurt your lineups
GPP– Guaranteed Player Pool
BABIP – Batting Average Balls in Play
wOBA – Weighted On-Base Average
wRC+ – Weighted Runs Created Plus
FIP – Fielding Independent Pitching
xFIP – Expected Fielding Independent Pitching
Bankroll – Amount of money in your account on a fantasy sports site