Nascar – Expert Recap and Grades – Dixie Vodka 400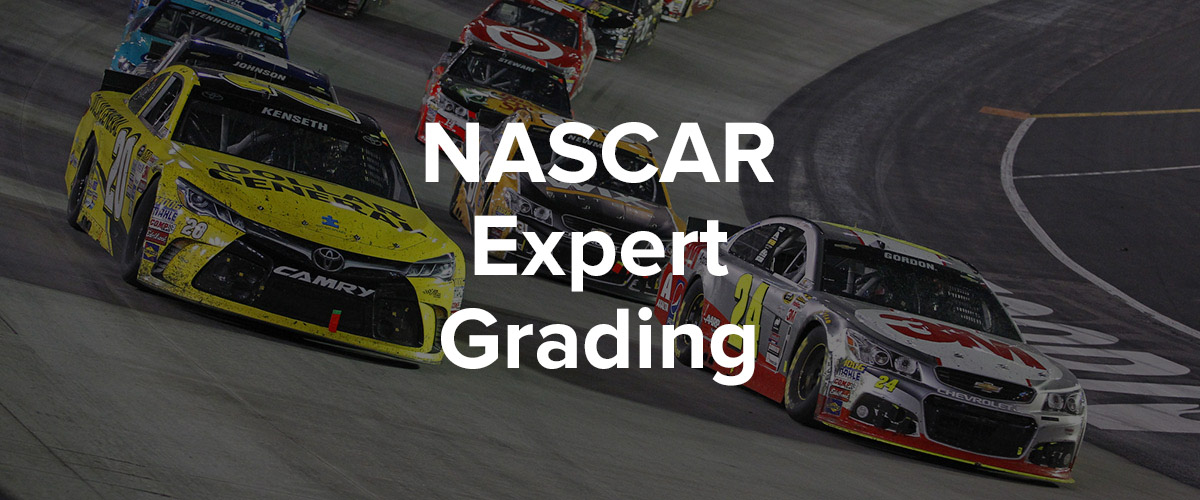 Nascar DFS – Expert Recap and Grading – Dixie Vodka 400
The Nascar season is in full swing as is our DFS expert grading which saw DFS Army's Nilly take the checkered flag for the Dixie Vodka 400 this past weekend.
The Top 3 on the season-to-date leaderboard is updated, too. DFS Karma is atop that leaderboard with DailyFantasySportsRankings and our very own Daily Overlay Consensus Cash plays rounding out the top-3.
Check out the top experts on the Overall Leaderboard and as always you can check out the full Nascar Expert Standings to make sure that you're up to speed on who is making the grade. Also, review how all the Nascar DFS analysts fared this past week. We also post the Ownership Percentages by position by count which are used to help project player ownership in our Weighted Consensus article each week.
Also, don't forget to sign up to be a premium member so that you don't miss out on any content. We are still offering a FREE 7-DAY TRIAL. You'll be glad you signed up!
Week in Review
#1) DFS Army – Nilly (Score: 5.43) scored "A" or better with four of seven plays including three "A+" grades.
#2) Athlon Sports (Score: 5.00) scored two "A+" grades with their five plays.
#3) Rotoballer (Score: 4.50) scored an "A+" with three of eight plays to round out the top-3.
Our Cash Consensus Picks finished 5th, while our GPP Consensus Picks came in 16th out of 17 experts graded this week.
Sleepers of the Week
None
Leaderboard – Overall
Be sure to check out the full Nascar Expert Standings to see how your favorite experts check out.
#1) DFS Karma (Score: 4.89) sits atop the NASCAR leaderboard after last week.
#2) DailyFantasySportsRankings (Score: 4.70) is well within striking distance of the top spot.
#3) DailyOverlay Industry Consensus – Cash (Score: 4.61) continues throwing out solid plays sitting in 3rd place for the season.
Our Cash Consensus Picks are currently in 3rd and our GPP Consensus Picks are in 20th out of 21 experts graded this season.
Ownership Percentage Tracking
Below is the current table showing the data we have tracked so far this season. Results are using DraftKings Double-Up or 50/50s for Cash and large field single-entry tournaments for GPP. The Count column shows the number of times a driver was selected by the experts. The Cash % chart shows the average ownership percentage of those players in a Cash game. The GPP % chart shows the average ownership percentage of those players in a GPP tournament.
| | | | |
| --- | --- | --- | --- |
| Count | Cash% | GPP% | Total |
| 15 | 43.1% | 32.6% | 1 |
| 14 | 53.3% | 43.8% | 5 |
| 13 | 50.3% | 40.0% | 2 |
| 12 | 62.1% | 50.7% | 8 |
| 11 | 54.6% | 44.0% | 13 |
| 10 | 34.9% | 32.7% | 11 |
| 9 | 35.5% | 28.5% | 11 |
| 8 | 40.5% | 31.2% | 15 |
| 7 | 38.4% | 30.7% | 11 |
| 6 | 26.0% | 22.8% | 35 |
| 5 | 17.9% | 18.9% | 21 |
| 4 | 19.0% | 19.5% | 33 |
| 3 | 10.3% | 13.7% | 60 |
| 2 | 8.8% | 12.6% | 58 |
| 1 | 6.5% | 8.8% | 61 |