NBA – Industry Expert Consensus – April 8th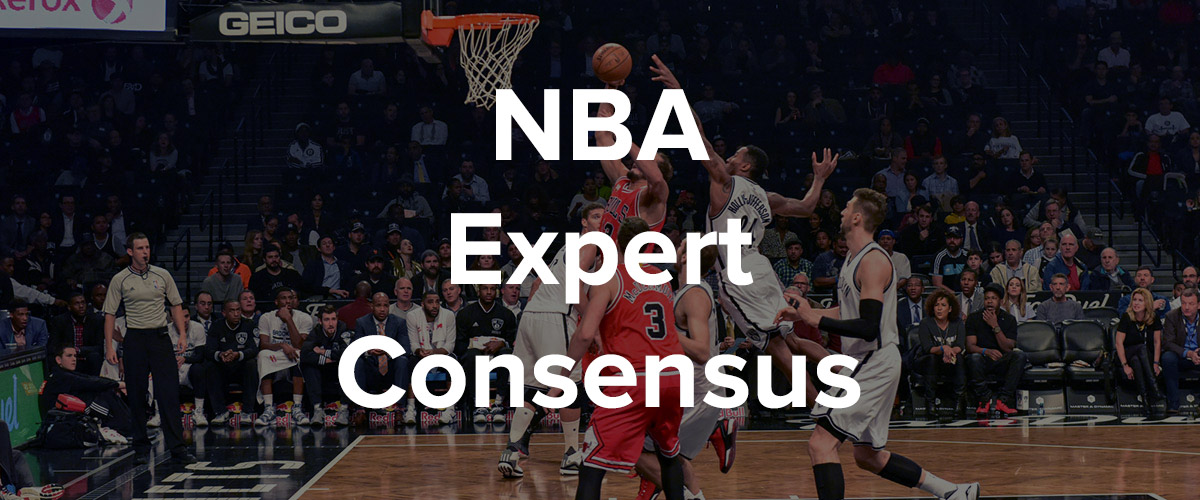 NBA DFS Picks April 8th
The last day of the NBA consensus here at Daily Overlay. Another short list to end the season but a long list of expected high scoring games. Good luck!
The Weighted Consensus for the NBA uses each expert's current DailyOverlay score to generate a Weighted Consensus ranking. To calculate the Weighted Rank Score, each expert's DailyOverlay score for players is weighted on a sliding scale from 1 to 5 with the top expert in the current standings being weighted with a five while the last place expert is weighted with a one. This method gives the higher rated experts picks more weight when compiling the overall player rankings for the day. Finally, we will include all players that generate a Rank Score of at least 10.
As a reminder, most of our NBA content will be part of our premium membership. Now is a great time to sign up for our premium content.
Cash
| | | | | | | |
| --- | --- | --- | --- | --- | --- | --- |
| Name | Team | Price | Proj Cash | Proj GPP | Count | Rank Score |
| Talen Horton-Tucker | LAL | $3,800 | 64% | 41% | 17 | 51.75 |
| Zavier Simpson | OKC | $3,900 | 72% | 46% | 18 | 49.60 |
| Malik Monk | LAL | $5,600 | 56% | 37% | 15 | 41.82 |
| Jaylen Hoard | OKC | $5,600 | 54% | 36% | 14 | 40.42 |
| Luka Doncic | DAL | $12,200 | 19% | 17% | 9 | 26.55 |
| Stanley Johnson | LAL | $3,700 | 27% | 20% | 8 | 23.47 |
| Kevin Durant | BKN | $11,600 | 19% | 17% | 9 | 23.38 |
| Jericho Sims | NYK | $3,700 | 31% | 23% | 9 | 20.73 |
| Kyrie Irving | BKN | $10,200 | 14% | 13% | 7 | 19.58 |
| Isaiah Roby | OKC | $6,800 | 17% | 15% | 6 | 18.05 |
| Obi Toppin | NYK | $6,200 | 17% | 15% | 6 | 17.87 |
GPP
| | | | | | | |
| --- | --- | --- | --- | --- | --- | --- |
| Name | Team | Price | Proj Cash | Proj GPP | Count | Rank Score |
| Georgios Kalaitzakis | OKC | $3,600 | 16% | 13% | 6 | 15.24 |
| RJ Barrett | NYK | $8,300 | 10% | 11% | 5 | 15.07 |
| Rudy Gobert | UTA | $8,300 | 7% | 9% | 4 | 13.49 |
| Giannis Antetokounmpo | MIL | $11,800 | 5% | 8% | 4 | 12.69 |
| DeMar DeRozan | CHI | $8,700 | 7% | 9% | 4 | 11.73 |
| Daniel Gafford | WAS | $3,900 | 10% | 9% | 4 | 11.35 |
| Nikola Vucevic | CHI | $7,800 | 7% | 9% | 4 | 10.95 |
| Pascal Siakam | TOR | $9,600 | 5% | 8% | 4 | 10.53 |
Totals over 220
Hornets/Bulls (235.5)
Cavs/Nets (232.5)
Hawks/Heat (230.5)
Bucks/Pistons (229)
Suns/Jazz (228.5)
Rockets/Raptors (228)
Thunder/Lakers (225)
Knicks/Wizards (223.5)
Blazers/Mavs (220.5)
Hope you find the right combination to cash! Follow me on Twitter @mbutlerOK