NBA – Industry Expert Consensus – December 23rd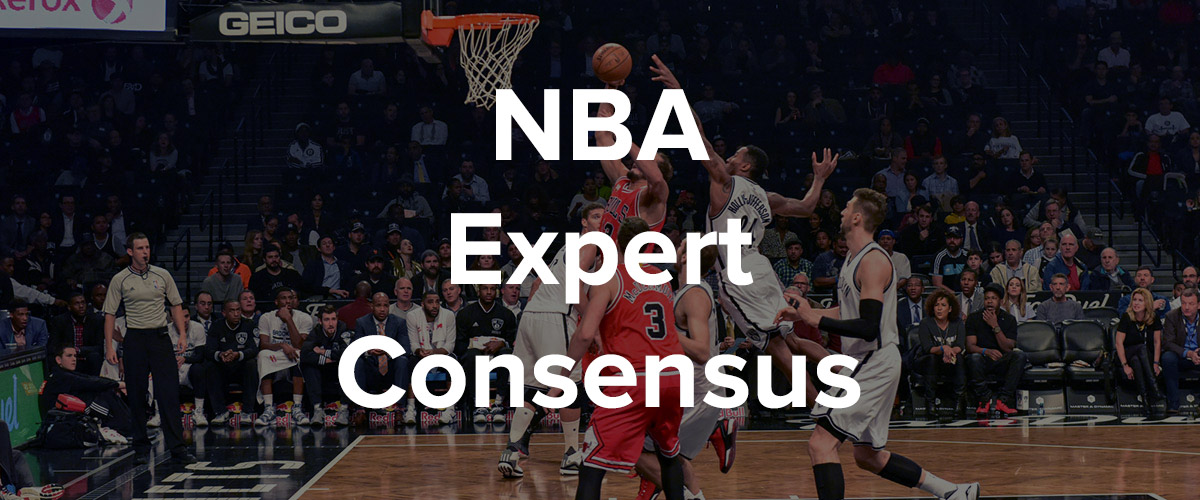 NBA DFS Picks – December 23rd
The NBA season tipped off with a two-game appetizer on Tuesday, but Wednesday brings us the main course with a massive 13-game slate on the hardwood. The Consensus list for tonight will be FREE and includes picks from 30 NBA DFS analysts and optimizers from around the industry consolidated. Our Consensus Rankings provide a condensed snapshot of who the industry recommends which is broken down into a Cash section for the most popular plays and a GPP section for options that will be a little less chalky.
We will provide our Consensus Rankings every weekday when the NBA main slate has at least four games. The consensus will start to be "weighted" with the top graded experts' picks carrying more weight once we get a few days of picks graded.
Look for our next article in time for the Christmas Day slate. Now is a great time to sign up for our premium content with a FREE 7-day trial.
Here is the NBA Consensus list for December 23:
Cash
| | | | | | |
| --- | --- | --- | --- | --- | --- |
| Name |  Team | Price | Proj Cash | Proj GPP | Total Count |
| Luka Doncic |  DAL | $10,000 | 69% | 45% | 20 |
| Giannis Antetokounmpo |  MIL | $10,200 | 26% | 24% | 13 |
| Wendell Carter Jr. |  CHI | $4,400 | 49% | 32% | 12 |
| James Harden |  HOU | $10,400 | 23% | 21% | 12 |
| Dejounte Murray |  SA | $5,600 | 45% | 31% | 12 |
| Christian Wood |  HOU | $6,300 | 40% | 28% | 11 |
| Patrick Williams |  CHI | $3,000 | 40% | 27% | 10 |
| PJ Washington |  CHA | $4,200 | 35% | 24% | 9 |
| Mason Plumlee |  DET | $3,700 | 33% | 22% | 8 |
| Lauri Markkanen |  CHI | $4,800 | 33% | 22% | 8 |
| Andre Drummond |  CLE | $8,000 | 13% | 14% | 8 |
| Shai Gilgeous-Alexander |  OKC | $7,500 | 13% | 14% | 8 |
GPP
| | | | | | |
| --- | --- | --- | --- | --- | --- |
| Name |  Team | Price | Proj Cash | Proj GPP | Total Count |
| Karl-Anthony Towns |  MIN | $9,700 | 8% | 11% | 7 |
| Tobias Harris |  PHI | $6,200 | 17% | 16% | 7 |
| Hassan Whiteside |  SAC | $3,800 | 28% | 20% | 7 |
| John Collins |  ATL | $7,600 | 9% | 10% | 6 |
| Zach LaVine |  CHI | $7,900 | 9% | 10% | 6 |
| Joel Embiid |  PHI | $9,800 | 6% | 8% | 6 |
| Ben Simmons |  PHI | $8,700 | 7% | 9% | 5 |
| Malcolm Brogdon |  IND | $6,200 | 10% | 11% | 5 |
| Zion Williamson |  NO | $7,500 | 7% | 9% | 5 |
| Larry Nance Jr. |  CLE | $5,900 | 10% | 11% | 5 |
| Fred VanVleet |  TOR | $6,700 | 10% | 11% | 5 |
| Damian Lillard |  POR | $9,000 | 5% | 7% | 5 |
| Killian Hayes |  DET | $3,900 | 18% | 14% | 5 |
| Darius Bazley |  OKC | $5,100 | 10% | 11% | 5 |
| Jerami Grant |  DET | $4,700 | 18% | 14% | 5 |
| Coby White |  CHI | $6,500 | 10% | 11% | 5 |
| Isaac Okoro |  CLE | $3,400 | 12% | 11% | 4 |
| Jayson Tatum |  BOS | $9,200 | 4% | 6% | 4 |
| Trae Young |  ATL | $9,400 | 4% | 6% | 4 |
| D'Angelo Russell |  MIN | $7,200 | 5% | 7% | 4 |
| Deandre Ayton |  PHO | $7,300 | 5% | 7% | 4 |
| Jonas Valanciunas |  MEM | $7,100 | 5% | 7% | 4 |
| Josh Richardson |  DAL | $5,300 | 7% | 9% | 4 |
| Eric Gordon |  HOU | $5,000 | 7% | 9% | 4 |
| Alec Burks |  NY | $4,800 | 9% | 8% | 3 |
| George Hill |  OKC | $3,600 | 9% | 8% | 3 |
| Russell Westbrook |  WAS | $9,300 | 3% | 5% | 3 |
| Devin Booker |  PHO | $8,900 | 4% | 6% | 3 |
| Domantas Sabonis |  IND | $7,400 | 4% | 6% | 3 |
| Nikola Jokic |  DEN | $9,600 | 3% | 5% | 3 |
| Jaylen Brown |  BOS | $6,700 | 5% | 7% | 3 |
| Bam Adebayo |  MIA | $7,300 | 4% | 6% | 3 |
Dollar Values are based on DraftKings
Vegas Totals Over 220
Hawks/Bulls (233.5)
Mavericks/Suns (233.5)
Wizards/Sixers (230.5)
Spurs/Grizzlies (230)
Pelicans/Raptors (228.5)
Kings/Nuggets (226)
Jazz/TrailBlazers (226)
Pistons/Timberwolves (224.5)
Bucks/Celtics (224)