NBA – Industry Expert Consensus – July 31st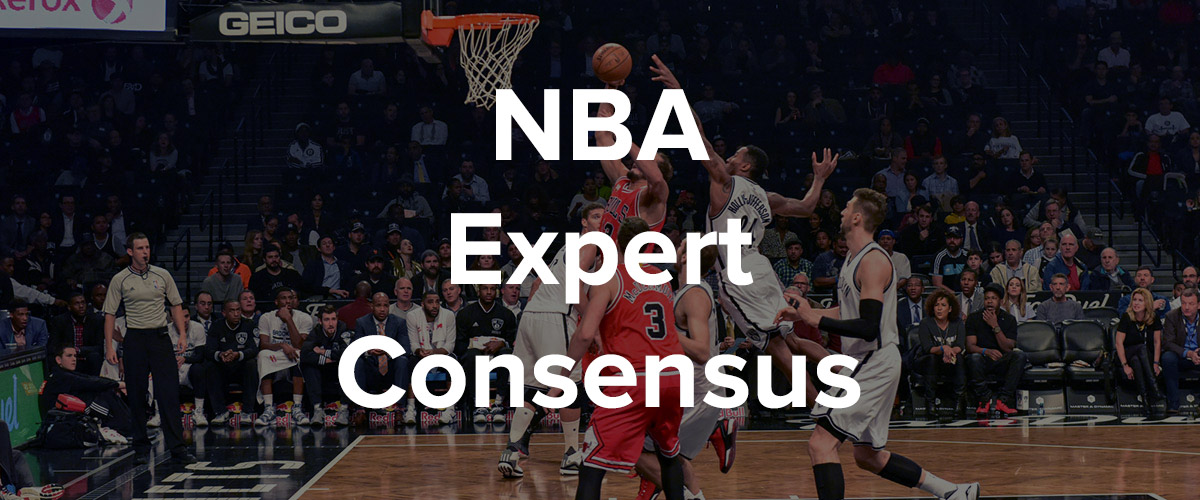 NBA DFS Picks (7/31)
The NBA has returned with two close games last night and a six-game slate of action on the Disney hardwood on Friday starting at 2:30 pm (Eastern). The NBA DFS analysts are back at it which provides us with a strong Weighted Consensus Rankings to help build our DFS lineups. We'll make today's article FREE but you will need a subscription starting next week.
The Weighted Consensus for the NBA uses each expert's current DailyOverlay score to generate a Weighted Consensus ranking. To calculate the Weighted Rank Score, each expert's DailyOverlay score for players is weighted on a sliding scale from 1 to 5 with the top expert in the current standings being weighted with a five while the last place expert is weighted with a one. This method gives the higher rated experts picks more weight when compiling the overall player rankings for the day. We will include all players that generate a Rank Score of at least 8.0.
As a reminder, most of our NBA content will be part of our premium membership. Now is a great time to sign up for our premium content so you are all set for the NBA season.
Here is the NBA Weighted Consensus list for July 31:
Cash
| | | | | | | |
| --- | --- | --- | --- | --- | --- | --- |
| Name |  Team | Price | Proj Cash | Proj GPP | Total Count | Rank Score |
| Luka Doncic |  DAL | $10,500 | 33% | 27% | 14 | 39.33 |
| Jarrett Allen |  BKN | $5,800 | 44% | 31% | 12 | 35.23 |
| Giannis Antetokounmpo |  MIL | $10,500 | 18% | 17% | 11 | 31.24 |
| Zach Collins |  POR | $3,000 | 36% | 24% | 9 | 27.04 |
| Jaren Jackson Jr. |  MEM | $4,900 | 40% | 27% | 10 | 26.44 |
| Caris LeVert |  BKN | $7,800 | 23% | 20% | 10 | 25.80 |
| Jakob Poeltl |  SA | $4,700 | 36% | 24% | 9 | 25.71 |
| Ja Morant |  MEM | $7,000 | 12% | 13% | 8 | 24.20 |
| Damian Lillard |  POR | $9,300 | 10% | 12% | 8 | 23.58 |
| Devin Booker |  PHO | $8,800 | 16% | 16% | 9 | 23.18 |
| Deandre Ayton |  PHO | $7,900 | 12% | 13% | 8 | 22.42 |
| Nikola Vucevic |  ORL | $8,500 | 10% | 11% | 7 | 21.71 |
| Richaun Holmes |  SAC | $5,100 | 16% | 16% | 7 | 21.08 |
| James Harden |  HOU | $11,000 | 10% | 12% | 8 | 20.93 |
GPP
| | | | | | | |
| --- | --- | --- | --- | --- | --- | --- |
| Name |  Team | Price | Proj Cash | Proj GPP | Total Count | Rank Score |
| Troy Brown Jr. |  WAS | $4,700 | 34% | 23% | 8 | 19.58 |
| Danuel House Jr. |  HOU | $3,800 | 29% | 20% | 7 | 18.64 |
| Lonnie Walker IV |  SA | $3,200 | 24% | 17% | 6 | 16.06 |
| Robert Covington |  HOU | $6,100 | 13% | 14% | 6 | 14.87 |
| Shabazz Napier |  WAS | $5,700 | 10% | 11% | 5 | 14.80 |
| Russell Westbrook |  HOU | $9,400 | 5% | 7% | 5 | 13.48 |
| DeMar DeRozan |  SA | $7,700 | 7% | 8% | 5 | 13.36 |
| Jusuf Nurkic |  POR | $5,900 | 10% | 11% | 5 | 12.88 |
| Gordon Hayward |  BOS | $6,800 | 7% | 9% | 4 | 11.58 |
| Khris Middleton |  MIL | $7,500 | 5% | 7% | 4 | 10.75 |
| Tyler Johnson |  BKN | $3,200 | 13% | 11% | 4 | 10.61 |
| Rui Hachimura |  WAS | $7,400 | 7% | 8% | 5 | 10.11 |
| Mikal Bridges |  PHO | $5,600 | 7% | 9% | 4 | 10.02 |
| Ricky Rubio |  PHO | $7,400 | 5% | 7% | 4 | 9.86 |
| Thomas Bryant |  WAS | $4,600 | 13% | 11% | 4 | 9.54 |
| George Hill |  MIL | $3,800 | 9% | 8% | 3 | 8.96 |
| Joe Harris |  BKN | $5,400 | 5% | 7% | 3 | 8.68 |
| De'Aaron Fox |  SAC | $7,600 | 4% | 6% | 3 | 8.66 |
| Ish Smith |  WAS | $4,000 | 13% | 11% | 4 | 8.57 |
| Buddy Hield |  SAC | $5,200 | 5% | 7% | 3 | 8.25 |
Dollar Values are based on DraftKings
Vegas Totals Over 220
Mavericks/Rockets (230.5)
Grizzlies/Blazers (224.5)
Suns/Wizards (224)
Kings/Spurs (222)