NFL Hot Sheet – Week 12 – 2021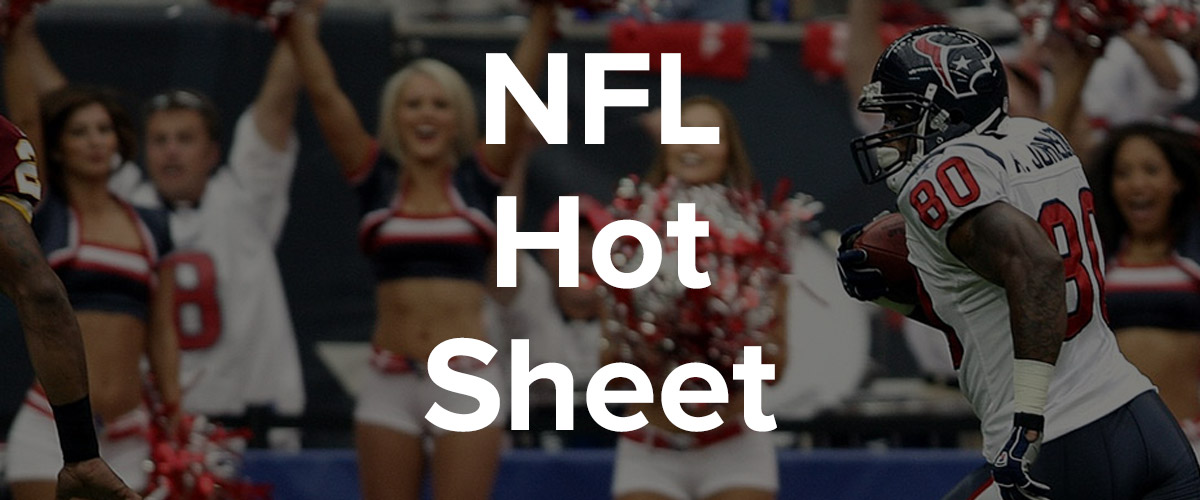 It could be an interesting 10-game NFL DFS main slate on Sunday with a lot of close games as nine of the 10 matchups have a Vegas favorite of fewer than four points. Lineup construction is a challenge without much value to consider which could force some tough decisions.
Be sure to sign up for a FREE 7-day trial to read this full article and to get all the other great content here at DailyOverlay.
Note: DVOA referenced in this article stands for Defense-adjusted Value Over Average which is a metric from FootballOutsiders.com. Rankings for receivers by position (WR/TE) are based on grades from ProFootballFocus (PFF).
Week 12 Hot Sheet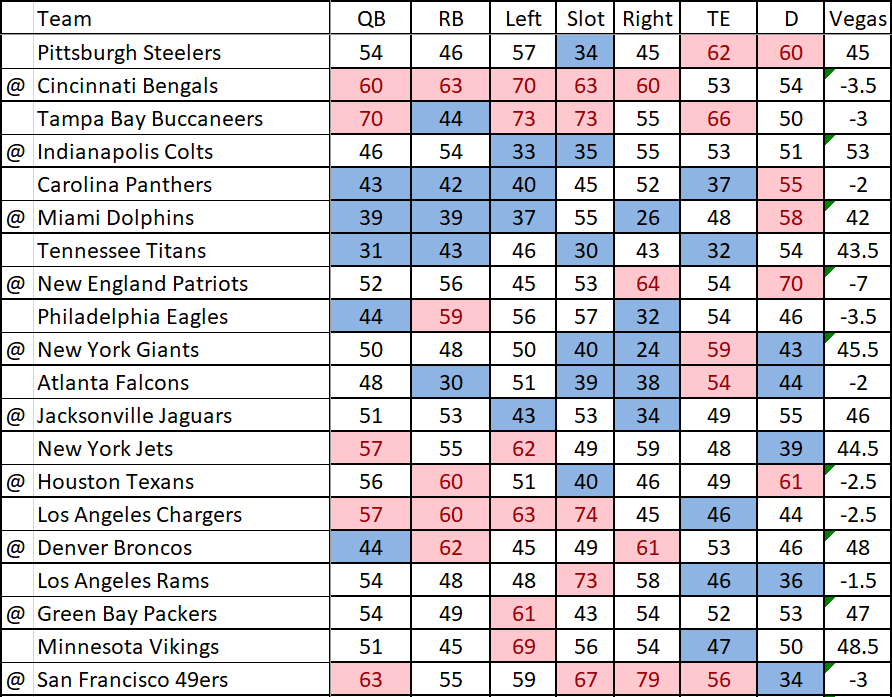 Top Plays
QB
Tom Brady (TB) – Brady has multiple TD passes in six straight games while topping 300 yards in three of those games. The Colts have surrendered 2.3 TD passes (31st) per game this season to go along with a 23rd DVOA against the pass.
Cam Newton (CAR) – The Dolphins have allowed 291 passing yards (30th) and 1.8 touchdown passes (28th) per game this season. They have also ranked 26th in rushing yards allowed to QBs over the last five weeks.
Ben Roethlisberger (PIT) – The Bengals have allowed 288 passing yards (29th) and 1.8 TD passes (24th) per game over the last five weeks.
RB
Christian McCaffrey (CAR) – Over the last two weeks, McCaffrey has 23 carries and 18 receptions for a total of 280 yards and a score. He is pricing but his floor and upside are both so high in a matchup against the Dolphins.
James Robinson (JAC) – Robinson has at least 14 touches and a score in each of the last two games. He draws a plus matchup this week against the Falcons who have allowed 115 rushing yards (28th) and 0.8 TDs (21st) per game to RBs over the last five weeks. They have also allowed 6.6 receptions (27th) for 51 yards (27th) per game through the air to pass-catching backs.
Darrell Henderson (LAR) – The Packers have been decent against opposing running backs when looking at the raw numbers but rank 24th DVOA against the run this season. Henderson has a very reasonable salary for a back involved on the ground, through the air, and at the goal line for a high-scoring offense.
Miles Sanders (PHI) – Sanders had 16 carries for 94 yards in the last game. The Eagles will be without Jordan Howard this week which should keep Sanders as the lead back in a plus matchup against the Giants. The Giants rank 30th DVOA against the run and have allowed 104 rushing yards (27th) per game on 4.55 YPC (27th) to RBs this season.
Dalton Hilliard (TEN) – With the Titans decimated by injury at the skill positions, Hilliard has seven carries and 10 targets last week. His receiving is intriguing against the Patriots who have allowed a league-high 8.4 receptions for 80 yards (31st) per game to pass-catching backs over the last five weeks.
WR
Cooper Kupp (LAR) – The Packers secondary has played well this season, but nobody has been able to stop the Cooper Kupp show this season and I don't expect the Packers to be able to either. Another double-digit targets with triple-digit yards coming up.
Deebo Samuel (SF) – One way or another the 49ers get the ball in Samuel's hands every week. He should have plenty of opportunities and success against a Vikings secondary that has allowed 15.8 receptions (30th) for 238 yards (32nd) and 1.5 TDs (31st) per game over the last five weeks.
Keenan Allen (LAC) – Allen has at least 11 targets in each of the last four games which have resulted in an average of at least six catches and 77 yards as a floor. Allen draws a great individual matchup this week according to PFF metrics while working out of the slot against the Broncos who have allowed 1.25 touchdowns per game (26th) to WRs over the last five weeks.
Chris Godwin (TB) – Godwin has racked up at least six catches in four straight games and has scored three times during that stretch. The Colts has allowed 13 receptions (23rd) for 146 yards (19th), and 1.4 touchdowns (29th) per game to WRs over the last five weeks.
Dionate Johnson (PIT) – Johnson is a target hog in the Steelers passing game with 13 targets in four of his last five outings. He will continue to get fed the ball in a key divisional matchup against the Bengals. Johnson averaged seven receptions for 88 yards and a score in two meetings last season.
Michael Pittman (IND) – Pittman has taken a backseat to the Jonathan Taylor show recently but the Colts will likely need to pass against the Buccaneers to keep up. The Bucs have allowed 13.9 receptions (25th) for 161 yards (18th), and 1.0 TDs (16th) per game to WRs.
TE
George Kittle (SF) – Kittle has scored in three straight games while averaging five receptions per game during that stretch. The Vikings have been solid against TEs this season but have allowed some big plays giving up 12.9 yards per reception (32nd).
Rob Gronkowski (TB) – Gronkowski returned to the lineup for the Buccaneers last week and had a strong return with six catches on eight targets for 71 yards. He'll face a Colts defense that has allowed 6.1 receptions (29th) for 63 yards (28th), and 0.6 touchdowns (25th) per game to tight ends this season.
Evan Engram (NYG) – The Giants receiving corp is once again depleted which should open up more opportunities for Engram. The Eagles have allowed a league-high 8.2 receptions for 98 yards and 0.8 TDs (31st) per game to TEs over the last five weeks.
DST
Chargers (LAC)
Texans (HOU)
Jaguars (JAC)
Follow me on Twitter @Rotopilot