NFL Hot Sheet – Week 15 – 2021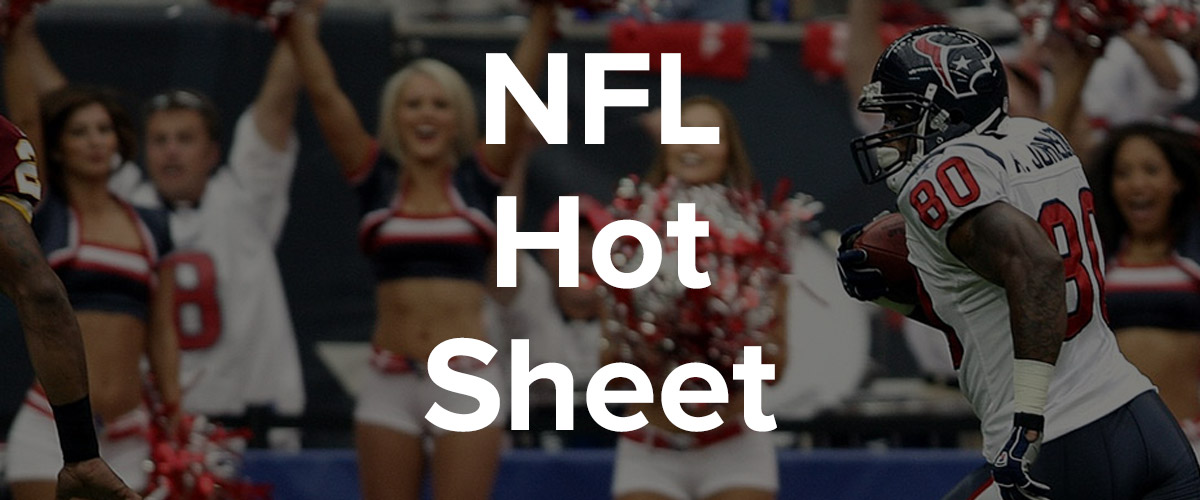 I had about half of my NFL DFS picks written up for the Hot Sheet and then the news broke that two of the games for the Week 15 Sunday main slate were shifted to Tuesday. Of course, I had a bunch of players from the Rams on the list along with a few from the Eagles/Washington game.
So, instead of rewriting the article, I'm going to just strip it down to just a list of picks at each position for the now nine-game Sunday main slate. I'm also going to make the article FREE since I'm not convinced there won't be more Covid news that changes things again before Sunday. Follow me on Twitter @Rotopilot and I'll try to tweet out my Core cash game plays on Sunday morning after the news cycle finally stops.
Be sure to sign up for a FREE 7-day trial to read this full article and to get all the other great content here at DailyOverlay.
Note: DVOA referenced in this article stands for Defense-adjusted Value Over Average which is a metric from FootballOutsiders.com. Rankings for receivers by position (WR/TE) are based on grades from ProFootballFocus (PFF).
Week 15 Hot Sheet

Top Plays
QB
Kyler Murray (ARI)
Dak Prescott (DAL)
Tua Tagovailoa (MIA)
RB
Najee Harris (PIT)
James Conner (ARI)
Myles Gaskin (MIA)
James Robinson (JAC)
Michael Carter (NYJ)
WR
Davante Adams (GB)
Diontae Johnson (PIT)
CeeDee Lamb (DAL)
Tyler Boyd (CIN)
DeVante Parker (MIA)
Gabriel Davis (BUF)
Laquon Treadwell (JAC)
TE
George Kittle (SF)
Mike Gesicki (MIA)
Noah Fant (DEN)
DST
Broncos (DEN)
Jaguars (JAC)
Ravens (BAL)
Follow me on Twitter @Rotopilot