NHL – DFS Expert Consensus – April 23rd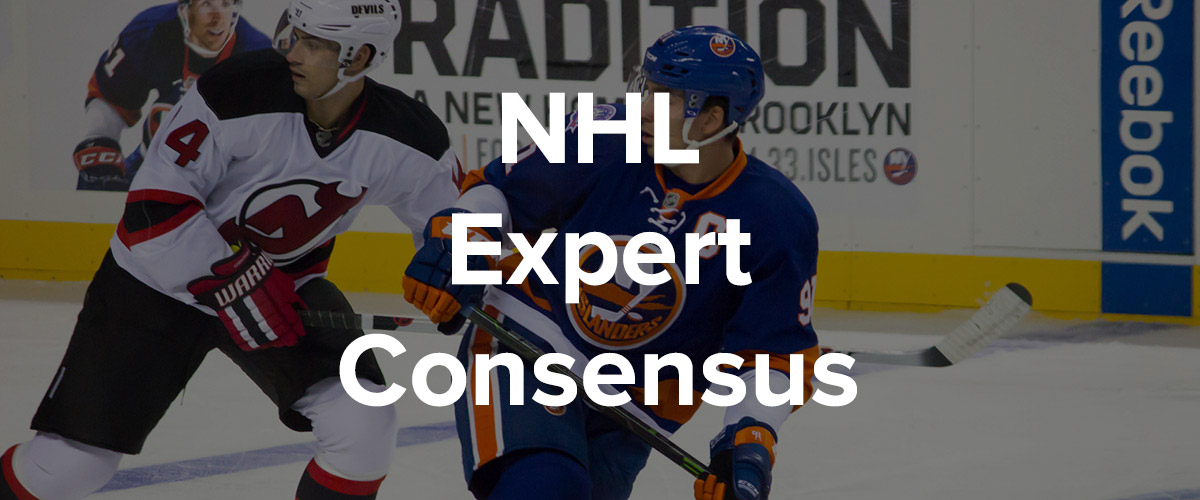 NHL DFS Picks – April 23rd
This will be the final NHL DFS Weighted Consensus Ranking article of the regular season as we enter the final couple of weeks. This article may resurface during the early rounds of the NHL playoffs if there are slates with enough games.  Enjoy the last one of the regular season for FREE on the 5-game Friday night slate.
The Weighted Consensus for the NHL uses each expert's current DailyOverlay score to generate a Weighted Consensus ranking. To calculate the Weighted Rank Score, each expert's DailyOverlay score for players is weighted on a sliding scale from 1 to 5 with the top expert in the current standings being weighted with a five while the last place expert is weighted with a one. This method gives the higher-rated experts picks more weight when compiling the overall player rankings for the day. We will include all players that have a Rank Score over 6.0.
Sign up for a FREE 7-day trial of our premium content!
Here is the NHL Weighted Consensus list for April 23:
Centers
Cash
| | | | | | | |
| --- | --- | --- | --- | --- | --- | --- |
| Name | Team | Price | Cash % | GPP % | Count | Rank Score |
| Mika Zibanejad | NYR | $7,500 | 32% | 23% | 9 | 23.68 |
| Patrice Bergeron | BOS | $8,000 | 16% | 14% | 5 | 15.17 |
| Elias Lindholm | CGY | $6,100 | 16% | 14% | 5 | 12.75 |
| Mikael Granlund | NSH | $4,200 | 13% | 12% | 4 | 10.08 |
GPP
| | | | | | | |
| --- | --- | --- | --- | --- | --- | --- |
| Name | Team | Price | Cash % | GPP % | Count | Rank Score |
| Sean Couturier | PHI | $6,000 | 9% | 9% | 3 | 8.57 |
| Mikael Backlund | CGY | $5,500 | 13% | 12% | 4 | 8.47 |
| Ryan Strome | NYR | $6,300 | 9% | 9% | 3 | 8.04 |
| Eric Staal | MON | $2,700 | 9% | 9% | 3 | 7.85 |
Wings
Cash
| | | | | | | |
| --- | --- | --- | --- | --- | --- | --- |
| Name | Team | Price | Cash % | GPP % | Count | Rank Score |
| Artemi Panarin | NYR | $7,900 | 27% | 21% | 8 | 22.96 |
| David Pastrnak | BOS | $8,700 | 24% | 18% | 7 | 18.56 |
| Brad Marchand | BOS | $8,100 | 24% | 18% | 7 | 17.96 |
| Patrick Kane | CHI | $8,300 | 20% | 16% | 6 | 16.27 |
| Eeli Tolvanen | NSH | $3,900 | 20% | 16% | 6 | 14.66 |
GPP
| | | | | | | |
| --- | --- | --- | --- | --- | --- | --- |
| Name | Team | Price | Cash % | GPP % | Count | Rank Score |
| Dominik Kubalik | CHI | $4,700 | 12% | 11% | 4 | 10.05 |
| Matt Duchene | NSH | $3,200 | 10% | 9% | 3 | 8.61 |
| Nick Bonino | MIN | $3,000 | 10% | 9% | 3 | 8.54 |
| Calle Jarnkrok | NSH | $3,600 | 10% | 9% | 3 | 6.62 |
| Taylor Hall | BOS | $5,000 | 10% | 9% | 3 | 6.15 |
Defensemen
Cash
| | | | | | | |
| --- | --- | --- | --- | --- | --- | --- |
| Name | Team | Price | Cash % | GPP % | Count | Rank Score |
| Ryan Ellis | NSH | $4,800 | 14% | 11% | 6 | 17.53 |
| Mark Giordano | CGY | $6,300 | 12% | 10% | 5 | 16.72 |
| Adam Fox | NYR | $6,700 | 14% | 11% | 6 | 16.39 |
GPP
| | | | | | | |
| --- | --- | --- | --- | --- | --- | --- |
| Name | Team | Price | Cash % | GPP % | Count | Rank Score |
| Roman Josi | NSH | $7,000 | 10% | 8% | 4 | 11.75 |
| Mattias Ekholm | NSH | $4,100 | 10% | 8% | 4 | 11.15 |
| Mike Reilly | BOS | $3,500 | 12% | 10% | 5 | 10.57 |
| Matt Dumba | MIN | $4,600 | 7% | 7% | 3 | 6.97 |
Goalies
Cash
| | | | | | | |
| --- | --- | --- | --- | --- | --- | --- |
| Name | Team | Price | Cash % | GPP % | Count | Rank Score |
| Tuukka Rask | BOS | $8,400 | 33% | 27% | 11 | 28.98 |
| Cam Talbot | MIN | $8,100 | 23% | 19% | 8 | 20.03 |
GPP
| | | | | | | |
| --- | --- | --- | --- | --- | --- | --- |
| Name | Team | Price | Cash % | GPP % | Count | Rank Score |
| Juuse Saros | NSH | $7,800 | 12% | 11% | 5 | 14.76 |
| Jake Allen | MON | $7,900 | 15% | 13% | 6 | 12.90 |
Dollar Values are based on DraftKings
Stacks
NY Rangers (4) – Zibanejad, Panarin, Fox, Strome (63.03)
Boston (5) – Pastrnak, Marchand, Bergeron, Reilly, Hall (51.69)
Nashville (7) – Ellis, Tolvanen, Josi, Ekholm, Granlund, Duchene, Jarnkrok (43.94)
Calgary (3) – Giordano, Lindholm, Backlund (37.94)