NHL – DFS Expert Consensus – January 18th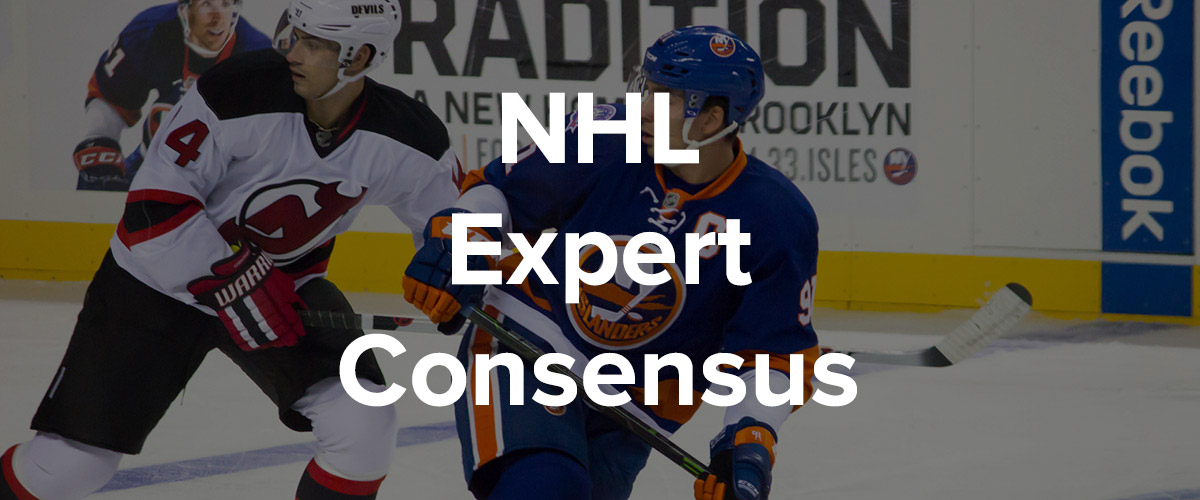 NHL DFS Picks – January 18th
There are eight NHL games on the Monday night main slate. Now that we have a few slates of grades on the DFS analysts and optimizer we track, this is the first Weighted Consensus Rankings of the season. We'll make it free for today so you can see the handy position by position matrix, but be sure to signup for a free 7-day trial of our premium content to continue to get a look at who the DFS experts recommend every weekday.
The Weighted Consensus for the NHL uses each expert's current DailyOverlay score to generate a Weighted Consensus ranking. To calculate the Weighted Rank Score, each expert's DailyOverlay score for players is weighted on a sliding scale from 1 to 5 with the top expert in the current standings being weighted with a five while the last place expert is weighted with a one. This method gives the higher rated experts picks more weight when compiling the overall player rankings for the day. We will include all players that have a Rank Score over 6.0.
Sign up for a FREE 7-day trial of our premium content!
Here is the NHL Weighted Consensus list for January 18:
Centers
Cash
| | | | | | | |
| --- | --- | --- | --- | --- | --- | --- |
| Name | Team | Price | Cash % | GPP % | Count | Rank Score |
| Auston Matthews | TOR | $8,300 | 48% | 32% | 11 | 29.63 |
| Connor McDavid | EDM | $8,400 | 34% | 25% | 8 | 23.22 |
| Morgan Frost | PHI | $2,500 | 23% | 18% | 6 | 12.84 |
| Leon Draisaitl | EDM | $8,000 | 13% | 12% | 4 | 10.18 |
GPP
| | | | | | | |
| --- | --- | --- | --- | --- | --- | --- |
| Name | Team | Price | Cash % | GPP % | Count | Rank Score |
| John Tavares | TOR | $6,700 | 9% | 9% | 3 | 8.33 |
| Mark Scheifele | WPG | $6,300 | 13% | 12% | 4 | 7.20 |
| Elias Lindholm | CGY | $5,700 | 9% | 9% | 3 | 6.59 |
| Tomas Hertl | SJ | $6,600 | 6% | 7% | 2 | 6.35 |
Wings
Cash
| | | | | | | |
| --- | --- | --- | --- | --- | --- | --- |
| Name | Team | Price | Cash % | GPP % | Count | Rank Score |
| Kirill Kaprizov | MIN | $5,000 | 31% | 23% | 8 | 22.88 |
| Max Pacioretty | VGK | $7,500 | 31% | 23% | 8 | 19.64 |
| Brayden Schenn | STL | $3,600 | 13% | 11% | 4 | 12.23 |
| Kevin Fiala | MIN | $6,600 | 13% | 11% | 4 | 10.83 |
| Mike Hoffman | STL | $4,200 | 13% | 11% | 4 | 10.62 |
GPP
| | | | | | | |
| --- | --- | --- | --- | --- | --- | --- |
| Name | Team | Price | Cash % | GPP % | Count | Rank Score |
| Brendan Gallagher | MON | $5,500 | 17% | 14% | 5 | 9.84 |
| Kyle Connor | WPG | $7,300 | 9% | 9% | 3 | 7.93 |
| Zach Parise | MIN | $4,100 | 9% | 9% | 3 | 7.43 |
| J.T. Miller | VAN | $5,000 | 9% | 9% | 3 | 7.18 |
| Oskar Lindblom | PHI | $4,000 | 6% | 6% | 2 | 6.63 |
| Matthew Tkachuk | CGY | $6,900 | 9% | 9% | 3 | 6.50 |
Defensemen
Cash
| | | | | | | |
| --- | --- | --- | --- | --- | --- | --- |
| Name | Team | Price | Cash % | GPP % | Count | Rank Score |
| Jared Spurgeon | MIN | $3,700 | 14% | 11% | 5 | 11.94 |
| Jeff Petry | MON | $5,600 | 14% | 11% | 5 | 10.22 |
| Jakob Chychrun | ARI | $5,900 | 10% | 9% | 4 | 10.21 |
| Alex Pietrangelo | VGK | $6,700 | 14% | 11% | 5 | 9.99 |
GPP
| | | | | | | |
| --- | --- | --- | --- | --- | --- | --- |
| Name | Team | Price | Cash % | GPP % | Count | Rank Score |
| Neal Pionk | WPG | $4,700 | 10% | 9% | 4 | 8.85 |
| Tyson Barrie | EDM | $4,300 | 8% | 7% | 3 | 8.00 |
| Torey Krug | STL | $5,200 | 8% | 7% | 3 | 6.78 |
Goalies
Cash
| | | | | | | |
| --- | --- | --- | --- | --- | --- | --- |
| Name | Team | Price | Cash % | GPP % | Count | Rank Score |
| Darcy Kuemper | ARI | $6,900 | 21% | 17% | 6 | 17.32 |
| Jordan Binnington | STL | $8,200 | 16% | 13% | 5 | 13.74 |
| Carter Hart | PHI | $8,400 | 16% | 13% | 5 | 12.89 |
GPP
| | | | | | | |
| --- | --- | --- | --- | --- | --- | --- |
| Name | Team | Price | Cash % | GPP % | Count | Rank Score |
| Robin Lehner | VGK | $8,500 | 9% | 9% | 3 | 7.46 |
| John Gibson | ANH | $7,400 | 6% | 7% | 2 | 6.06 |
| Connor Hellebuyck | WPG | $7,100 | 9% | 9% | 3 | 5.99 |
Dollar Values are based on DraftKings
Stacks
Minnesota (4) – Kaprizov, Spurgeon, Fiala, Parise
Edmonton (3) – McDavid, Draisaitl, Barrie
Louis (3) – Schenn, Hoffman, Krug
Winnipeg (3) – Pionk, Connor, Scheifele