NHL – DFS Expert Consensus – Oct 14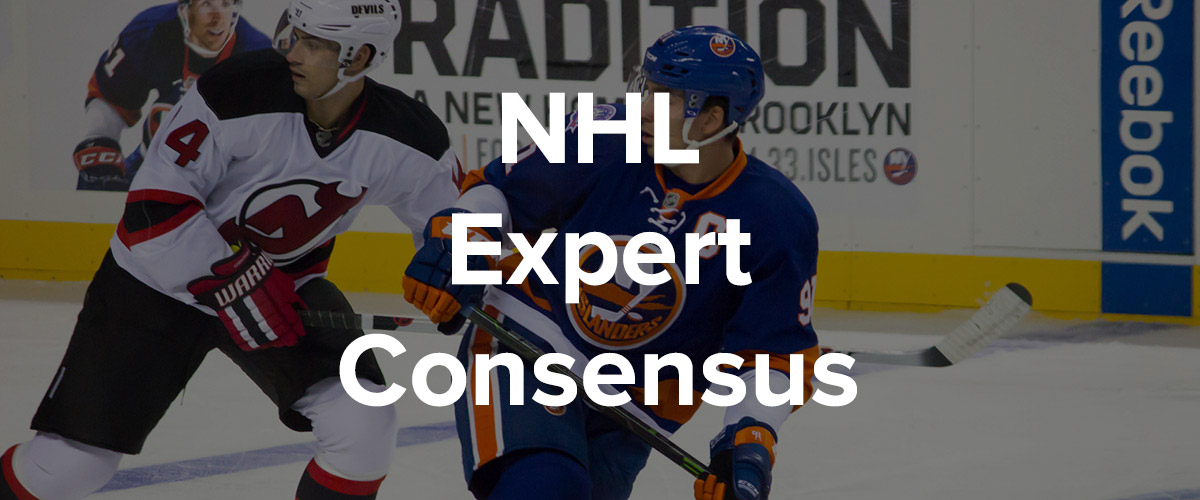 NHL DFS – Expert Consensus Picks – Oct 14
With the Canadian holiday of Thanksgiving on Monday, the NHL has a seven-game slate on the ice that starts off at 1 pm (Eastern). The NHL DFS analysts didn't disappoint as we have strong list of Cash and GPP recommendations for some day time hockey. To celebrate the holiday, we'll make Monday's NHL DFS Weighted Consensus FREE for your viewing pleasure. Like what you see, then sign up for a FREE 7-day trial to get in the NHL action and all the other great content here at DailyOverlay.
The Weighted Consensus for the NHL uses each expert's current DailyOverlay score to generate a Weighted Consensus ranking. To calculate the Weighted Rank Score, each expert's DailyOverlay score for players is weighted on a sliding scale from 1 to 5 with the top expert in the current standings being weighted with a five while the last place expert is weighted with a one. This method gives the higher rated experts picks more weight when compiling the overall player rankings for the day. We will include all players that have a Rank Score over 5.0.
Sign up for a FREE 7-day trial of our premium content!
Here is the NHL Weighted Consensus list for October 14:
Centers
Cash
| | | | | | | |
| --- | --- | --- | --- | --- | --- | --- |
| Name | Team | Price | Cash % | GPP % | Count | Rank Score |
| Tyler Seguin | DAL | $6,700 | 20% | 15% | 5 | 18.58 |
| Patrice Bergeron | BOS | $7,000 | 12% | 10% | 4 | 15.64 |
| Nathan MacKinnon | COL | $7,700 | 7% | 8% | 3 | 11.17 |
| Jonathan Toews | CHI | $5,500 | 7% | 8% | 3 | 9.73 |
GPP
| | | | | | | |
| --- | --- | --- | --- | --- | --- | --- |
| Name | Team | Price | Cash % | GPP % | Count | Rank Score |
| Jack Eichel | BUF | $7,900 | 7% | 8% | 3 | 8.58 |
| Jack Hughes | NJ | $3,500 | 5% | 6% | 2 | 8.04 |
| Connor McDavid | EDM | $8,100 | 5% | 6% | 2 | 7.80 |
| Dylan Strome | CHI | $4,300 | 7% | 8% | 3 | 6.74 |
| Brayden Schenn | STL | $5,400 | 5% | 6% | 2 | 5.57 |
Wings
Cash
| | | | | | | |
| --- | --- | --- | --- | --- | --- | --- |
| Name | Team | Price | Cash % | GPP % | Count | Rank Score |
| Patrick Kane | CHI | $7,200 | 36% | 26% | 9 | 30.72 |
| Joe Pavelski | DAL | $4,000 | 22% | 19% | 7 | 21.83 |
| Alex Ovechkin | WAS | $7,700 | 17% | 15% | 5 | 15.23 |
| Zach Parise | MIN | $4,900 | 17% | 15% | 5 | 12.11 |
| Taylor Hall | NJ | $6,900 | 9% | 9% | 3 | 11.46 |
GPP
| | | | | | | |
| --- | --- | --- | --- | --- | --- | --- |
| Name | Team | Price | Cash % | GPP % | Count | Rank Score |
| Mike Hoffman | FLA | $6,600 | 9% | 9% | 3 | 8.58 |
| David Pastrnak | BOS | $7,800 | 6% | 6% | 2 | 7.80 |
| Dominik Kubalik | CHI | $3,400 | 6% | 6% | 2 | 7.68 |
| Sammy Blais | STL | $4,000 | 9% | 9% | 3 | 6.71 |
| Jonathan Huberdeau | FLA | $6,500 | 6% | 6% | 2 | 5.78 |
| Vladimir Tarasenko | STL | $6,500 | 6% | 6% | 2 | 5.54 |
Defensemen
Cash
| | | | | | | |
| --- | --- | --- | --- | --- | --- | --- |
| Name | Team | Price | Cash % | GPP % | Count | Rank Score |
| John Carlson | WAS | $6,200 | 23% | 16% | 7 | 21.01 |
| Matt Dumba | MIN | $5,400 | 23% | 16% | 7 | 18.54 |
| Justin Faulk | STL | $3,900 | 9% | 8% | 4 | 15.26 |
GPP
| | | | | | | |
| --- | --- | --- | --- | --- | --- | --- |
| Name | Team | Price | Cash % | GPP % | Count | Rank Score |
| Thomas Chabot | OTT | $5,500 | 5% | 5% | 2 | 9.19 |
| Oscar Klefbom | EDM | $6,100 | 7% | 7% | 3 | 8.75 |
| Ryan Pulock | NYI | $4,200 | 7% | 7% | 3 | 8.60 |
| Jonas Brodin | MIN | $3,000 | 5% | 5% | 2 | 8.32 |
| P.K. Subban | NJ | $4,700 | 5% | 5% | 2 | 7.17 |
| Cale Makar | COL | $4,500 | 7% | 7% | 3 | 6.86 |
| Erik Gustafsson | CHI | $5,100 | 5% | 5% | 2 | 5.52 |
Goalies
Cash
| | | | | | | |
| --- | --- | --- | --- | --- | --- | --- |
| Name | Team | Price | Cash % | GPP % | Count | Rank Score |
| Jaroslav Halak | BOS | $8,400 | 20% | 18% | 8 | 26.35 |
| Ben Bishop | DAL | $7,100 | 14% | 13% | 6 | 18.00 |
GPP
| | | | | | | |
| --- | --- | --- | --- | --- | --- | --- |
| Name | Team | Price | Cash % | GPP % | Count | Rank Score |
| Philipp Grubauer | COL | $7,200 | 5% | 6% | 1 | 5.00 |
| Devan Dubnyk | MIN | $7,800 | 6% | 7% | 2 | 4.28 |
Dollar Values are based on DraftKings