PGA – Industry Expert Consensus – FedEx Cup – Northern Trust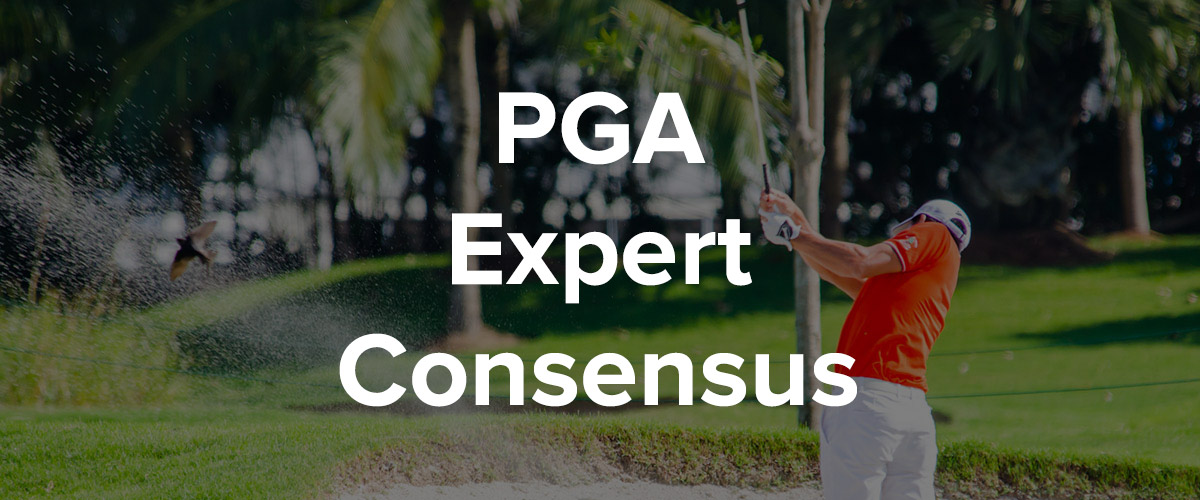 PGA DFS Picks FedEx Cup – Northern Trust
It's time for the year's FedEx Cup and the Top 125 in Golf!   Very spread out selections, especially after the top 5.  Find out the full list of golfers on the Weighted Consensus Rankings for this event below.
To calculate the Weighted Rank Score, each expert's DailyOverlay score is weighted on a sliding scale from 1 to 5 with the top expert in the current standings being weighted with a five while the last place expert is weighted with a one. If you have ever wondered how to differentiate between two players who were both selected by the same number of experts, then this is the list you need. We will include all players that have a DailyOverlay Score over 6.0.
Be sure to sign up a FREE 7-day trial of our Premium Content to find out which high-priced Stud and Value options sit atop the expert's list.
Cash
| | | | | | |
| --- | --- | --- | --- | --- | --- |
| Name | Price | Proj Cash | Proj GPP | Count | Rank Score |
| Jon Rahm | $11,500 | 27% | 21% | 9 | 22.72 |
| Paul Casey | $8,700 | 22% | 18% | 7 | 20.66 |
| Daniel Berger | $9,100 | 24% | 19% | 8 | 18.45 |
| Tyrrell Hatton | $7,800 | 22% | 18% | 7 | 18.26 |
| Jordan Spieth | $10,800 | 18% | 16% | 6 | 14.35 |
| Jason Kokrak | $7,700 | 12% | 11% | 4 | 13.23 |
GPP
| | | | | | |
| --- | --- | --- | --- | --- | --- |
| Name | Price | Proj Cash | Proj GPP | Count | Rank Score |
| Joaquin Niemann | $8,100 | 12% | 11% | 4 | 10.65 |
| Tony Finau | $8,200 | 8% | 9% | 3 | 9.40 |
| Hideki Matsuyama | $9,000 | 8% | 9% | 3 | 9.22 |
| Rory McIlroy | $10,000 | 12% | 11% | 4 | 9.17 |
| Patrick Reed | $8,600 | 8% | 9% | 3 | 9.09 |
| Justin Thomas | $9,800 | 8% | 9% | 3 | 8.85 |
| Cameron Tringale | $7,300 | 12% | 11% | 4 | 8.74 |
| Bryson DeChambeau | $9,600 | 12% | 11% | 4 | 8.68 |
| Corey Conners | $8,300 | 8% | 9% | 3 | 8.66 |
| Shane Lowry | $7,500 | 8% | 9% | 3 | 8.60 |
| Adam Scott | $8,400 | 8% | 9% | 3 | 7.91 |
| Keegan Bradley | $7,500 | 8% | 9% | 3 | 7.86 |
| Doug Ghim | $6,200 | 8% | 9% | 3 | 7.62 |
| Webb Simpson | $8,900 | 6% | 6% | 2 | 7.48 |
| Kevin Streelman | $7,400 | 8% | 9% | 3 | 7.00 |
| Abraham Ancer | $9,400 | 6% | 6% | 2 | 6.74 |
| Patrick Cantlay | $9,200 | 8% | 9% | 3 | 6.63 |
| Collin Morikawa | $10,400 | 6% | 6% | 2 | 6.37 |
| Scottie Scheffler | $9,300 | 8% | 9% | 3 | 6.20 |
Dollar Values are based on DraftKings