CFB – Industry Expert Consensus – Week 1 (Sept 12)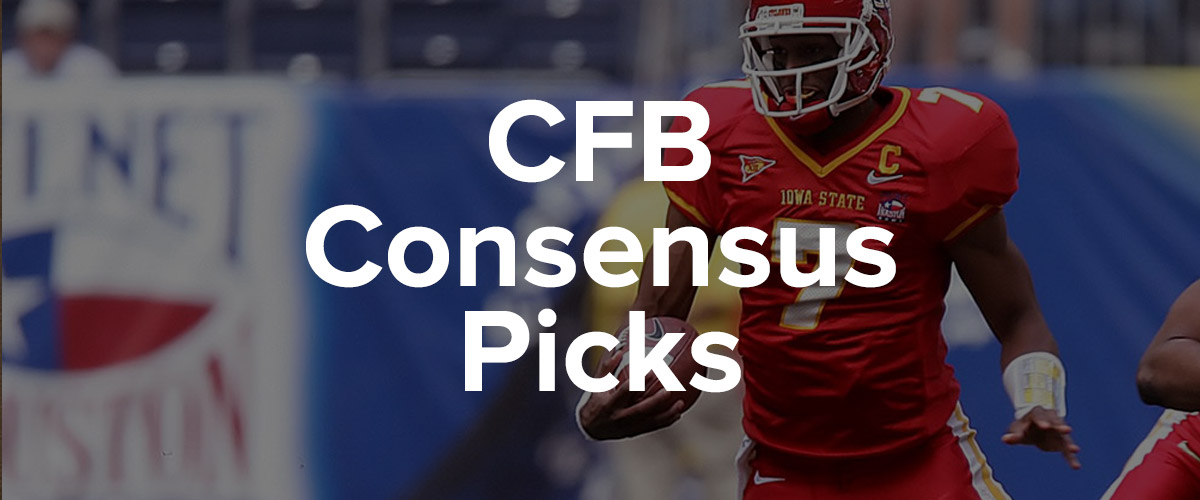 CFB DFS Picks Week 1
College Football is back! It might be a slimmed down schedule but we're here for it all! Things will look a bit different in this first week until we get some grading of the experts under our belt. We'll keep it free for this first week but moving forward the CFB consensus will be part of our premium package. Good luck!
The Weighted Consensus for CFB is where we publish an in-depth version of rankings every day that considers each expert's current DailyOverlay score to generate a Weighted Consensus ranking.  To calculate the Weighted Rank Score, each expert's DailyOverlay score is weighted on a sliding scale from 1 to 5 with the top expert in the current standings being weighted with a five while the last place expert is weighted with a one. This method gives the higher rated experts picks more weight when compiling the overall player rankings for the day. Any player with a DailyOverlay score over 6.0 is included in the Consensus. However, for this first week, we'll put any player that was selected by at least two experts. Once we have a week of grades in, we'll start with our weighted Consensus numbers.
The CFB Weighted Consensus article will be part of the premium content this football season. Sign up now for a FREE 7-day trial so you don't miss any of the content here at DailyOverlay.
Hit-Hike!!!
QB
| | | | | | | |
| --- | --- | --- | --- | --- | --- | --- |
| Name | Pos | Team | Price | Cash % | GPP % | Count |
| Sam Howell | QB | UNC | 8900 | 21% | 20% | 8 |
| Ian Book | QB | ND | 8700 | 14% | 14% | 6 |
| Brock Purdy | QB | ISU | 7300 | 9% | 9% | 4 |
| Chase Brice | QB | DUKE | 5300 | 7% | 7% | 3 |
| Skylar Thompson | QB | KSU | 6800 | 7% | 7% | 3 |
| Jarret Doege | QB | WVU | 8200 | 7% | 7% | 3 |
RB
| | | | | | | |
| --- | --- | --- | --- | --- | --- | --- |
| Name | Pos | Team | Price | Cash % | GPP % | Count |
| Breece Hall | RB | ISU | 7000 | 30% | 25% | 8 |
| Jashaun Corbin | RB | FSU | 6800 | 12% | 13% | 4 |
| Michael Carter | RB | UNC | 6500 | 7% | 8% | 3 |
| Tyrell Robinson | RB | ARMY | 3400 | 7% | 8% | 3 |
| Leddie Brown | RB | WVU | 7700 | 7% | 8% | 3 |
| Elijah Mitchell | RB | ULL | 5900 | 5% | 6% | 2 |
| Tony Mathis Jr. | RB | WVU | 4400 | 5% | 6% | 2 |
| Josh Johnson | RB | ULM | 7100 | 5% | 6% | 2 |
| Sandon McCoy | RB | ARMY | 6300 | 5% | 6% | 2 |
| Jahmyr Gibbs | RB | GT | 3500 | 5% | 6% | 2 |
WR
| | | | | | | |
| --- | --- | --- | --- | --- | --- | --- |
| Name | Pos | Team | Price | Cash % | GPP % | Count |
| Dyami Brown | WR | UNC | 6900 | 24% | 20% | 7 |
| Tamorrion Terry | WR | FSU | 7800 | 24% | 20% | 7 |
| Dazz Newsome | WR | UNC | 7900 | 24% | 20% | 7 |
| Charlie Kolar | WR | ISU | 4500 | 6% | 6% | 2 |
| Josh Downs | WR | UNC | 3000 | 6% | 6% | 2 |
| Sam James | WR | WVU | 7400 | 6% | 6% | 2 |
| Tarique Milton | WR | ISU | 6400 | 6% | 6% | 2 |
| Ben Skowronek | WR | ND | 6500 | 6% | 6% | 2 |
Hope you find the right combination to cash! Follow me on Twitter
@mbutlerOK