NBA – Industry Expert Consensus – December 25th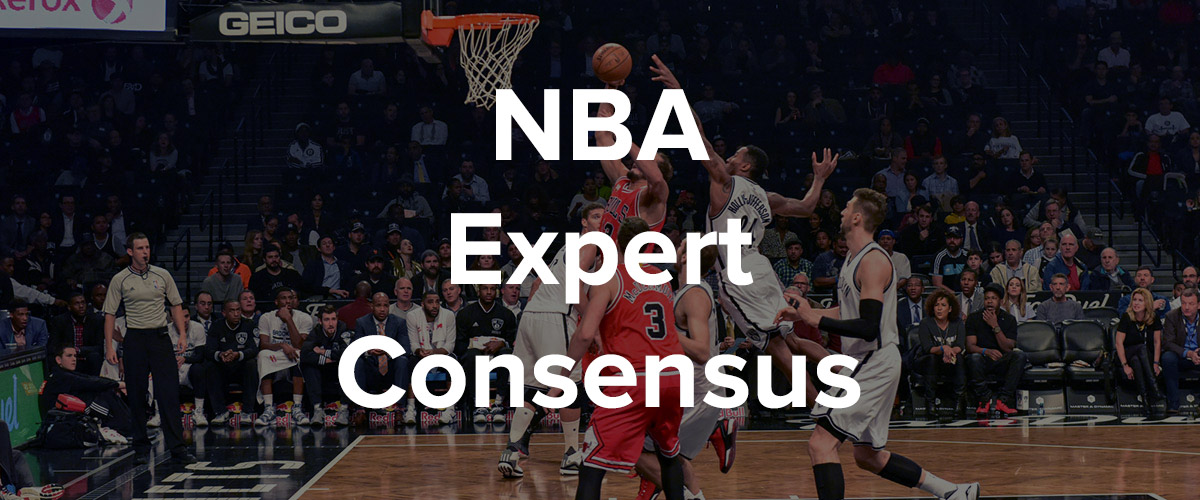 NBA DFS Picks – December 25th
Merry Christmas! Enjoy some NBA DFS action for the five-game slate with another FREE Consensus list!
We will provide our Consensus Rankings every weekday when the NBA main slate has at least four games. The consensus will start to be "weighted" with the top graded experts' picks carrying more weight once we get a few days of picks graded.
Now is a great time to sign up for our premium content with a FREE 7-day trial.
Here is the NBA Consensus list for December 25:
Cash
| | | | | | |
| --- | --- | --- | --- | --- | --- |
| Name |  Team | Price | Proj Cash | Proj GPP | Total Count |
| Giannis Antetokounmpo |  MIL | $10,900 | 57% | 40% | 18 |
| Jeff Teague |  BOS | $4,200 | 71% | 45% | 16 |
| Jaylen Brown |  BOS | $7,000 | 46% | 32% | 16 |
| Eric Bledsoe |  NO | $5,600 | 58% | 37% | 14 |
| Bam Adebayo |  MIA | $7,800 | 42% | 29% | 14 |
| Maxi Kleber |  DAL | $3,500 | 49% | 32% | 12 |
| Tyler Herro |  MIA | $5,600 | 45% | 31% | 12 |
| Nikola Jokic |  DEN | $10,100 | 19% | 18% | 11 |
| Luka Doncic |  DAL | $10,700 | 19% | 18% | 11 |
| Stephen Curry |  GS | $10,200 | 10% | 12% | 8 |
| Goran Dragic |  MIA | $5,300 | 21% | 18% | 8 |
| Donte DiVincenzo |  MIL | $4,700 | 33% | 22% | 8 |
| Paul Millsap |  DEN | $4,900 | 33% | 22% | 8 |
| Duncan Robinson |  MIA | $4,400 | 33% | 22% | 8 |
| Kevin Durant |  BKN | $9,400 | 10% | 12% | 8 |
GPP
| | | | | | |
| --- | --- | --- | --- | --- | --- |
| Name |  Team | Price | Proj Cash | Proj GPP | Total Count |
| Dorian Finney-Smith |  DAL | $4,800 | 28% | 20% | 7 |
| Jimmy Butler |  MIA | $8,000 | 10% | 12% | 7 |
| Jayson Tatum |  BOS | $9,300 | 8% | 11% | 7 |
| Khris Middleton |  MIL | $7,400 | 10% | 12% | 7 |
| Paul George |  LAC | $8,700 | 9% | 10% | 6 |
| Anthony Davis |  LAL | $10,300 | 5% | 7% | 5 |
| Kyrie Irving |  BKN | $8,900 | 7% | 9% | 5 |
| Montrezl Harrell |  LAL | $6,000 | 10% | 11% | 5 |
| Dennis Schroder |  LAL | $6,300 | 10% | 11% | 5 |
| Jrue Holiday |  MIL | $7,500 | 5% | 7% | 4 |
| Nicolas Batum |  LAC | $4,500 | 12% | 11% | 4 |
| Steven Adams |  NO | $5,900 | 7% | 9% | 4 |
| Michael Porter Jr. |  DEN | $6,700 | 7% | 9% | 4 |
| Zion Williamson |  NO | $8,100 | 5% | 7% | 4 |
| Josh Richardson |  DAL | $5,400 | 5% | 7% | 3 |
| JJ Redick |  NO | $4,400 | 9% | 8% | 3 |
| Kawhi Leonard |  LAC | $9,800 | 3% | 5% | 3 |
| Brandon Ingram |  NO | $8,300 | 4% | 6% | 3 |
Dollar Values are based on DraftKings
Vegas Totals Over 220
Warriors/Bucks (232)
Nets/Celtics (228)
Mavericks/Lakers (227.5)
Clippers/Nuggets (225)
Pelicans/Heat (223.5)