NHL – DFS Industry Expert Consensus – Oct 2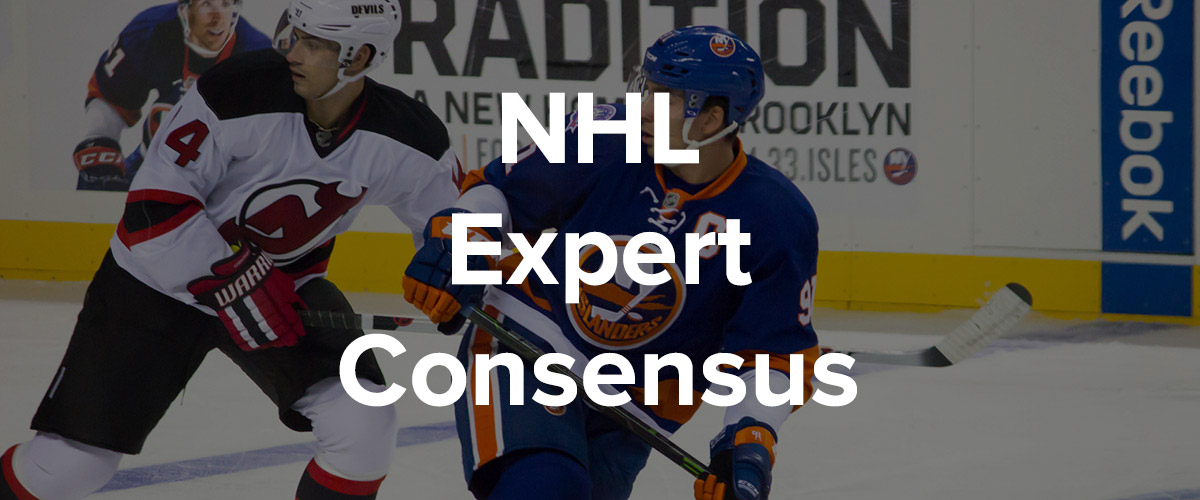 NHL DFS – Industry Expert Consensus – Oct 2
The puck drops on the NHL regular season on Wednesday night with a modest four-game slate on the ice. After dipping our toe into the water (I mean ice) over the second half of the hockey season, we are going to dive right in to pulling expert picks, publishing Consensus Rankings, and performing grading of the DFS NHL analysts all season this year. We will produce a Consensus Rankings list for any weeknight slate that features at least four games. The Consensus Rankings will morph into a Weighted Consensus Rankings including ownership projections after we get a few slates under our belt for the new season.
We'll start things off with a freebie for opening night, listing all players that were recommended by at least three of the 20 DFS NHL analysts we pulled picks from to start the year. Enjoy!
Sign up for a FREE 7-day trial of our premium content!
Here is the NHL Weighted Consensus list for October 2:
Centers
| | | | |
| --- | --- | --- | --- |
| Name | Team | Price | Count |
| Auston Matthews | TOR | $7,700 | 15 |
| John Tavares | TOR | $7,500 | 7 |
| Connor McDavid | EDM | $8,100 | 7 |
| Cody Glass | VGK | $2,800 | 6 |
| Alexander Kerfoot | TOR | $3,200 | 5 |
| Bo Horvat | VAN | $4,800 | 4 |
| Lars Eller | WAS | $4,500 | 4 |
Wings
| | | | |
| --- | --- | --- | --- |
| Name | Team | Price | Count |
| Vladimir Tarasenko | STL | $6,700 | 7 |
| Mitchell Marner | TOR | $6,600 | 7 |
| Andreas Johnsson | TOR | $5,400 | 6 |
| William Nylander | TOR | $5,500 | 5 |
| Max Pacioretty | VGK | $5,600 | 5 |
| Timo Meier | SJ | $5,900 | 4 |
| Mark Stone | VGK | $6,900 | 4 |
| Alex Ovechkin | WAS | $8,000 | 4 |
| Kasperi Kapanen | TOR | $4,300 | 4 |
| Tomas Jurco | EDM | $2,500 | 3 |
| Alex Chiasson | EDM | $3,000 | 3 |
| Leon Draisaitl | EDM | $7,000 | 3 |
| Reilly Smith | VGK | $5,300 | 3 |
| Brady Tkachuk | OTT | $5,200 | 3 |
Defensemen
| | | | |
| --- | --- | --- | --- |
| Name | Team | Price | Count |
| Alexander Edler | VAN | $5,100 | 11 |
| Morgan Rielly | TOR | $6,200 | 6 |
| Brent Burns | SJ | $7,000 | 5 |
| Thomas Chabot | OTT | $5,800 | 5 |
| Tyson Barrie | TOR | $5,600 | 4 |
| Oscar Klefbom | EDM | $5,000 | 4 |
| Quinn Hughes | VAN | $4,000 | 3 |
| Vince Dunn | STL | $4,400 | 3 |
| Shea Theodore | VGK | $5,300 | 3 |
Goalies
| | | | |
| --- | --- | --- | --- |
| Name | Team | Price | Count |
| Frederik Andersen | TOR | $8,400 | 10 |
| Jacob Markstrom | VAN | $7,200 | 5 |
| Mikko Koskinen | EDM | $7,200 | 4 |
| Jordan Binnington | STL | $7,800 | 4 |
| Mike Smith | EDM | $7,400 | 3 |
Dollar Values are based on DraftKings