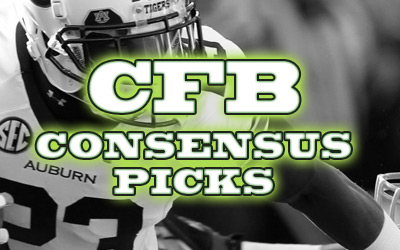 Welcome to the final regular season edition of the Consensus.  Is this still the regular season?  Is it technically Championship Saturday?  For our purposes, it's the regular season.  Due to the shortage of games, we get some players with big numbers in parentheses.  We have four players that were picked ten times or more by the experts and that's not even taking into consideration the one expert that has yet to post picks.
Should be a dynamite day of football for your viewing pleasure.  The day will start a little slow and end with a bang. The lower-tier conference championship games are in the morning but the action quickly heats up with the SEC Championship kicking at 3pm CT.  Things really get fun tomorrow evening with the Pac-12, ACC and Big Ten Championship games all kicking at 6:45pm, 7pm and 7:15pm, respectively.  Will the top seeds all hold serve and make it a boring weekend?  Ohio State is certainly hoping not as they are sitting on the outside looking in and will likely sneak in if someone loses.
Quarterback
Highly Touted
Brandon Doughty (11x) – Doughty had been held under 300 yards for three consecutive games until last week.  He went off against Marshall to the tune of 370 yards and five touchdowns.  Southern Miss is solid against the pass so it could be an interesting matchup.
Deshaun Watson (10x) – Watson has 27 touchdowns through the air and another 9 on the ground.  UNC is top-20 against the pass but gives up over 200 yards on the ground per game.
Recommended
Nick Mullens (5x) – Not many times this year have you even been able to roster Mullens on DK.  He's thrown 35 touchdowns and has gone over 300 yards in all but 3 games this season.  In those 3 outlier games, his lowest passing yard output was 265…not too shabby!
Joe Hubener (5x) – Hubener is the ultimate dual-threat CFB quarterback.  He gets it done more with his legs than with his inaccurate arm.  He will get you a couple touchdowns on the ground most weeks.
Suggested
Marquise Williams (4x) – Clemson has a stout defense but Williams is a stud.  Another dual-threat guy that can hurt you both ways.  Williams has struggled through the air over the last month.
Chris Johnson (4x) – Baylor's 3rd-string quarterback could probably start most places.  We didn't get too good of a read on Johnson last Friday night during the monsoon in Ft Worth.  He has plenty of weapons at his disposal.
Greg Ward, Jr. (3x) – Temple's defense has been stingy all season but Ward will certainly test them.  Coming back from injury against Navy last week, Ward topped 300 yards and threw 3 touchdowns while adding another on the ground.
Conner Cook (3x) – Cook has a chance to put his team in the playoff.  A sure-fire 1st rounder, Cook is the prototypical pocket passer and I expect Sparty to sling the pigskin around against Iowa.
C.J. Beathard (3x) – Beathard struggled against Nebraska though he wasn't needed much.  He has not topped the 300 yard mark yet this season.
Tyrone Swoopes (3x) – Swoopes gets the start in place of the injured Heard.  Swoopes has played nicely in the goalline package this year.  We will see what he can do returning to the starting role.
Running Back
Highly Touted
Christian McCaffrey (10x) – McCaffrey only ran for 115 yards against USC earlier in the year.  Of course, he really had not gotten the ball rolling at that points.  He's going to get his yards tomorrow.
Donnel Pumphrey (8x) – Pumphrey has eight straight 100-yard games.  He will look to add to his touchdown total of 16 for the season.
Recommended
Wendell Smallwood (5x) – Smallwood was a popular pick last week and then only put up 72 yards against Iowa State. The Kansas State defense is pretty suspect in the secondary so I'd look for WVU to air it out a little more than usual.
Anthony Wales (5x) – Wales really got things going halfway through the year and has only been held under 100 yards once since Week Six.
Wayne Gallman (5x) – Gallman will look to take advantage of a run-vulnerable UNC defense.  His four game touchdown streak was broken last week against South Carolina.
Suggested
Shock Linwood (4x) – Linwood has been hampered recently and Devin Chafin stepped in nicely.  It looks like Linwood will get the bulk of the carries on Saturday.
Ito Smith (3x) – The two-headed monster at RB for USM features Smith.  He has begun to take touches away from Jalen Richard in recent weeks and is a big threat catching passes out of the backfield.
Jalen Richard (3x) – If USM runs the ball, Richard typically gets more touches than Smith.  With both guys being so useful and productive, it might be wise to either play both or neither.
Derrick Henry (3x) – Florida has a top-10 defense against the run and pass; however, Derrick Henry is on the march to NYC to pick up his Heisman Trophy.  I expect a heavy dose of Henry and Alabama should roll (Tide?).
Elijah Hood (3x) – The sophomore ran for 220 yards and two touchdowns last week against NC State.  He averages almost 7 yards per carry.
Wide Receiver
Highly Touted
Taywan Taylor (11x) – The WKU pass offense leans on Taylor in a big way.  He's only caught a total of six balls over the last two games but has a touchdown in each game.
Mike Thomas (9x) – The senior from Chicago has 1111 yards and 11 touchdowns.  That's a lot of 1's!  He has scored in eight straight games and has a total of 11 TD's in that span.
Corey Coleman (8x) – Coleman only caught one ball last Friday; however, it looked like Noah needed his ark that night.  Chris Johnson seems to have formed a bit of a connection with KD Cannon so this play could be riskier than expected.
Recommended
Deon Cain (5x) – The freshman has come into his own lately with touchdowns in five straight games.
Demarcus Ayers (5x) – Ward's top target figures to be heavily involved tomorrow.  He's a receptions machine but only has one touchdown in the last four games.
Nicholas Norris (5x) – Norris is my favorite play of the day.  He's cheap, gets consistent targets and has scored in three of the last four.
Juju Smith-Schuster (5x) – Juju is consistently in the 5-8 receptions each week range.  He's failed to reach the endzone in his last two and three of his last five games.
Suggested
Aaron Burbridge (4x) – No one was happier to see Conner Cook back than Burbridge.  In MSU's big win last week, he caught 6 passes for 75 yards and a touchdown.
If you're in to scoreboard watching, check out our fearless leader, Greg, in the FCFWC live finals tomorrow.  Greg is looking to take down the big prize.  If he does, all of us here at Daily Overlay will treat it like the Stanley Cup and have one week each with the "Cup" to do whatever our heart desires.  He plays under the name vengven and we are all going to be on he edge of our seats hoping that our man can take down the crown!
Keep an eye out for at least one more edition of the Consensus.  We are going to give a look to some of the larger fields and payouts for the bowl season.  I would expect to have the pleasure of writing at least one more of these bad boys.  Good luck and let's get that cash!
Follow me on twitter at @mbutlerOK.
https://dailyoverlay.com/wp-content/uploads/2015/09/cfbConsensusSmall.jpg
250
400
Matt Butler
https://www.dailyoverlay.com/wp-content/uploads/2018/07/logo.png
Matt Butler
2015-12-04 15:25:20
2015-12-04 15:25:20
CFB - Championship Week - Industry Expert Consensus