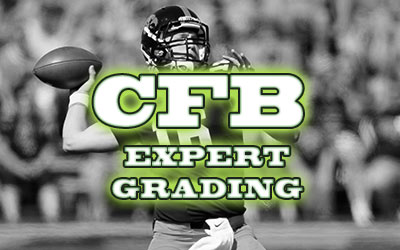 The rankings are out and it seems that most everyone that was not in that room is a little confused. I understand the Big XII teams being ranked a bit lower due to them not playing each other yet. However, what I do not understand at all is Alabama being ranked 4th. Of course, they could blast LSU on Saturday and completely justify that ranking but we shall see. Also, I hate to play the transitive property game but Bama lost handily to Ole Miss at home (yes, I know the final was only 6 points but anyone that watched that game knows how dominant the Rebs were) and Ole Miss has since slipped twice, including to Memphis. As for Memphis, I'm not buying. I may be wrong but I'm not buying.
It was a so-so week for the experts. It was certainly better than the previous two weeks but we still had mostly middle-of-the-road scores. Our newcomer Rob O'Conner, from venoDFS, maintained his lead in the season-long standings. Last week wrapped up the month of October with EMAC, of RotoGrinders, taking the crown for the month. You can check out all the CFB Daily Overlay Scores at the link. Let's take a look at how the Consensus performed in Week Nine.
Quarterback
Highly Touted
A+ – Patrick Mahomes (9x)
D – Dane Evans (9x)
Recommended
A – Baker Mayfield (5x)
B – Paxton Lynch (6x)
C – Matt Davis (6x)
D – Greg Ward (6x)
Suggested
A+ – Ryker Fyfe
A – Thomas Sirk (4x)
A – Joshua Dobbs (4x)
D – Mason Rudolph (4x)
D – Perry Hills (3x)
D – Karson Roberts (3x)
F – Cody Kessler (3x)
Running Back
Highly Touted
A+ – Devontae Booker
B – Jeremy McNichols (10x)
B – Christian McCaffrey (10x)
C – Samaje Perine (8x)
Recommended
A – Tra Carson (6x)
Suggested
A+ – Brandon Wilds (4x)
A+ – Jalen Hurd (3x)
D – C.J. Prosise (4x)
D – Joe Mixon (4x)
D – Akrum Wadley (4x)
F – Soso Jamabo (4x)
F – Myles Gaskin (3x)
F – Johnathan Gray (3x)
Wide Receiver
Highly Touted
A+ – Courtland Sutton (7x)
B – Will Fuller (7x)
F – JuJu Smith-Schuster (11x)
F – Keyarris Garrett (10x)
Recommended
A+ – Gabe Marks (5x)
B – Laquon Treadwell (5x)
C – Alex Erickson (5x)
F – Christian Kirk (5x)
Suggested
A+ – Sterling Shepard (3x)
A+ – Jakeem Grant (3x)
B – Demarcus Ayers (4x)
B – Dom Williams (3x)
C – Mose Frazier (4x)
C – Anthony Miller (4x)
C – River Cracraft (3x)
D – Nelson Spruce (3x)
D – Jordan Payton (3x)
F – Pharoh Cooper (3x)
F – Joshua Atkinson (4x)
With the addition of experts, we get more Consensus picks. A total of forty-five picks brought us some good and some bad. The Consensus has slipped to 7th in the season-long standings. We knew it would happen eventually but the Consensus managed to hold on to a top-5 spot longer than I figured.
Our top spot this week went to another newcomer. Fantasy Aces' Tap In To Mac struggled in his debut during Week Eight but kicked it up a big notch in Week Nine. He played three QBs and received two "A+'s" and an "A". His RB and WR plays were no slouches either. Congrats and welcome to the thick of the season-long standings! Let's take a peek at the top scores for the week.
Fantasy Aces – Tap In To Mac – 5.89 – Solid plays at the QB position as I mentioned above. He also took advantage of the Dalvin Cook injury and played Jacques Patrick for an "A+".
Only two other experts scored above a 4.0. One of those was Rob O'Conner of venoDFS.com. Rob has made his presence felt since coming on to the Daily Overlay scene. Rob will look to keep his lead in Week Ten.
Rob O'Conner (venoDFS.com) – 4.08 – His picks were fairly spread out as far as grades. Eight of his 13 picks picked up a "B" or better grade with no real surprises as far as players he selected.
a25smith (RotoGrinders) –  4.00 – He maintained his spot in the top-5 overall for the season and sits just .02 points out of 3rd. Two "F's" from JuJu and Keyarris Garrett hurt his overall score for the week.
Nine of our experts finished between 3.0 and 4.0 for the week. There was some separation between some of the RotoGrinders guys for the first time this year. A lot of weeks they pick the exact same roster and finish with the same scores. Our own Daily Overlay Power Five heads the class in the mid-tier.
Daily Overlay Power Five – 3.83 – Stephen was the only expert to pick Purdue QB David Blough and Iowa State RB Mike Warren, both of which scored "A+" grades.
Hester's Bargains (RotoGrinders) – 3.71 – Could this possibly be correct?! Hester's Bargains found his way out of the cellar for the first time this season. A solid week of bargain plays headlined by being the only expert to play Miami WR Stacy Coley.
Fantasy Alarm – 3.71 – The only site to play Ben Olorunfunmi…what a "funmi" name to say!
EMAC (RotoGrinders) – 3.59 – EMAC kept pace and is sitting at 2nd in the season-long standings. He'll look to regain the top spot from our newcomer in November.
Derek B. Davis (venoDFS.com) – 3.44 – Mr. Davis and I both played J.W. Walsh on Saturday. Walsh gets a limited number of snaps for the Pokes but he's a touchdown machine and comes at a great value price each week.
Daily Overlay Expert Consensus – 3.37 – The Consensus throws up a decent score once again. We've seen some slippage the last few weeks but our Consensus is still a solid place to start your research each Saturday morning.
JMBWngFN (RotoGrinders) – 3.29 – The usual big name suspects from JMB. He had an unusually large number of "B" grades this week.
DailyFantasyWinners.com – 3.16 – Twenty-five of their 45 picks scored a "D" or lower; however, they still managed to put up a respectable score. The large volume pickers will typically never score extremely high or low on any week.
STLCards (RotoGrinders) – 3.06 – A bit of a down week for STLCards. He still hangs on to the 5th spot in our season-long standings.
Our next group lagged behind the others with scores between 2.0 and 3.o.
DailyRoto – 2.83 – Of their 30 picks, 14 finished with a "D" or lower.
headchopper (RotoGrinders) – 2.56 – He has seen a couple of bad weeks drop him into the bottom half of our season-long standings. JuJu and Keyarris Garrett did not help him in Week Nine.
RotoCurve – 2.45 – An absolute ridiculous 103 picks were made by RotoCurve in Week Nine. I don't even have the time to sift through the good and the bad here.
And our caboose this week is a bit of a surprise. The first bad awful week of the season has taken DailyFantasySportsRankings.com all the way down to 6th for the season.
DailyFantasySportsRankings.com – 0.60 – Only made five total picks and scored one "C", one "D" and three "F's". The Tulsa wideout duo of Keyarris Garrett and Joshua Atkinson tanked his score.
Another big night of Thursday football on tap for tonight. Best of luck to everyone! I'll be back Friday with this week's Consensus Picks write-up.
Follow me on Twitter at @mbutlerOK.
https://dailyoverlay.com/wp-content/uploads/2015/09/cfb-expert.jpg
250
400
Matt Butler
https://www.dailyoverlay.com/wp-content/uploads/2018/07/logo.png
Matt Butler
2015-11-05 11:43:48
2015-11-05 11:43:48
CFB Week Nine Wrap-Up and Expert Grades