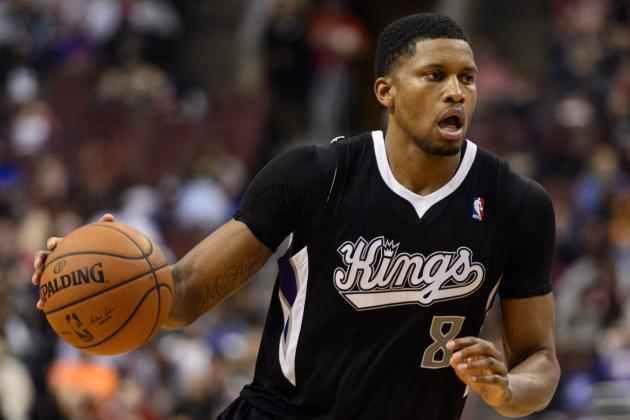 *** I'm using DraftKings' pricing, so the picks will be geared towards that site.  But assuming there isn't a major difference in salary, these plays can be used anywhere.  And as always, make sure to check for the latest injury news and lineup changes. ***
A couple of these picks will be predicated on yet to be determined lineup decisions.  Follow the news and make according changes.
C Brook Lopez $7800 v. PHI
It should be a close game against an undersized Philly frontcourt.  Centers facing the 76ers see a 15% boost to their per minute production.
SG Victor Oladipo $7200 v. SAC
Elfrid Payton has been ruled out, so Oladipo will likely see in increase in minutes as the primary ball handler and usage.  It's a fantastic match-up, and his price is reasonable.
PG Goran Dragic $6600 v. CHI (only if Wade sits)
If you watched the Spurs-Bulls game last night, you saw Tony Parker annihilate the Bulls in PNR.  If Wade sits, I expect Dragic to see a big-time usage bump.  Given that he's locked into 38 or so minutes, he should be able to comfortably pay off his price.
PF Nerlens Noel $6100 v. BKN
Jahlil Okafor will almost assuredly miss this game.  When Okafor sits, Noel sees his usage jump from 17% to 21% and gets about 2 extra minutes of burn.  I love the upside and price.
SF Rudy Gay $6000 v. ORL
I'm going to lock Gay into every lineup tonight.  It's a fantastic match-up with the Magic, and there's plenty of extra opportunity to go around with DeMarcus Cousins having been suspended for tonight's game.  Here are his numbers so far this season without Boogie.
…and he's likely to see 40 minutes tonight.  Sign me up for that.
PF JaMychal Green $5700 v. NOP (only if Zach Randolph sits)
He's posted 50.5 and 39.75 FP in his last two games while seeing 37 minutes in each contest.  Zach Randolph is likely to sit this one out, so the minutes should be there.  Given that the Pelicans play at an above average pace, I expect Green's hot streak to continue.
PG Darren Collison $4400 v. ORL
Boogie is out, WCS or Koufos will likely start (garbage men), and Rondo is Rondo so his usage should remain fairly static.  Yes, Gay will gobble up a chunk of the sans Boogie action, but I expect Collison will also benefit a great deal.  Excellent price and match-up.
SF Lance Stephenson $4400 v. NOP
Conley's out, and Chalmers is done.  All that's standing in the way of major minutes at PG for Lance is a couple of off-the-street signings.  This is a perfect storm for GPPs.  People hate Lance, there's some uncertainty regarding both quantity and quality of his minutes tonight, there's an obvious slam dunk SF play on the board in Gay, and the public is probably down on Memphis' chances tonight.  It's an excellent spot to roll the dice.
PG Toney Douglas $3700 v. MEM
He played 37 minutes last game and will be inserted into the starting lineup tonight.  $3700 is just too cheap, and he has legitimate 8x upside.
PF Jason Smith $3500 or C Dewayne Dedmon $3000 v. SAC (pick the one who starts)
It's simple… whoever starts at center for the Magic tonight is an excellent play.  We're talking about min (or near min) priced big men against the Kings.  Yes, please.
PG C.J. Watson $3400 v. SAC
With Payton on the shelf, C.J. Watson will be inserted into the starting lineup.  That said, I'm not 100% sold on his minutes and/or role.  We might see a lot of Oladipo and Fournier in the backcourt with Gordon at the 3.  It's tough to say what's going to happen.  But if Watson can get 28+ minutes against the Kings tonight, I think 20 FP is a fairly safe bet.
C Willie Cauley-Stein $3000 or Kosta Koufos $3000 v. ORL (pick the one who starts)
Another simple one.  I like WCS' upside more than Koufos, but 24 minutes in a game with the Magic should be enough to return 6-8x value.  If either sees 28+ minutes, 10x value isn't out of the question.
Good luck!
oreo
https://dailyoverlay.com/wp-content/uploads/2019/07/NBA-Generic-POST.jpg
500
1200
Greg Peters
https://www.dailyoverlay.com/wp-content/uploads/2018/07/logo.png
Greg Peters
2016-03-11 21:31:49
2016-03-11 21:31:49
Double Stuffed NBA Picks: 3/11