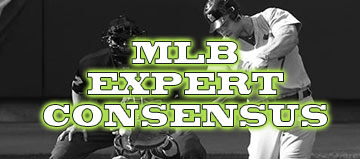 We are not lacking options in the Consensus tonight! There are some ARMS on the bump tonight…holy moley! There really aren't too many spots you can go terribly wrong when choosing pitchers this evening. It's going to be a night where putting together the best stack might get you a GPP victory. Speaking of stacks, we have seven of those to peruse below. Good luck!
The Weighted Consensus for the MLB is where we publish an in-depth version of rankings every day that considers each expert's current DailyOverlay score to generate a Weighted Consensus ranking.  To calculate the Weighted Rank Score, each expert's DailyOverlay score for hitters and pitchers is weighted on a sliding scale from 1 to 5 with the top expert in the current standings being weighted with a five while the last place expert is weighted with a one. This method gives the higher rated experts picks more weight when compiling the overall player rankings for the day. We will include all players that generate a Rank Score of at least 8.0.
The MLB Weighted Consensus article will be part of the premium content every day except Wednesday and the weekend this season. Sign up now for a FREE 7-day trial so you don't miss any of the content here at DailyOverlay.
Scroll to the bottom of the article for the "Top Stacks" section that lists out the teams with the most hitters being recommended by the experts today. Also, be sure to check each team's lineup when it is released and watch the weather before finalizing your lineups.
Let's play ball!
SP
| | | | | | | |
| --- | --- | --- | --- | --- | --- | --- |
| Name | Pos | Team | Price | Cash % | GPP % | Rank Score |
| Ross Stripling | RP | LAD | 9100 | 47% | 38% | 37.14 |
| Max Scherzer | SP | WAS | 13300 | 57% | 39% | 33.96 |
| Blake Snell | SP | TB | 11700 | 27% | 23% | 16.74 |
| Jameson Taillon | SP | PIT | 5700 | 22% | 20% | 15.98 |
| Corey Kluber | SP | CLE | 10200 | 22% | 20% | 14.56 |
| James Paxton | SP | SEA | 12500 | 12% | 13% | 10.31 |
| Tyler Skaggs | SP | LAA | 7700 | 12% | 13% | 10.26 |
| David Price | SP | BOS | 7100 | 12% | 13% | 9.74 |
C
| | | | | | | |
| --- | --- | --- | --- | --- | --- | --- |
| Name | Pos | Team | Price | Cash % | GPP % | Rank Score |
| Yasmani Grandal | C | LAD | 4200 | 22% | 18% | 17.68 |
| Wilson Ramos | C | TB | 4200 | 22% | 18% | 14.50 |
| Francisco Cervelli | C | PIT | 4000 | 7% | 7% | 8.45 |
1B
| | | | | | | |
| --- | --- | --- | --- | --- | --- | --- |
| Name | Pos | Team | Price | Cash % | GPP % | Rank Score |
| Cody Bellinger | 1B/OF | LAD | 4600 | 26% | 18% | 26.27 |
| Max Muncy | 1B/3B | LAD | 4900 | 26% | 18% | 25.77 |
| Kendrys Morales | 1B | TOR | 3800 | 14% | 11% | 16.27 |
| Steve Pearce | 1B/OF | BOS | 4500 | 14% | 11% | 14.23 |
| Josh Bell | 1B | PIT | 3500 | 7% | 7% | 13.23 |
| Eric Thames | 1B/OF | MIL | 4700 | 14% | 11% | 10.77 |
| Mark Reynolds | 1B | WAS | 4400 | 7% | 7% | 10.36 |
| David Freese | 1B/3B | PIT | 3200 | 10% | 9% | 10.36 |
| Brad Miller | 1B/2B | MIL | 3600 | 5% | 6% | 8.32 |
2B
| | | | | | | |
| --- | --- | --- | --- | --- | --- | --- |
| Name | Pos | Team | Price | Cash % | GPP % | Rank Score |
| Brian Dozier | 2B | MIN | 4000 | 14% | 12% | 14.41 |
| Dee Gordon | 2B/OF | SEA | 3600 | 14% | 12% | 14.41 |
| Josh Harrison | 2B | PIT | 3600 | 11% | 10% | 14.36 |
| Yangervis Solarte | 2B/3B | TOR | 4300 | 11% | 10% | 12.45 |
| Joey Wendle | 2B | TB | 3500 | 11% | 10% | 10.36 |
| Devon Travis | 2B | TOR | 3600 | 8% | 8% | 9.64 |
| Eduardo Nunez | 2B/SS | BOS | 3800 | 8% | 8% | 9.00 |
| Brad Miller | 1B/2B | MIL | 3600 | 5% | 6% | 8.32 |
SS
| | | | | | | |
| --- | --- | --- | --- | --- | --- | --- |
| Name | Pos | Team | Price | Cash % | GPP % | Rank Score |
| Trea Turner | SS | WAS | 4800 | 18% | 15% | 21.86 |
| Jean Segura | SS | SEA | 4100 | 22% | 18% | 20.45 |
| Didi Gregorius | SS | NYY | 4400 | 15% | 12% | 11.32 |
| Eduardo Nunez | 2B/SS | BOS | 3800 | 8% | 8% | 9.00 |
| Jordy Mercer | SS | PIT | 3200 | 8% | 8% | 8.55 |
3B
| | | | | | | |
| --- | --- | --- | --- | --- | --- | --- |
| Name | Pos | Team | Price | Cash % | GPP % | Rank Score |
| Anthony Rendon | 3B | WAS | 4700 | 29% | 20% | 29.23 |
| Max Muncy | 1B/3B | LAD | 4900 | 26% | 18% | 25.77 |
| Yangervis Solarte | 2B/3B | TOR | 4300 | 11% | 10% | 12.45 |
| Matt Duffy | 3B | TB | 4100 | 9% | 9% | 11.00 |
| David Freese | 1B/3B | PIT | 3200 | 10% | 9% | 10.36 |
| Kyle Seager | 3B | SEA | 3700 | 6% | 7% | 8.77 |
| Jose Ramirez | 3B | CLE | 4800 | 9% | 9% | 8.32 |
OF
| | | | | | | |
| --- | --- | --- | --- | --- | --- | --- |
| Name | Pos | Team | Price | Cash % | GPP % | Rank Score |
| Joc Pederson | OF | LAD | 4300 | 41% | 28% | 27.45 |
| Cody Bellinger | 1B/OF | LAD | 4600 | 26% | 18% | 26.27 |
| Starling Marte | OF | PIT | 4800 | 22% | 17% | 18.73 |
| Mookie Betts | OF | BOS | 6200 | 18% | 14% | 17.23 |
| Randal Grichuk | OF | TOR | 4000 | 18% | 14% | 16.27 |
| Nelson Cruz | OF | SEA | 4500 | 18% | 14% | 15.68 |
| J.D. Martinez | OF | BOS | 5900 | 18% | 14% | 14.64 |
| Dee Gordon | 2B/OF | SEA | 3600 | 14% | 12% | 14.41 |
| Steve Pearce | 1B/OF | BOS | 4500 | 14% | 11% | 14.23 |
| Michael A. Taylor | OF | WAS | 3500 | 18% | 14% | 13.82 |
| Kevin Kiermaier | OF | TB | 3900 | 18% | 14% | 13.27 |
| Teoscar Hernandez | OF | TOR | 4500 | 18% | 14% | 13.09 |
| Andrew Toles | OF | LAD | 3700 | 13% | 12% | 11.00 |
| Eric Thames | 1B/OF | MIL | 4700 | 14% | 11% | 10.77 |
Top Stacks of the Night
Dodgers (5) – Grandal, Bellinger, Muncy, Pederson, Toles
Blue Jays (5) – Morales, Solarte, Travis, Grichuk, Hernandez
Rays (4) – Ramos, Wendle, Duffy, Kiermaier
Red Sox (4) – Pearce, Nunez, Betts, Martinez
Pirates (4) – Bell, Freese, Harrison, Mercer
Nationals (4) – Reynolds, Turner, Rendon, Taylor
Mariners (4) – Gordon, Segura, Seager, Cruz
Hope you find the right combination to cash! Follow me on Twitter @mbutlerOK
https://dailyoverlay.com/wp-content/uploads/2016/04/mlb-expert-consensus.jpg
159
360
Matt Butler
https://www.dailyoverlay.com/wp-content/uploads/2018/07/logo.png
Matt Butler
2018-07-12 20:28:38
2018-07-12 20:28:38
MLB - Industry Expert Consensus - July 12th