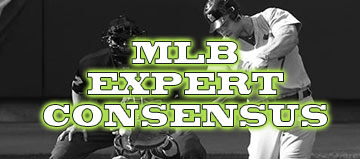 Friday, the 13th, is upon us and if you look at tonight's pitching options it resembles a nightmare. It's a good night to roll the dice with some value arms and hope you pick the correct stack to pair with them. Stacks are a hot topic in tonight's Consensus as our experts put out a laaarge list of players tonight and we've landed with eight stacks…yes, eight. Good luck!
The Weighted Consensus for the MLB is where we publish an in-depth version of rankings every day that considers each expert's current DailyOverlay score to generate a Weighted Consensus ranking.  To calculate the Weighted Rank Score, each expert's DailyOverlay score for hitters and pitchers is weighted on a sliding scale from 1 to 5 with the top expert in the current standings being weighted with a five while the last place expert is weighted with a one. This method gives the higher rated experts picks more weight when compiling the overall player rankings for the day. We will include all players that generate a Rank Score of at least 8.0.
The MLB Weighted Consensus article will be part of the premium content every day except Wednesday and the weekend this season. Sign up now for a FREE 7-day trial so you don't miss any of the content here at DailyOverlay.
Scroll to the bottom of the article for the "Top Stacks" section that lists out the teams with the most hitters being recommended by the experts today. Also, be sure to check each team's lineup when it is released and watch the weather before finalizing your lineups.
Let's play ball!
SP
| | | | | | | |
| --- | --- | --- | --- | --- | --- | --- |
| Name | Pos | Team | Price | Cash % | GPP % | Rank Score |
| Dallas Keuchel | SP | HOU | 8400 | 45% | 33% | 32.21 |
| Carlos Martinez | SP | STL | 8100 | 38% | 29% | 23.78 |
| Madison Bumgarner | SP | SF | 11400 | 30% | 25% | 19.81 |
| Wei-Yin Chen | SP | MIA | 4800 | 17% | 17% | 12.11 |
| Jake Odorizzi | SP | MIN | 7600 | 8% | 10% | 11.99 |
| Brad Keller | SP | KC | 6400 | 8% | 10% | 8.32 |
| Felix Pena | SP | LAA | 6800 | 8% | 10% | 8.22 |
C
| | | | | | | |
| --- | --- | --- | --- | --- | --- | --- |
| Name | Pos | Team | Price | Cash % | GPP % | Rank Score |
| Salvador Perez | C | KC | 3700 | 22% | 18% | 17.64 |
| Chris Herrmann | C | SEA | 3100 | 13% | 12% | 13.18 |
| Willson Contreras | C | CHC | 4300 | 18% | 15% | 12.77 |
| Evan Gattis | C | HOU | 4200 | 10% | 10% | 10.45 |
| Wilson Ramos | C | TB | 4100 | 13% | 12% | 10.27 |
1B
| | | | | | | |
| --- | --- | --- | --- | --- | --- | --- |
| Name | Pos | Team | Price | Cash % | GPP % | Rank Score |
| Lucas Duda | 1B | KC | 3700 | 43% | 25% | 36.91 |
| Ian Desmond | 1B/OF | COL | 4600 | 7% | 7% | 13.32 |
| Matt Carpenter | 1B/3B | STL | 4700 | 7% | 7% | 12.23 |
| Joey Gallo | 1B/OF | TEX | 4400 | 7% | 7% | 11.00 |
| Jose Martinez | 1B | STL | 3600 | 7% | 7% | 9.45 |
| Freddie Freeman | 1B | ATL | 5000 | 7% | 7% | 8.95 |
2B
| | | | | | | |
| --- | --- | --- | --- | --- | --- | --- |
| Name | Pos | Team | Price | Cash % | GPP % | Rank Score |
| DJ LeMahieu | 2B | COL | 4600 | 19% | 15% | 20.36 |
| Whit Merrifield | 2B/OF | KC | 4000 | 19% | 15% | 15.64 |
| Rougned Odor | 2B | TEX | 4500 | 14% | 12% | 15.45 |
| Yoan Moncada | 2B | CWS | 4300 | 14% | 12% | 15.05 |
| Dee Gordon | 2B/OF | SEA | 4400 | 11% | 10% | 13.55 |
| Jonathan Schoop | 2B | BAL | 3700 | 11% | 10% | 11.55 |
| Jose Altuve | 2B | HOU | 4700 | 11% | 10% | 9.14 |
SS
| | | | | | | |
| --- | --- | --- | --- | --- | --- | --- |
| Name | Pos | Team | Price | Cash % | GPP % | Rank Score |
| Trevor Story | SS | COL | 5300 | 27% | 22% | 26.59 |
| Elvis Andrus | SS | TEX | 4100 | 15% | 12% | 15.41 |
| Jean Segura | SS | SEA | 5200 | 8% | 8% | 11.36 |
| Xander Bogaerts | SS | BOS | 5100 | 8% | 8% | 10.27 |
| Paul DeJong | SS | STL | 3700 | 15% | 12% | 10.14 |
| Manny Machado | SS | BAL | 5000 | 12% | 11% | 10.00 |
| Didi Gregorius | SS | NYY | 4700 | 8% | 8% | 9.45 |
| Francisco Lindor | SS | CLE | 5900 | 8% | 8% | 8.55 |
3B
| | | | | | | |
| --- | --- | --- | --- | --- | --- | --- |
| Name | Pos | Team | Price | Cash % | GPP % | Rank Score |
| Nolan Arenado | 3B | COL | 5600 | 29% | 20% | 25.73 |
| Mike Moustakas | 3B | KC | 4600 | 18% | 15% | 18.91 |
| Kyle Seager | 3B | SEA | 4500 | 6% | 7% | 13.23 |
| Matt Carpenter | 1B/3B | STL | 4700 | 7% | 7% | 12.23 |
| Kris Bryant | 3B | CHC | 4800 | 13% | 11% | 11.82 |
| Danny Valencia | 3B/OF | BAL | 3200 | 9% | 9% | 11.59 |
| Jose Ramirez | 3B | CLE | 5800 | 9% | 9% | 11.55 |
OF
| | | | | | | |
| --- | --- | --- | --- | --- | --- | --- |
| Name | Pos | Team | Price | Cash % | GPP % | Rank Score |
| Charlie Blackmon | OF | COL | 5500 | 53% | 36% | 37.55 |
| Carlos Gonzalez | OF | COL | 4700 | 41% | 28% | 31.77 |
| Shin-soo Choo | OF | TEX | 5100 | 26% | 19% | 20.41 |
| Mookie Betts | OF | BOS | 6100 | 22% | 17% | 17.14 |
| Nomar Mazara | OF | TEX | 4300 | 18% | 14% | 15.77 |
| Whit Merrifield | 2B/OF | KC | 4000 | 19% | 15% | 15.64 |
| Dee Gordon | 2B/OF | SEA | 4400 | 11% | 10% | 13.55 |
| Brett Gardner | OF | NYY | 4800 | 13% | 12% | 13.36 |
| Ian Desmond | 1B/OF | COL | 4600 | 7% | 7% | 13.32 |
| J.D. Martinez | OF | BOS | 5800 | 18% | 14% | 12.45 |
| Danny Valencia | 3B/OF | BAL | 3200 | 9% | 9% | 11.59 |
| Joey Gallo | 1B/OF | TEX | 4400 | 7% | 7% | 11.00 |
| Tommy Pham | OF | STL | 3900 | 13% | 12% | 10.27 |
| Andrew McCutchen | OF | SF | 3800 | 13% | 12% | 9.59 |
| Adam Jones | OF | BAL | 3300 | 10% | 9% | 8.45 |
| George Springer | OF | HOU | 4500 | 6% | 7% | 8.23 |
Top Stacks of the Night
Rockies (6) – Desmond, LeMahieu, Story, Arenado, Blackmon, Gonzalez
Rangers (5) – Gallo, Odor, Andrus, Choo, Mazara
Royals (4) – Perez, Duda, Merrifield, Moustakas
Mariners (4) – Herrmann, Gordon, Segura, Seager
Cardinals (4) – Carpenter, Martinez, DeJong, Pham
Orioles (4) – Schoop, Machado, Valencia, Jones
Astros (3) – Gattis, Altuve, Springer
Red Sox (3) – Bogaerts, Betts, Martinez
Hope you find the right combination to cash! Follow me on Twitter @mbutlerOK
https://dailyoverlay.com/wp-content/uploads/2016/04/mlb-expert-consensus.jpg
159
360
Matt Butler
https://www.dailyoverlay.com/wp-content/uploads/2018/07/logo.png
Matt Butler
2018-07-13 20:24:43
2018-07-13 20:24:43
MLB - Industry Expert Consensus - July 13th