Hope everyone had a great weekend, but it is back to the weekly MLB grind here at Daily Overlay.
I must say this is a really great time of the year. School is winding down for me (two weeks left!), so that means summertime is upon us and so is a couple of months off from my real job. It will be chance to spend more time with the family, hopefully see some old friends, catch a couple of Ranger games and focus even more on daily fantasy baseball (assuming I can still play in the coming weeks, still waiting for that ball to drop).
But in the meantime, I will keep plugging along and hope to be able to help you pad those monetary stats.
We have an interesting 7-game slate today. I saw interesting because we have only two early games while the remaining contests start at  8:40 p.m. central time or later. I don't know if this kind of schedule happens very often, but I would guess it doesn't. So a strategy today might be to fade both early games and concentrate on the late games for tournaments, plus it would give you a couple of extra hours to feel comfortable about the players you like and the games.
Good luck tonight, but let's get to today's selections! I have 9 today, more than usual, but it was hard not to recommend the following players due to their matchups. Because there are more recommendations, we are going to give you 4 for free, and the rest will fall into the premium article.
Analysis:  I mean Jered Weaver survived against the Chicago White Sox lineup Sunday. Jesse Chavez isn't anything stellar, but he's much better than Weaver and gets the Sox at home. The AL Chicago squad is dead last in offensive wOBA against RH pitching and strikes out at a 23% clip. Meanwhile, Chavez is a reverse-splits pitcher and this White Sox offense is going to have a lot of RH bats in the lineup. But you know who also is a reverse-splits pitcher? Jered Weaver. Chavez has a middle of the pack strikeout rate at 7.5 K/9, but gets a boost here due to the White Sox paltry ability to hit the ball.
Analysis:  Nelson Cruz against a lefty? Always and forever. Manaea isn't a bad pitcher in my opinion, but this is a matchup I will play every day (except maybe Kershaw?). Cruz (.416 wOBA vs. lefties in 2017) has the BvP against Manaea, too, having gone 3-for-6 with a HR and 3 walks. If my memory serves me correct, this matchup has paid off for the Index this year. Cruz is one of many lock and load options tonight.
Analysis: Speaking of lock and load, Correa is my No. 1 shortstop and I might not even dip down to roster Corey Seager because Correa, a reverse-splits hitter, is scoring. He's got 9 hits in his last 6 games and 10 RBIs. The Astros are facing a reverses-splits pitcher in Dan Straily. While Straily has a superb .284 wOBA against RH bats this season, his 37.7% hard contact rate suggests there's regression coming there, especially since he's already giving up a 1.71 HR/9 rate to RHs, too. Against RH pitching this season, Correa has a .388 wOBA and a .247 ISO and a 47% hard contact rate. Hopefully the roof is open in Miami, too, because then I will love this pick even more.
Analysis: My No. 1 overall play on the board is this guy right here, arguably the best hitter in baseball…Freddie Freeman. Who knew he had dance moves, too? Anyway, the Braves have one of the most favorable ballpark shifts on this slate, taking on the Blue Jays at the Rogers Centre. Freeman has dominated right-handed pitching this season to the tune of a .494 wOBA and a .408 ISO with a 41% hard contact rate. Freeman gets the pleasure of facing Dodger castoff Mike Bolsinger, who has allowed a .357 wOBA and a 1.27 HR/9 rate to lefties since 2016.
Analysis: After Chris Iannetta went down after getting a fastball to the face, Chris Herrmann moves into the everyday starting catcher role. Tonight he gets a tougher matchup, but not an awful one. The Diamondbacks take on Zack Wheeler in their home ballpark of Chase Field. Wheeler has allowed a 41% hard contact to lefties and doesn't get a favorable draw in the ballpark he's pitching in. Since 2016, Herrmann has a 43% hard contact rate against RH pitching and a .200 ISO.
Analysis: Villar collected his 7th hit in his last four games on Sunday and gets a great matchup against Padres' fireballer Luis Perdomo, who owns a .456 wOBA against lefties to go along with a .378 wOBA and a 38% hard contact rate to lefty bats since 2016. Perdomo struggles to hold runners on as well, having given up 3 steals to current players on the Brewers' roster and that's in limited action. One of those players is Villar, who also is 5-for-5 with a walk against Perdomo. BvP jackpot?
Analysis: I've said all I need to say about Zack Wheeler above in Chris Herrmann's blurb so that applies here. The only difference between Herrmann and Lamb is Lamb is a much better hitter with much more power. Lefty against Wheeler in Chase Field? I am in.
Analysis: Kevin Pillar has the second most hits out of all players in the majors. I hadn't even realized how good he's been this year because the Blue Jays are so bad. The Blue Jays look like a great stack tonight against Bartolo Colon, who has been getting lit up by both sides of the plate this year. Age might be finally catching up to the 20-year veteran. As for Pillar, he leads off in this offense and his price has even dipped down a bit for this matchup. Against RH bats this season, Colon has a .379 wOBA allowed with a 1.93 HR/9 rate and a 38.7% hard contact rate. I don't know how Colon survives this matchup, even if the Blue Jays are't the same team as in years' past.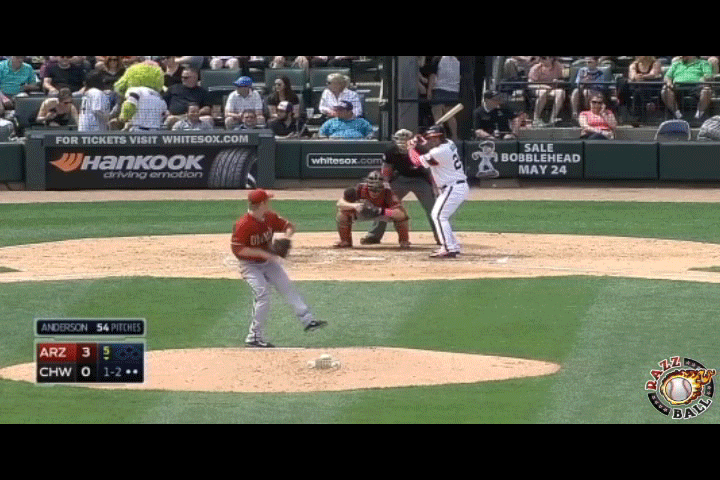 Chase Anderson – SP – Milwaukee Brewers – $6,800
Analysis: Oh boy, do we trust Chase Anderson or not? I thought we could trust Miguel Gonzalez against this team Friday and it failed miserably. Chase Anderson has typically been a reverse-splits pitcher in his career, but has had the opposite results so far this year, holding right-handed bats in check, but getting wasted by left bats. Luckily, the Padres don't have a ton of lefties and Anderson gets to pitch in a big ballpark that will hopefully help him limited the damage. He's due for some regression, but let's just hope that doesn't get started here as the Padres are in the bottom 7 in wOBA against RH bats in 2017 and they strike out at a 24.7% clip while Anderson sports a 7.78 K/9 rate and a 9.8% SwStr rate this season as well. I think his price is way too cheap (considering Miguel Gonzalez was $8K on Friday), so hopefully this isn't another trap and the Padres erupt.
https://dailyoverlay.com/wp-content/uploads/2017/04/MLB_Value_Index-795x198-1.jpg
198
795
Stephen Monahan
https://dailyoverlay.com/wp-content/uploads/2018/07/logo.png
Stephen Monahan
2017-05-15 03:44:53
2017-05-15 03:44:53
MLB Value Index - May 15