So we have a new way to play baseball DFS debuting today.
If you haven't heard, DraftKings is offering "Arcade Mode" starting with tonight's slate.
The short explanation for this style of play is like playing home-run derby, but if you look at the scoring more closely, stolen bases are a HUGE part of the game. Anyone who can hit a homerun and steal bases will have a monster day. Pitching is valuable, too, but are penalized some for hits, walks, HBPs and ERs. That's the gist, but here's what the scoring looks like if you haven't seen it yet.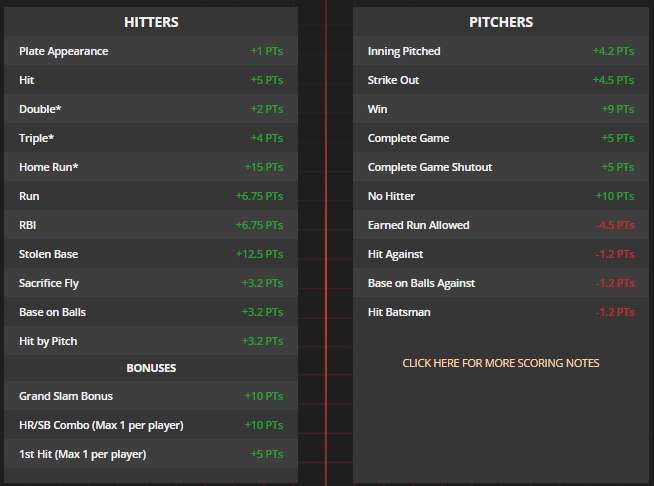 Pricing is very inflated and you still maintain a cap of $50K. Playing around with it, I inserted Yu and Bryce Harper in a lineup, but my leftover salary wasn't much. Without active lineups, I wasn't ready to finish the lineup.
You also can't stack in this format, with a maximum of two players from the same team allowed.
You definitely want to play guys who are hitting 1, 2, 3 due to the extra points for plate appearances. But I can see a scenario where playing lower lineup guys would be a contrarian play (as they usually are anyway).
I'll  be experimenting with this format daily to see what I like and don't like about it and see what strategies work best. On the surface, the draw is to advertise huge scoring and fun play, but DraftKings still over penalizes pitchers. This format needs to be different from regular style completely and they need to drop pitchers being penalized outside of earned runs, just like FanDuel.
Anyway, we might include some Arcade Mode plays on the Index in the future. We will see.
With that said, tonight is a 13-game slate of action with some solid top-tier pitching to choose from.
There's a theme to tonight's madness, all of my recommendations are players against lefty pitchers (and no, one of them is not Giancarlo Stanton, though I will play him against Keuchel, I just don't love him).
Now, let's get to it!
Analysis: Targeting bats against Wade Miley has burned me all year long. In fact, it's a pretty common theme for me in DFS. I don't roster him and he goes all murderball on the mound, and I stack against him and he twirls gems. But I am not missing out on his regression. It's going to happen and I am going to stack against him until I profit off of it. The Tigers look like a great bet to do that tonight. Lots of RH bats, including my first selection, James McCann, a lefty masher at the catcher position. This season, the Tigers have hit 11 HRs against lefties…McCann has 4 of them. He's got an unsustainable  .453 wOBA and .545 ISO against southpaws this season. His hard contact rate against them is 47%. I don't think a lot of people will roster McCann and he comes at a great discount.
Analysis: Well, if you are a routine Value Index follower, are you surprised he's here? He blasted his 5th home run in 6 games (one late last night off of….a lefty). Can he continue to provide a hot bat? He's got a tougher lefty on the hill in Rich Hill, who is coming off the DL for his first start. But Hill had been struggling prior to his stint, giving up a .422 wOBA and a 38% hard contact rate to RH bats this season. I have never truly been sold on the Rich Hill resurgence myself, and that thinking will continue for me as I click Posey in multiple lineups tonight at catcher AND 1B.
Analysis: You get three freebies on the Index today (though I think I goofed yesterday and forgot to make the Index a premium article, so congrats to you if you benefited!). We have some stud pitching on today's slate, but the arms aren't guys I love. There's lots of premium bats on the slate today and I have a feeling that bats are going to speak volumes. For that reason, we need some value arms. I think a lot of people will go to Jimmy Nelson (including myself, though I think it's another San Diego trap – see Anderson last night and Miguel Gonzalez last Friday), but I still expect Ramirez to command double-digit ownership. Why? Because he faces the White Sox, who are dead last in team wOBA against RH pitching. Jesse Chavez had a very respectable outing against them last night and Ramirez has much better strikeout upside. He's got a solid curve (see above) as an out pitch and owns a 9.7% SwStr rate and an 8.19 K/9 rate this season. The White Sox command a 23.3% strikeout rate against RH pitching this season.
https://dailyoverlay.com/wp-content/uploads/2017/04/MLB_Value_Index-795x198-1.jpg
198
795
Stephen Monahan
https://dailyoverlay.com/wp-content/uploads/2018/07/logo.png
Stephen Monahan
2017-05-16 05:27:52
2017-05-16 05:27:52
MLB Value Index - May 16