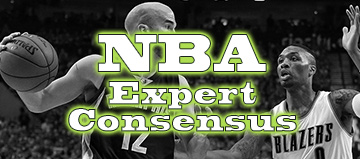 Quick and dirty version.
Sorry for it being a big late.  Here is the consensus plays for Friday night:
The Weighted Consensus for the NBA uses each expert's current DailyOverlay score to generate a Weighted Consensus ranking. To calculate the Weighted Rank Score, each expert's DailyOverlay score for players is weighted on a sliding scale from 1 to 5 with the top expert in the current standings being weighted with a five while the last place expert is weighted with a one. This method gives the higher rated experts picks more weight when compiling the overall player rankings for the day. We will include all players that generate a Rank Score of at least 10.
As a reminder, most of our NBA content will be part of our premium membership. Now is a great time to sign up for our premium content at only $9.99 per month so you are all set for the NBA season, in addition to getting our fantastic NFL and PGA content.
| | | | | |
| --- | --- | --- | --- | --- |
| Name | Price | Proj Cash | Proj GPP | Rank Score |
| Anthony Davis | $10,700 | 31% | 24% | 37.16 |
| John Collins | $4,800 | 59% | 33% | 34.97 |
| Mario Chalmers | $5,300 | 38% | 26% | 34.45 |
| T.J. Warren | $6,600 | 38% | 26% | 32.58 |
| DeMarcus Cousins | $11,400 | 25% | 23% | 32.42 |
| LeBron James | $11,200 | 20% | 19% | 29.68 |
| Dennis Schroder | $6,600 | 29% | 23% | 28.10 |
| Michael Kidd-Gilchrist | $4,000 | 46% | 26% | 27.74 |
| Tyreke Evans | $6,900 | 17% | 16% | 27.03 |
| Jeremy Lamb | $5,100 | 24% | 20% | 26.81 |
| Jimmy Butler | $6,800 | 24% | 20% | 23.29 |
| Victor Oladipo | $8,000 | 16% | 15% | 20.03 |
| Rajon Rondo | $4,900 | 25% | 17% | 19.65 |
| Steven Adams | $5,200 | 14% | 13% | 17.52 |
| Tim Hardaway Jr. | $6,600 | 14% | 13% | 16.65 |
| Kris Dunn | $5,500 | 14% | 13% | 16.45 |
| Marc Gasol | $7,900 | 16% | 15% | 16.19 |
| Stephen Curry | $9,600 | 6% | 8% | 15.29 |
| Russell Westbrook | $10,600 | 6% | 8% | 14.84 |
| Devin Booker | $7,800 | 6% | 8% | 14.48 |
| Paul George | $8,500 | 9% | 9% | 13.35 |
| Pascal Siakam | $3,800 | 14% | 11% | 11.29 |
| Jeff Teague | $6,400 | 10% | 10% | 11.13 |
| Bobby Portis | $5,200 | 10% | 10% | 10.81 |
| Kemba Walker | $8,200 | 6% | 8% | 10.61 |
https://dailyoverlay.com/wp-content/uploads/2015/11/nba-expert-consensus.jpg
159
360
DailyCrusher
https://www.dailyoverlay.com/wp-content/uploads/2018/07/logo.png
DailyCrusher
2017-11-24 23:23:13
2017-11-24 23:23:13
NBA - Industry Expert Consensus - November 24th