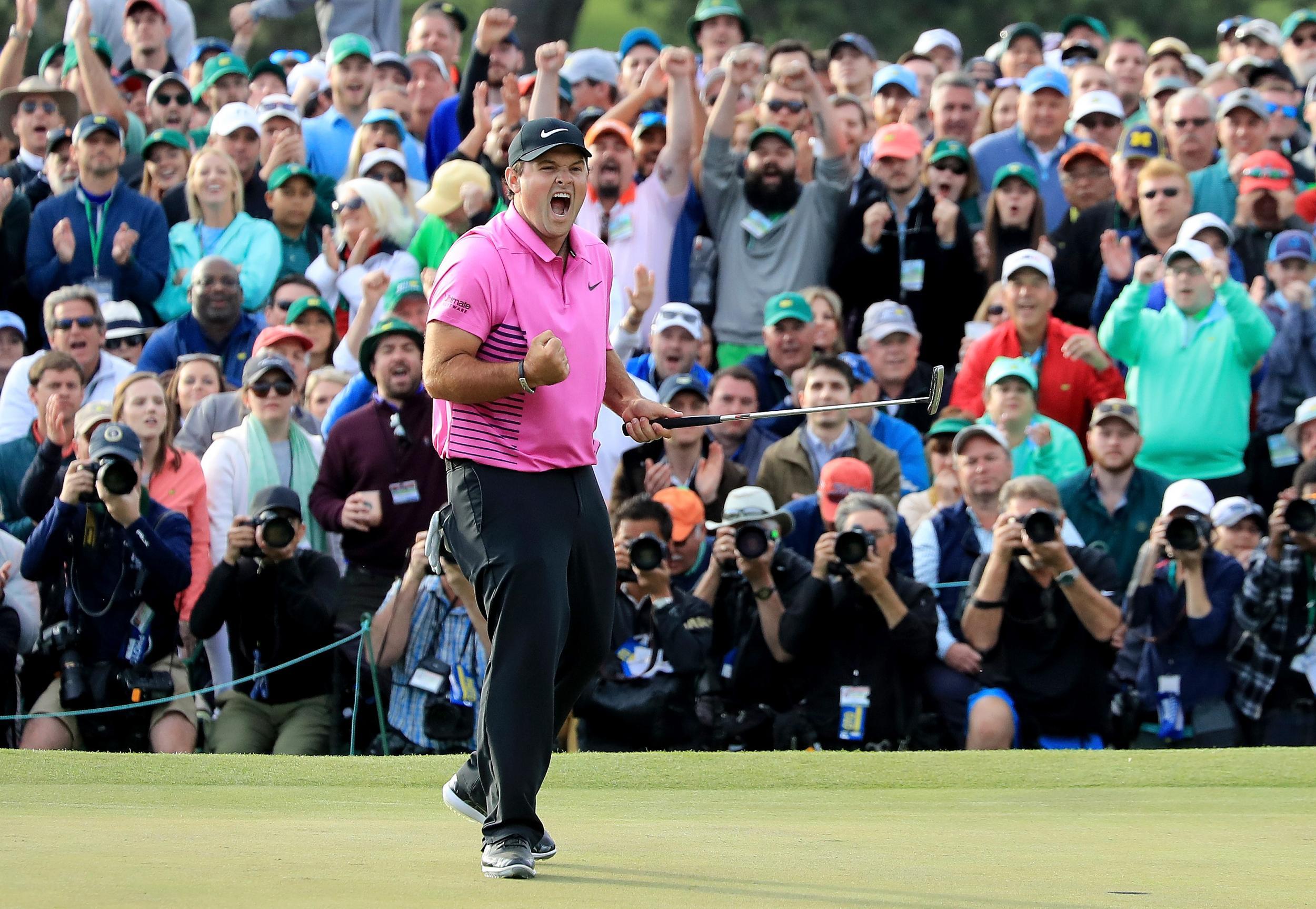 *****OPTIMAL LINEUP*****
Patrick Reed $7700 – 134.0
Rickie Fowler $9000 – 108.5
Jordan Spieth $10400 – 107.5
Cameron Smith $6900 – 86.0
Henrik Stenson $7800 – 86.0
Marc Leishman $8200 – 85.0
---
*****EXPERT CONSENSUS*****
Highly Touted
B – Justin Rose $9200 – 64.3%
A – Bubba Watson $8700 – 50.0%
A+ – Jordan Spieth $10400 – 50.0%
B – Paul Casey $8800 – 50.0%
Recommended
C – Matt Kuchar $7600 – 42.9%
B – Phil Mickelson $9500 – 42.9%
C – Adam Hadwin $7200 – 35.7%
C – Jason Day $9800 – 35.7%
C – Justin Thomas $10800 – 35.7%
F – Kevin Chappell $6900 – 35.7%
C – Tiger Woods $10000 – 35.7%
Suggested
F – Alexander Noren $8100 – 28.6%
D – Bryson DeChambeau $6900 – 28.6%
B – Dustin Johnson $11400 – 28.6%
A – Henrik Stenson $7800 – 28.6%
A+ – Jon Rahm $9300 – 28.6%
F – Pat Perez $6900 – 28.6%
A – Rory McIlroy $9900 – 28.6%
D – Adam Scott $8000 – 21.4%
C – Hideki Matsuyama $8400 – 21.4%
C – Ian Poulter $7600 – 21.4%
B – Louis Oosthuizen $7900 – 21.4%
F – Sergio Garcia $8600 – 21.4%
F – Xander Schauffele $7500 – 21.4%
D – Zach Johnson $7000 – 21.4%
---
*****TOP HONORS*****
Josh Culp – rotoworld.com
He came in.  He killed it.  T.J. Lavin would be proud.  If you played this lineup, you would've scored 569 DK points and finished 136th in the Millionaire Maker.
A+ – Jordan Spieth
A+ – Patrick Reed
A – Charley Hoffman
A – Henrik Stenson
B – Justin Rose
B – Tony Finau
---
*****EXPERT GRADES*****
Grades are the result of a three step process.
First, the field is sorted by raw points achieved and assigned a grade 0-5, with 5 being best.  Roughly the top 3-4% receive 5 points, the next 13-15% receive 4 points, the next 13-15% receive 3 points, and so on.  In weeks with a cut, almost all MCs receive 0 points.
Next, we follow the same method described above, but we replace raw points with salary ($) / fantasy points (pts).
Finally, we weight the two results (2x raw points grade + value grade / 3) and assign a traditional letter grade.
Chris Etherington – dailyfantasycafe.com
A – Charley Hoffman
B – Justin Rose
B – Paul Casey
C – Hideki Matsuyama
C – Matt Kuchar
F – Brendan Steele
F – Ross Fisher
---
dailyfantasyinsider.com
B – Justin Rose
C – Matt Kuchar
---
Chris Durell – dailyfantasysportsrankings.com
A – Henrik Stenson
A – Rory McIlroy
B – Dustin Johnson
B – Paul Casey
B – Phil Mickelson
D – Zach Johnson
---
epattersonfs – dfsondemand.com
A+ – Jordan Spieth
B – Justin Rose
B – Paul Casey
C – Adam Hadwin
F – Alexander Noren
F – Pat Perez
---
Pat Mayo – DraftKings Playbook
A+ – Jon Rahm
A+ – Jordan Spieth
B – Dustin Johnson
B – Justin Rose
B – Tommy Fleetwood
C – Adam Hadwin
C – Ian Poulter
C – Jason Day
C – Ryan Moore
D – Adam Scott
D – Bryson DeChambeau
D – Tyrrell Hatton
F – Kevin Chappell
F – Pat Perez
F – Sergio Garcia
F – Xander Schauffele
---
Drew Phelps – fantasyalarm.com
A+ – Jon Rahm
A – Bubba Watson
A – Rory McIlroy
A – Russell Henley
B – Justin Rose
B – Louis Oosthuizen
B – Phil Mickelson
C – Daniel Berger
C – Ian Poulter
C – Justin Thomas
C – Matt Kuchar
C – Rafael Cabrera-Bello
D – Adam Scott
D – Zach Johnson
F – Alexander Noren
F – Brendan Steele
F – Kevin Chappell
F – Thomas Pieters
---
fantasygolfmetrics.com (Survival Guide Tier 1)
A+ – Jordan Spieth
A – Bubba Watson
A – Henrik Stenson
B – Justin Rose
B – Paul Casey
B – Phil Mickelson
C – Adam Hadwin
C – Jason Day
C – Justin Thomas
C – Tiger Woods
D – Adam Scott
F – Sergio Garcia
---
Geoff Ulrich – fantasygolfmetrics.com
A+ – Cameron Smith
A – Marc Leishman
B – Louis Oosthuizen
B – Paul Casey
B – Phil Mickelson
C – Adam Hadwin
C – Ian Poulter
C – Jason Day
C – Justin Thomas
C – Tiger Woods
D – Bryson DeChambeau
F – Kyle Stanley
F – Sergio Garcia
---
Seth Finkelstein – rotoballer.com
A+ – Patrick Reed
A+ – Rickie Fowler
A – Bubba Watson
A – Marc Leishman
B – Louis Oosthuizen
B – Paul Casey
C – Jason Day
C – Justin Thomas
C – Kevin Kisner
C – Tiger Woods
D – Zach Johnson
F – Alexander Noren
F – Pat Perez
F – Patrick Cantlay
F – Shubhankar Sharma
---
stlcardinals84 – rotogrinders.com (Daily Fantasy Foursome)
A – Bubba Watson
A – Rory McIlroy
C – Rafael Cabrera-Bello
F – Gary Woodland
---
Len Hochberg – rotowire.com
A+ – Cameron Smith
A+ – Jordan Spieth
A – Bubba Watson
A – Rory McIlroy
B – Justin Rose
B – Paul Casey
B – Phil Mickelson
C – Hideki Matsuyama
C – Justin Thomas
C – Matt Kuchar
C – Tiger Woods
D – Bryson DeChambeau
D – Kiradech Aphibarnrat
F – Alexander Noren
F – Kevin Chappell
F – Xander Schauffele
---
Ryan Baroff – scout.com
A+ – Jon Rahm
A+ – Jordan Spieth
A – Bubba Watson
A – Russell Henley
B – Dustin Johnson
B – Justin Rose
B – Phil Mickelson
C – Hideki Matsuyama
C – Jimmy Walker
C – Matt Kuchar
C – Ryan Moore
C – Tiger Woods
F – Kevin Chappell
F – Pat Perez
F – Xander Schauffele
---
thefantasygolf.com
A+ – Jon Rahm
A+ – Jordan Spieth
A – Bubba Watson
A – Henrik Stenson
B – Dustin Johnson
C – Adam Hadwin
C – Daniel Berger
C – Jason Day
C – Matt Kuchar
D – Bryson DeChambeau
F – Kevin Chappell
https://dailyoverlay.com/wp-content/uploads/2019/07/PGA-grading-POST.jpg
500
1200
Greg Peters
https://www.dailyoverlay.com/wp-content/uploads/2018/07/logo.png
Greg Peters
2018-04-09 18:37:38
2018-04-09 18:37:38
2018 The Masters Recap and Expert Grades