NBA DFS – Hot Sheet – Dec 18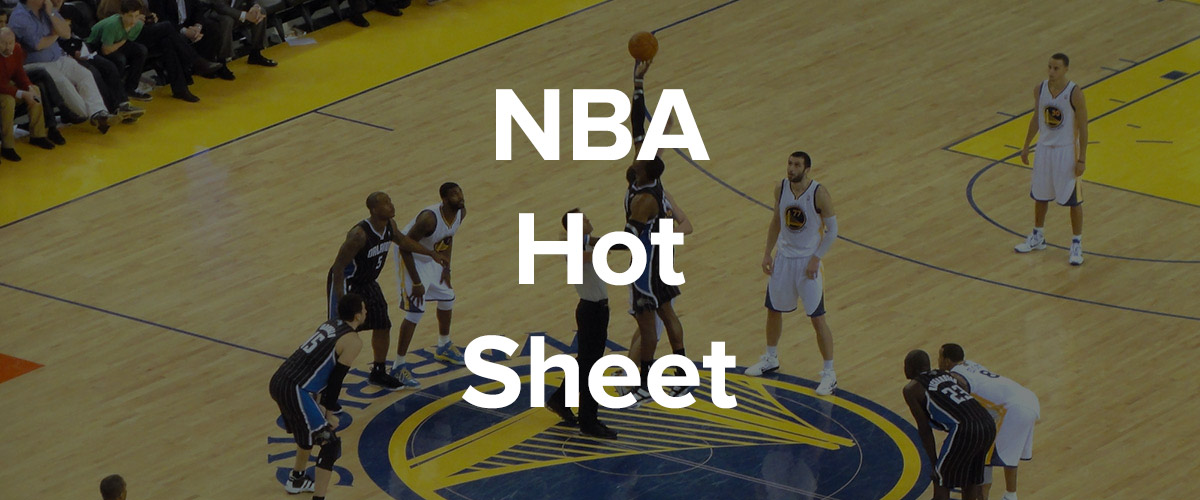 NBA DFS Picks – 12/18/2019
Despite a sizeable nine-game NBA slate on Wednesday, there really isn't any healthy high-priced studs to pay up for. So, instead, look to take a more balanced approach to your DFS lineup construction and build in players with high floors and some upside. Also, keep an eye on injury updates for Karl-Anthony Towns.
The grid below is a snapshot of today's slate that shows the overall rating for each position for each team. The numbers highlighted in red are in the top 25% of their position for the slate and indicate good plays. Meanwhile, the numbers highlighted in blue are the positions that are in the bottom 25% of their respective position for the slate and are positions to avoid.
Sign up for a FREE 7-day trial to get this article and all of the great content here at DailyOverlay.
Hot Sheet for December 18th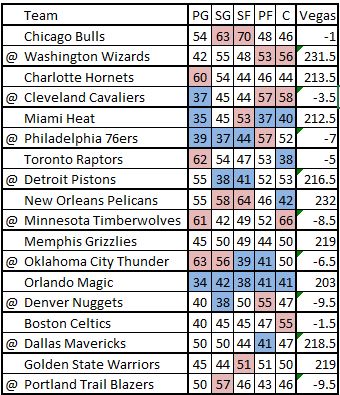 Droppin' Dimes
Kristaps Porzingis (DAL) – In the last two games, with Luke Doncic out, Porzingis has stepped up his game with 24.0 points and 13.0 rebounds while averaging 20 shots per game. He should continue to be the primary option for the Mavericks offense when they face the Celtics. The Celtics are league average in allowing points to PFs but have given up the 6th most rebounds to the position, so another double-double should be on the way.
Zach LaVine (CHI) – LaVine has scored at least 31 points in three of his last four games. He gets a very favorable matchup on Wednesday against the Wizards who have allowed the most points and assists to SGs this season. In a fast-paced game with one of the highest Vegas totals on the slate, LaVine should be well on his way to another 30+ point effort.
Bam Adebayo (MIA) – Adebayo has really stepped up his all-around game recently with 19.8 points, 12.3 rebounds, 6.8 assists, 1.7 steals, and 1.5 blocks per night over his last six outings. He'll need to keep contributing like that for the Heat in a matchup with the Sixers on Wednesday. The individual matchup for Adebayo is not ideal, but he should still provide enough to exceed his value.
Andrew Wiggins (MIN) – There is a little bit of speculation in this pick. If Karl-Anthony Towns misses Wednesday's game, then Wiggins becomes an auto-play. If Towns does play, then Wiggins becomes less appealing, so consider pivoting to LaVine or C.J. McCollum. Wiggins has averaged 27.7 points, 4.3 rebounds, and 3.0 assists over his last three games.
Kemba Walker (BOS) – Walker can be a streaky player and he appears to be in the middle of one of those hot streaks. In the last two games, Walker has averaged 36.5 points while shooting 49% from the field and 43% from beyond the arc. He should play big minutes and have the ball in his hands a lot in a tight matchup with the Mavericks.
Davis Bertans (WAS) – The Wizards are dealing with some injuries in their frontcourt which should solidify Bertans to see around 35 minutes on Wednesday against the Bulls. Bertans has done well with increased minutes over his last eight games averaging 21.0 points and 4.8 rebounds per game. Look for those rebounding numbers to rise on Wednesday out of necessity and with a favorable matchup against a Bulls frontcourt that allows a lot of board to opposing big men.
Jeff Teague (MIN) – The recommendation of Teague has nothing to do with Towns potential absence on Wednesday, as Teague is a good play with or without him. Over his last three games, Teague is putting up 23.3 points, 3.7 rebounds, and 5.0 assists. He will face a Pelicans team that allows the 3rd most points, 5th most rebounds, 3rd most assists, and 3rd most steals to PGs this year.
Cody Zeller (CHA) – Zeller has seen his minutes increase with the PJ Washington's injury. Over the last two games, Zeller is averaging 18.0 points and 10.5 rebounds in 30 minutes per game. His salary hasn't had a chance to catch up to his recent minutes and production, so look to use him again against the Cavaliers on Wednesday.
Isaiah Thomas (WAS) – Thomas returned from injury and played 26 minutes while putting up 23 points and six assists against the Pistons on Monday. He might not quite reach that many points on Wednesday in a tougher matchup against the Bulls backcourt, but he offers good salary savings if you want to spend up at other positions.
Malik Monk (CHA) – Monk has seen his minutes spike in the last two games with at least 25 minutes in each outing and his production has spiked along with it. He has averaged 18.5 points, 7.5 rebounds, and 3.5 assists over the last two games and should continue to get run on Wednesday against the Cavaliers with the results he has shown. The Cavs have allowed the 8th most points and 6th most assists to SGs this season.
Follow me on Twitter @Rotopilot