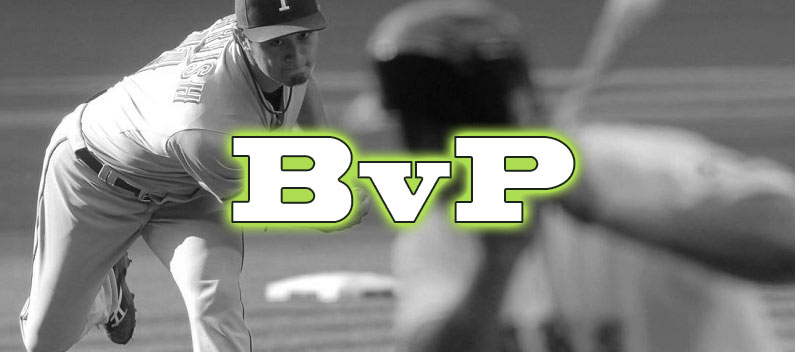 Long time no see!
I am back after an extended break, treading water in a lake and throwing back a few brews.
I am eager to get back into the swing of things.
Last time out, I stunk up the place. It wasn't my finest performance, but even the greatest of players for 0-for-4, throw a few interceptions or go 2-for-17 from the field.
But as Michael Jordan once said "You miss 100 percent of the shots you don't take."
As for the next few shots I am taking below, some feel like layups, others free throws, then there might be a 3-pointer or two and one that feels like a half-court shot.
As always, check out dailybaseballdata.com for any and all BvP data you will need! Time for picks!
David Ortiz – 1B/Util – Red Sox – vs. Kevin Gausman
BvP: 6-for-13, 3 2B, 2 HR, 4 RBI, 2 BB
Analysis: Even on his potential farewell tour at an advanced age, Big Papi is tearing up the competition. He's got 4 multi-hit games in his last 5 and is eating up right-handed pitching with a .488 wOBA and a .232 ISO this season. Gausman has started to show why he was once a highly touted pitching prospect, but he still has his weaknesses. This game is being played in hitter-friendly Camden Yards and Gausman can't keep lefty bats down for too long (.189 wOBA against).
Jonathan Lucroy – C – Brewers – vs. Mike Leake
BvP: 15-for-32, 2 2B, 1 HR, 6 RBI, 3 BB
Analysis:  I hope I haven't missed the Lucroy bandwagon after the Brewers' backstop has logged 3 straight multi-hit games with 2 dingers and 9 RBIs! While the Brewers strikeout at an exorbitant rate, Lucroy is the team's best bat against RH pitching, owning a .413 wOBA and a .248 ISO. Lucroy also balls out at home with a .341 batting average and Miller Park is an underrated hitter's park. He is clearly the top catching option on the board tonight.
Matt Carpenter – 3B – Cardinals – vs. Wily Peralta
BvP: 16-for-35, 4 2B, 3 HR, 7 RBI, 4 BB
Analysis: I read somewhere recently that Matt Carpenter has taken the first pitch he has seen in every game this season. Will he ever break that streak? He should against one of the many gas cans pitching tonight in Wily Peralta. As the team's leadoff hitter, Carpenter hasn't exact'y been lighting the world on fire. However, he always managed to get on base. I think he's going to have some low ownership numbers tonight with his $5,000 price tag on DraftKings, but Carpenter has all the potential in the world to surpass his cost. Carp has owned Peralta and the Brewers' pitcher doesn't help himself by leaking all kinds of hits to lefties with his .378 wOBA and .300 batting average against
Corey Dickerson – OF – Rays – vs. Dillon Gee
BvP: 3-for-6, 1 HR, 1 RBI
Analysis: Remember I said I was taking a 3-point shot tonight, here's one of them. I wish the price was more manageable on DK at $3,800, but I'll take the risk with Dickerson considering his opposition might be one of the top gas cans of the night. Dickerson owns a .341 wOBA against right handers and a whopping .304 ISO. Gee sports a .393 wOBA and a .319 batting average against lefty bats. Something has to give in this matchup and while the game is at Kauffman Stadium, I am OK with rostering Dickerson in GPPs.
Brian Dozier – 2B – Twins – vs. Eric Surkamp
BvP: 1-for-2, 1 RBI
Analysis: Gas can of the night goes to Eric Surkamp! Even with Jon Moscot on the mound at Coors, Surkamp is downright awful. How awful is he you say? Well…
When your ERA and SIERA are above a 6, things just aren't going very well. Dozier has historically been a lefty masher and so far this season, that's held true. Backed by a .425 wOBA and a .350 BAA. Dozier has hits in his past 4 games and with leadoff duties, Dozier should have ample opportunity to pepper some balls around the Coliseum.
C.C. Sabathia – Yankees – vs. Toronto Blue Jays
PvB: 33-for-177, 4 2B, 3 HR, 12 RBI, 11 BB, 46 Ks
Analysis: My half-court shot of the night goes to C.C. Sabathia. I feel like I must be smoking crack, but here we are! At $9,000 on DraftKings, C.C. is righteously expensive! But you are going to have to roster someone, so hear me out. Sabathia is actually pitching quite well at the moment and is striking out nearly 8 batters per 9 innings. He's already got a 7 inning, 7 strikeout performance against the Jays this season and he's always pitched better away from New Yankee Stadium. Sabathia is 3-1 with a 2.52 ERA away from home while the Blue Jays are not the once-dominant team against lefty pitching. Toronto is middle of the pack in terms of wOBA vs. lefties and strike out 21% of the time.
We only had a couple of lineups last week, and obviously those didn't work out too well.
| | | | | | | |
| --- | --- | --- | --- | --- | --- | --- |
| Date | Contest Type | Entry Fee | Lineup Score | Winnings | Profit | Total Profit |
| 5/23/2016 | GPP | $1 | 72.3 | $0.00 | -$1.00 | $15.00 |
| 5/24/2016 | GPP | $1 | 82.75 | $0.00 | -$1.00 | |
But we are still way ahead and hopefully we add on to the profit tonight!
Lineup Narrative: I fit in all of my BvP selections today and then we have Jon Gray. I might be too heavy on the guy, but I feel like he's got the stuff to be an elite pitcher. His only drawback is he plays at Coors. With that said, the Reds are near the bottom of the league in hitting against RH pitching and strike out at a 23% clip. Gray has double-digit strikeout potential and to save cap space, I am going to take a chance. Hey, this is tournament play right? I hope Adames is in the lineup tonight so I don't have to change this lineup around.
https://dailyoverlay.com/wp-content/uploads/2015/06/BvP.jpg
352
795
Stephen Monahan
https://www.dailyoverlay.com/wp-content/uploads/2018/07/logo.png
Stephen Monahan
2016-05-31 12:00:08
2016-05-31 12:00:08
BvP for MVP - May 31