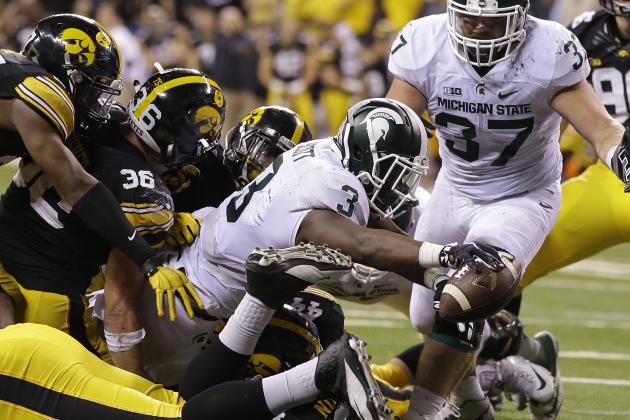 Everyone held serve on Championship Week to make for a boring weekend.  I guess you could say Iowa didn't hold serve but that game was essentially a play-in game so it doesn't count.  The week didn't go without an upset though as Texas went in to Waco and took down the Bears.  All Baylor had to do was win to sew up a Sugar Bowl invite; however, the Bears loss is the Okie State Cowboys gain as they will head to 'Nawlins to take on Colonel Reb.
Overall, it was a ho-hum, solid week for the experts.  There was not a vast distribution of picks due to the short slate of games.  The top score on the week was from EMAC, of RotoGrinders, who put up a 6.0.  STLCards was nipping at his heels.  Those two were followed up by a whole host of guys that finished between the 4.0 and 5.0 mark.  With the regular season complete, it's time to hand out the hardware.  Our top prize goes to Tap in to Mac from Fantasy Aces.  I'm a bit hesitant to hand the trophy over to him though as he had a limited number of picks that we graded.  Even with that said, he still finished .26 points ahead of Rob O'Conner from venoDFS, which is a decent margin of victory.  You can check out the final CFB Daily Overlay Scores at the link.  If I'm going to hand out a site-wide award, it definitely goes to RotoGrinders.  Of their six pickers we grade, four of them finished in the top-6 for the season.
The Consensus did not end the season on a high note.  A score of 2.79 placed the Consensus in the bottom-half for the final week.  Overall, it was a solid year for the Consensus and if you used this article as a guide every week then you probably finished in the money for the season.  Let's review the Consensus picks from Championship Week.
Finally, I mentioned that our fearless leader was taking his talents to San Diego to vie for the big money.  Greg (vengven) was undone by an injury to Jalen Richard, a disappearing act by Demarcus Ayers and a flat-out awful (and uncharacteristic) performance from Joe Hubener.  Greg finished in 42nd place and still took home a nice prize.  Not to mention the fact that he can always refer to himself as one of the best CFB daily fantasy players in the world.  He will be back with a "vengven"gence.
Quarterback
Highly Touted
A+ – Brandon Doughty (11x)
A+ – Deshaun Watson (10x)
Recommended
F – Nick Mullens (5x)
F – Joe Hubener (5x)
Suggested
A – Marquise Williams (4x)
A – Greg Ward, Jr. (3x)
C – Tyrone Swoopes (3x)
F – Chris Johnson (4x)
F – Conner Cook (3x)
F – C.J. Beathard (3x)
Running Back
Highly Touted
A+ – Christian McCaffrey (10x)
C – Donnel Pumphrey (8x)
Recommended
A+ – Wayne Gallman (5x)
C – Wendell Smallwood (5x)
D – Anthony Wales (5x)
Suggested
A – Derrick Henry (3x)
B – Ito Smith (3x)
F – Jalen Richard (3x)
F – Shock Linwood (4x)
F – Elijah Hood (3x)
Wide Receiver
Highly Touted
A+ – Taywan Taylor (11x)
C – Mike Thomas (9x)
F – Corey Coleman (8x)
Recommended
D – Juju Smith-Schuster (5x)
F – Demarcus Ayers (5x)
F – Nicholas Norris (5x)
F – Deon Cain (5x)
Suggested
F – Aaron Burbridge (4x)
As I mentioned above, EMAC, topped our experts for the week.  He finished with a very impressive 6.0.  He was closely contested by his site-mate, STLCards, who finished at 5.89.
EMAC (RotoGrinders) – 6.00 – Five of his ten picks finished with an "A+" grade.  That will put you at the top of the rankings most weeks.
STLCards (RotoGrinders) – 5.89 – Very similar selections to EMAC.  Like Greg, STLCards was undone by the mysterious no-show from Ayers.
After the top two, there were still four experts that scored between 4.0 and 5.0.  A very nice end to the season for the folks in this group.
JMBWngFN (RotoGrinders) – 4.44 – A "C" and two "F's" from the WR position was the undoing for JMBWngFN.
Rob O'Conner (venoDFS) – 4.30 – The Southern Miss crew really hurt O'Conner.  Two "F's" from Jalen Richard and Casey Martin didn't help.  Richard was off to a pretty good start before getting hurt.
Derek B. Davis (venoDFS) –  4.25 – Corey Coleman, a popular pick for the experts, and his failing grade was one of three "F's" on the week for Davis.
DailyFantasySportsRankings.com – 4.08 – Four "A+'s" and four "F's" from DFSR.com for a nice even week.  They slipped a bit the last half of the season but proved to be a worthwhile resource overall.
Four more experts finished between 3.0 and 4.0.
headchopper (RotoGrinders) – 3.78 – Fairly even distribution with three "A+'s", two "C's", and four "F's".
a25smith (RotoGrinders) – 3.60 – He played both ends of the Baylor running back tandem.  Unfortunately, Linwood and Chafin both earned failing grades.
Rob Veno (venoDFS) – 3.50 – Baylor got the best of Veno, too.  He played Chris Johnson, Linwood and Coleman, all of which earned "F's".
DailyFantasyWinners.com – 3.09 – He took it on the chin at the QB position as four of his seven selections picked up "F" grades.
Three folks finished in the 2.0 to 3.0 range.  Not a good finish to the season for these experts, including our Consensus.
Daily Overlay Expert Consensus – 2.79 – Thirteen of the 28 selections from the Consensus found themselves in the failing category.  Not a good end to a solid season for the Consensus.
Daily Overlay Power Five – 2.56 – Six of Stephen's nine picks picked up failing grades.  If not for "A+" grades from Gallman and Taywan Taylor, it could have been real ugly.  Stephen finished smack-dab in the middle of the pack for the season.
Fantasy Alarm – 2.27 – Overall, it was a rough season for FA.  On the bright side, they were the only expert to select Temple's Robby Anderson, who finished with an "A+" grade.
Bringing up the rear were two of the usual suspects.
DailyRoto – 1.97 – Twenty of the 38 selections from DailyRoto finished with a failing grade.
Hester's Bargains (RotoGrinders) – 0.75 – I gained a lot of respect for dumpster diving this CFB season.  Hester has a tough job every week.  He had a nice run in the middle of the year.  Unfortunately, his season was bookended by an awful start and a really awful finish.
That's a wrap!  I hope that you enjoyed reading this as much as I enjoyed writing it.  The DFS sites really upped the prize pools for CFB this season and it was a lot of fun.  Let's hope that some of this ongoing legislation does not have a big effect on the CFB aspect of DFS.  Fingers crossed that CFB is back and bigger than ever in 2016!
Keep eyes out for one more Consensus article.  We may not grade it but we will let you know what the experts are thinking for the New Year's Eve and New Year's Day games.  I'll keep my eyes on the some of the prize pools to see if there are other big play days.
Follow me on Twitter at @mbutlerOK.
https://dailyoverlay.com/wp-content/uploads/2019/07/CFB-Expert-Grading-POST.jpg
500
1200
Matt Butler
https://www.dailyoverlay.com/wp-content/uploads/2018/07/logo.png
Matt Butler
2015-12-15 03:23:56
2015-12-15 03:23:56
CFB - Championship Week Wrap-Up and Expert Grades