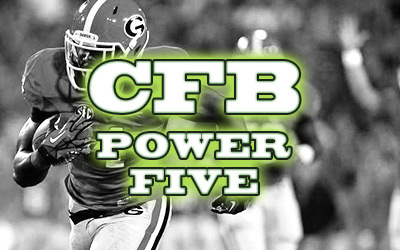 Forty bowls, and only three really matter.
That's the college football postseason in a nutshell.
With the College Football Playoff coming to the end of its second year, we now get to enjoy a few more meaningful bowl games.
Don't get me wrong, I love bowl season. It extends college football for another month, but really none of the games matter except the National Championship. Pride, bragging rights, an extra game for one's senior season, an extra game for your favorite team – those are all great reasons to enjoy the bowl season, but truly the postseason is watered down.
I would side to believe the majority of college football fans love the CFB Playoff. There was worry that it would render the regular season rather meaningless, but so far, that has not been the case. If anything, it's made that one loss even more important as less teams are running the table in the regular season.
I would like to see 8 playoff teams, at most 12 with an NFL style format where the top few teams get a bye.
For now we are set with four teams and any playoff is better than a magic computer or only poll voting selecting the top two teams to play for the National Championship.
In the meantime, we have 39 bowls until the championship game, so that gives us a few more weeks of CFB DFS.
My Power 5 will be all encompassing. I will give you a player from each team that I believe you should target with a short synopsis and prediction.
I wish you all the best and thanks for reading this season. I hope DFS is stronger and still growing when we return in 2016. Merry Christmas and Happy New Year!
Cure Bowl – San Jose St. vs. Georgia St.
Synopsis: Bowl season opens with this matchup. Hooray.Georgia St. isn't a team that made it to the DFS ranks much on DraftKings. GSU does play in the Sun Belt, probably the lowest of the lowest when it comes to FBS conference ranks. SJSU plays in the Mountain West, with much stiffer competition. But a 4th place Sun Belt team isn't exactly something to write home about. SJSU has been stout against the pass all season, but very susceptible to the run. Georgia St. doesn't really run the ball much or efficiently and is a yardage-friendly defense on the ground and through the air. Tyler Ervin is the bell cow of the Spartans and the GSU offense runs through QB Nick Arbuckle and WR Penny Hart.
DFS Plays: Tyler Ervin – RB – SJSU; Nick Arbuckle – QB – Georgia St.
Prediction: San Jose St.
Gildan New Mexico Bowl – Arizona vs. New Mexico
Synopsis – New Mexico gets homefield advantage, but that's about as positive as it gets. They get Pac-12 punching bag Arizona. New Mexico has been a punching bag all year, but somehow squeaked into the bowl season. I don't think this is going to be much of a contest despite the lack of defense Arizona plays against both the run and the pass. It actually might be difficult for Arizona to get up for this game considering the opponent. The Wildcats' QB play has been wishy-washy with injury and underperformance. Anu Soloman has been the starter most of the season, but a second concussion may have him sit out this bowl game. Underclassman Jerrard Randall has flashed big upside, especially with his legs. As for New Mexico, they are led by a rushing attack that features QB Lamar Jordan and RBs Jhurell Pressley and Teryion Gipson.
DFS Plays: Jerrard Randall – QB – Arizona; Lamar Jordan – QB – New Mexico
Prediction – Arizona
Royal Purple Las Vegas Bowl – BYU vs. Utah
Synopsis: The Battle of Utah takes stage in Nevada as once-CFB Playoff-cinderella takes on in-state counterpart BYU. The Cougars have been decimated by injuries, starting with all-everything QB Taysom Hill, one of my favorite DFS college football players. Starting RB Adam Hine went down a few games later. BYU's strength is at receiver where they boast lots of size with 6-foot-5+ receivers Mitch Mathews, Terenn Houk and Nick Kurtz. Utah's weakness has been against the pass on defense. Utah also had a major injury at the end of the season as bellcow RB Devontae Booker went down, vaulting freshman star-in-the-making Joe Williams stepped in the last two games.
DFS Plays: Tanner Mangum – QB – BYU; Joe Williams – RB – Utah
Prediction: BYU
Raycom Media Camellia Bowl – Ohio vs. Appalachian St.
Synopsis: Yea, not a lot of excitement here. What do you know about Ohio and App. St.? I remember Appalachian St. upset Michigan to open the 2007 season behind then QB Armanti Edwards. You might know Derrius Vick is the QB of the Ohio Bobcats. Either way, this doesn't do anything to get the needle moving for leisure watching or DFS, however, that could be a great thing for tournaments should you roster a player with a big game from this game. App. St. has the pedigree, the superior defense and offense over Ohio.
DFS Plays: Sebastian Smith – WR – Ohio; Marcus Cox – RB – Appalachian St.
R+L Carriers New Orleans Bowl – Arkansas St. vs. Louisiana Tech
Synopsis: Ahh, the New Orleans Bowl, where a few shots of bourbon are usually needed to get through watching two teams you don't really know much about battle it out for supremacy. I jest, but this actually should be a rather entertaining football game with a fair amount of points scored. Arkansas St. and Louisiana Tech each boast defenses that don't have much to boast about versus the pass, while each has shown the ability to stop the run for most of the season. This game is nearly a coin flip with a 60+ projected point total.
DFS Plays: Michael Gordon – RB – Arkansas State; Trent Taylor – WR – Louisiana Tech
Prediction: Louisiana Tech
Miami Beach Bowl – Western Kentucky vs. South Florida
Synopsis: South Florida gets more of the "home-field advantage" with this game being in Florida, but that probably won't matter much. Western Kentucky comes to the Sunshine State coming off one of its best seasons. QB Brandon Doughty and the Hilltopper offense has been one of the more prolific and potent offenses in the FBS. Meanwhile, USF had a successful season thanks to an improved defense and stellar play from dual-threat QB Quinton Flowers. Upperclassman RB Marlon Mack also shouldered a lot of the load for the Bulls as well.
DFS Plays: Taywan Taylor – WR – Western Kentucky; Quinton Flowers – QB – South Florida
Prediction: Western Kentucky
Famous Idaho Potato Bowl – Akron vs. Utah St.
Synopsis: This is by far one of the ugliest games on the board. This game sports a total of less than 50 points and features two teams with a combined 13 wins and 11 losses. The Zips don't have much in the way of offense to offer, but their defense has been one of the best in the country against the run, allowing only 86 yards per game. Meanwhile, Utah St. has been a teeter-totter all season long. Coming in at 6-6 and a bowl of inconsistencies, there's not much to be desired from Utah St. Name one player from the Zips before looking at my recommendation. That's what you are dealing with here.
DFS Plays: Conor Hundley – RB – Akron; Hunter Sharp – WR – Utah St.
Prediction: Utah St.
Marmot Boca Raton Bowl – Toledo vs. Temple
Synopsis: A team that hoped to sneak in as a cinderella before faltering at the end of a brutal schedule goes up against a team that lost just two games all year with a signature win against then No. 18 Arkansas. That's Temple and Toledo, respectively. These two programs feature two of the top running backs in the nation. While the stats don't show it, Toledo RB Kareem Hunt didn't quite meet expectations from a year ago. Injuries have hampered him for part of the season while Jahad Thomas started very strong for Temple before a tough schedule slowed down his production. Unfortunately for both teams, each has a stout run defense, but that doesn't mean you should completely shy away from these two backs for DFS purposes. This game should be competitive against two much improved teams.
DFS Plays: Kareem Hunt – RB – Toledo; Robby Anderson – WR – Temple
Prediction: Temple
San Diego County Credit Union Poinsettia Bowl – Boise St. vs. Northern Illinois
Synopsis: The award for the longest bowl name used to be this bowl with this sponsorship, but I believe that now belongs to the CFB Playoff games. Anyway, a down Boise St. team is up against Northern Illinois without its normal starting QB while QB play was by far Boise's weakness all year long. Luckily, Boise has been powered all season long by stud RB Jeremy McNichols, who came on very strong in replace of the departed Jay Ajayi. After the injury to starter Drew Hare, the Huskies focused more on the running attack, led by Joel Bouagnon. WR Kenny Golladay is the main receiving threat for the Hustkies who have the stiffer test against Boise St.'s stout defensive unit.
DFS Plays: Jeremy McNichols – RB – Boise State; Kenny Golladay – WR – Northern Illinois
Prediction: Boise St.
GoDaddy Bowl – Georgia Southern vs. Bowling Green
Synopsis: Outside of RB Matt Breida, Georgia Southern has very little to offer against the dynamic the Bowling Green Falcons. Bowling Green has QB Matt Johnson, RB Travis Greene and a slew of receiving options. I am surprised this game opened with BGSU favored by only -7.5 points as QB play by Georgia Southern is going to make it difficult to keep up. Roger Lewis was the preferred receiver for Johnson most of the season, but a resurgence by Gehrig Dieter has put an added wrinkle into the Falcons' offense.
DFS Plays – Matt Breida – RB – Georgia Southern; Gehrig Dieter – WR – Bowling Green
Popeyes Bahamas Bowl – Middle Tennessee vs. Western Michigan
Synopsis: I do love that chicken from Popeyes, Excuse me, I got a little distracted. Middle Tennessee versus Western Michigan? Conference USA vs. the big MAC (unintentional trademark identification). Who is going to win? I don't know, give me a coin. Western Michigan is led by QB Zach Terrell and a host of receivers while MTSU mimics the same concept. Both are pass-happy teams that have a supportive cast at running back. For DFS purposes, many might gravitate toward Daniel Braverman at WR, but it appears Corey Davis has been the favorite target of Terrell in recent weeks. I am not a huge fan of Brent Stockstill at QB, but he likely will be a cheap option.
DFS Plays: Richie James – WR – Middle Tennessee; Zach Terrell – QB – Western Michigan
Prediction: Western Michigan
Hawai'i Bowl – San Diego St. vs. Cincinnati
Synopsis: SDSU running back Donnel Pumphrey should be considered the new All Day. For me, he's one of my favorite DFS plays at the position. He's a workhorse, usually pricey and underplayed. He's also consistent week-to-week and averages a whopping 5.5 yards per carry this season. As for Cincinnati, they play offense through the air. QB Gunner Kiel and his seven dwarfs at receiver (no, they aren't short, there's just a lot of options that tend to eat into each other's production) attack defenses in multiple ways. San Diego has played very consistent defense against both the pass and the air, and with a run-first offense, Bearcat opportunities are going to be diminished.
DFS Plays: Donnel Pumphrey – RB – San Diego State; Shaq Washington – WR – Cincinnati
Prediction: San Diego St.
St. Petersburg Bowl – Connecticut vs. Marshall
Synopsis: Eh….move along here. Seriously, the pace of this game will move about as fast a retirement community to a grits buffet. This game is second-to-last in total projected points. Marshall has a more potent offense, but both teams are stout defensively. Run, run, pass might be the mantra of both offensive strategies, and likely more run, run, run.
DFS Plays – Arkeel Newsome – RB – Connecticut; Chase Litton – QB – Marshall
Prediction: Marshall
Hyundai Sun Bowl – Miami vs. Washington St.
Synopsis: My favorite college coach of all time (Mike Leach) takes on one of my most hated college programs in El Paso. Texas. I imagine this will be somewhat like a homecoming for the Pirate (aka Leach), coming back to way West Texas and all. As for Miami, they are playing for their next coach, Mark Richt, who takes over the program immediately after this game is complete. I love this matchup, but would love it more if WSU receiver Gabe Marks, the team's top pass catcher, was playing. That means more love for Dom Williams and River Cracraft. Brad Kaaya and the Hurricanes should have more success on the ground than through the air as the Cougs have been destroyed by opposing ground attacks all season long. But if the Hurricanes need to take it to the air, they are more than capable.
DFS Plays: Joseph Yearby – RB – Miami; Dom Williams – WR – Washington St.
Prediction: Miami
Zaxby's Heart of Dallas Bowl – Washington vs. Southern Miss
Synopsis: I don't know how many people will actually be at this bowl game considering the teams in this game. Washington to Dallas isn't exactly a hop, skip and a jump between the two areas. This will be played at the historic Cotton Bowl (the real one), so fans in attendance will get to watch from one of the best old stadiums around. Washington has become a fun-first offense led by RB Myles Gaskins while Southern Miss has been onf the more formidable offenses in Conference USA. They can dominate you with a deep passing attack or they can hit you with its one-two punch at running back (Jalen Richard and Ito Smith). Washington has been very reliable defensively, grinding out wins against USC and Washington State while narrowly missing out against Boise St., Oregon and Utah.
DFS Plays: Myles Gaskin – RB – Washington; Michael Thomas – WR – Southern Miss
Prediction: Southern Miss
New Era Pinstripe Bowl – Indiana vs. Duke
Synopsis: Duke gets the benefit of playing the worst defense in college football. Not only is Indiana the worst team against the pass, the Hoosiers also like to let running backs through their defensive line, a lot. Duke was a surprising team early on, but once conference play started, the Blue Devils came back to earth quite a bit. Man, this actually looks like a very awesome March Madness matchup doesn't it? I digress, but I think this is going to be a salivating matchup for dual-threat QB Thomas Sirk versus the Hoosiers, who gave up more than 500 yards of total offense per game. As for Indiana, RB Jordan Howard's health will be key to being formidable or another run-of-the-mill .500 club.
DFS Plays: Jordan Howard – RB – Indiana; Thomas Sirk – QB – Duke
Prediction: Duke
Camping World Independence Bowl – Tulsa vs. Virginia Tech
Synopsis: Tulsa was a very reliable offensive team to target in DFS, but then WR Keevan Lucas got hurt and the wagon wheels started falling off. Even with No. 2 wideout Keyarris Garrett and up-and-comer Josh Atkinson, this team floundered at the end of the season. I blame the QB play as Dane Evans, was not very great much of the season. Defensively? Tulsa is one of the worst (just shy of Indiana in futility). Now Virginia Tech gets to send off retiring coach Frank Beamer into the sunset, and that will be behind freshman RB Travon McMillian and WR Isaiah Ford on offense, and defense that's likely to be flying around the ball, putting pressure on Evans.
DFS Plays: Keyarris Garrett – WR – Tulsa; Travon McMillian – RB – Virginia Tech
Prediction: Virginia Tech
Foster Farms Bowl – UCLA vs. Nebraska
Synopsis: At some point late in the season, Indiana surpassed the Cornhuskers for worst defense against passing attacks. But that doesn't mean Nebraska is abolished of all weaknesses for us to attack in DFS. The Cornhuskers' are one of the better teams against the run, so you might want to stay away from Paul Perkins in this one, however, UCLA has one of the best up-and-coming QBs – Josh Rosen, whose 3300+ yards and 20 TDs through the air were one of the best numbers by a QB in the Pac-12. WRs Jordan Payton and Thomas Duarte are favorites of the underclassman QB. As for Nebraska, they likely will have more success pounding the ball or allowing Tommy Armstrong to tuck it and run rather than relying on Armstrong's arm.
DFS Plays: Josh Rosen – QB – UCLA; Terrell Newby – RB- Nebraska
Prediction: UCLA
Military Bowl – Pittsburgh at Navy
Synopsis: Anyone else feel like Navy QB Keenan Reynolds and Pitt WR Tyler Boyd have been playing college football for 10 years? Navy is an option powerhouse boasting a sometimes-difficult defense to crack. Pitt is a run-first team that has some limitations (i.e. QB) at moving the chains through the air. Pittsburgh might have the better defense of the two teams as Navy has some weakness stopping the passing game. However, it is uncertain how consistent Pitt QB Nate Peterman can perform to keep Navy's offense off the field. Navy is led by QB Reynolds. The option runs through him and if Navy falters, it's because Reynolds struggles.
DFS Plays: Tyler Boyd – WR – Pittsburgh; Navy; Keenan Reynolds – QB – Navy
Prediction: Navy
Quick Lane Bowl – Central Michigan vs. Minnesota
Synopsis:  I want to know when teams with a 5-7 record started getting invited to a bowl. I already don't like average (6-6) being allowed to go bowling, but 5-7??? That's Minnesota's record, and they aren't the only 5-7 team to play in a bowl this season. Central Michigan has one of the best QBs in the MAC, Cooper Rush, and while Minnesota had played some stout defense early in the year, but the Gophers have really dug themselves in a hole of late (see what I did there?).
DFS Plays: Cooper Rush – QB – Central Michigan; K.J. Maye – WR – Minnesota
Prediction: Central Michigan
Lockheed Martin Armed Forces Bowl – California vs. Air Force
Synopsis: This is a sneaky matchup for Air Force. They were one of the better teams out of the Mountain West and their offense can put up points. With the return of the unfortunately named Timothy McVey at RB, their offense got a bit more potent. California allows 202 yards per game on the ground and Air Force, despite it's military name, attacks on the ground through various option looks. California also has an offense and one of the top NFL QB prospects in Jared Goff. AF could move the ball easily on the ground, allowing fewer possessions for the Bears.
DFS Plays: Jared Goff – QB – California; Timothy McVey – RB – Air Force
Prediction: California
Russell Athletic Bowl – North Carolina vs. Baylor
Synopsis: If Jarrett Stidham can't go for the Bears, which there's a good chance he doesn't play, then I can't see a scenario where Baylor is able to keep up with UNC QB Marquise Williams and company. UNC has a top-flight defense against the pass, yet has leaked yards to running attacks. Baylor would need to lean heavily on Shock Linwood, Devin Chaffin and johnny Jefferson and hope exposing that weakness keeps UNC's offense off the field most of the game. Baylor has Corey Coleman, probably the best wide receiver in college football, but who will get him the ball if Stidham can't go? Lynx Hawthorne? Williams is a top dual-threat option who is a boom-or-bust play at his elite price tag, but he's likely going to have lots of success against the Bears.
DFS Plays: Marquise Williams – QB – North Carolina; Shock Linwood – RB – Baylor
Prediction: North Carolina
NOVA Home Loans Arizona Bowl – Nevada vs. Colorado St.
Synopsis: Colorado St. boasts of the top WR threats in all of college football – Rashard Higgins – however the Rams are more of a run-first offense. RB Daylyn Dawkins has taken lead-back duties. Nevada has been able to find success either through the air or on the ground. The Wolfpack's 1-2 punch of Don Jackson and James Butler, both 1,000-yard rushers, has been the preferred motive of offense. Receivers Hassan Henderson and Jericho Richardson have 114 catches combined, but can't be relied upon consistently for production. Both teams have been up and down, and predicting a winner is a bit of a coin flip.
DFS Plays: James Butler – RB – Nevada; Rashard Higgins – WR – Colorado St.
AdvoCare V100 Texas Bowl – LSU vs. Texas Tech
Synopsis: My poor Red Raiders, while fun to watch, face their toughest running back test of the year. The Red Raiders were exponentially awful against the run this season. They tackle opposing runners with warm hugs. Leonard Fournette, aka The Four Horseman (my nickname, let's get that started people!)…what do I need to say about him? Over/under 300 yards rushing and 5 TDs. Seriously. That should be a prop bet. With the face pace and quick strike of the Air Raid Offense, I just don't know how Fournette doesn't murder this team. LSU has been susceptible to the big play in the passing game and I expect Tech to play well and put up points in a sold out Texas Bowl.
DFS Plays: Leonard Fournette – RB – LSU; Patrick Mahomes – QB – Texas Tech
Prediction: Texas Tech (yea, I am a homer)
Birmingham Bowl – Auburn vs. Memphis
Synopsis: A down year for the Auburn Tigers has them playing an upstart Memphis team in an almost irrelevant bowl game. Memphis is an uptempo offensive team with multiple weapons at receiver and a stud QB, Paxton Lynch. Auburn has had struggles stopping both the run and the pass all season while Memphis' strength has been against the run. Auburn probably comes to play, but I bet Memphis wants it more since they are the underdogs to the big dog in the SEC.
DFS Plays: Ricardo Louis – WR – Auburn; Paxton Lynch – QB – Memphis
Prediction: Memphis
Belk Bowl – N.C. State vs. Mississippi St.
Synopsis: MSU QB Dak Prescott really started to come on strong late in the regular season. He's a one-man show and one of the top DFS plays at QB, for me, in all of the bowl games. Don't be fooled by N.C. State's numbers, they were drenched against the upperclass teams this season and didn't have too tough of a schedule. MSU isn't the team from last year, but they are a tough SEC opponent whose weakness is stopping the run. N.C. State's best playmaker is Jaylen Samuels who is listed as a TE on some sites, but he is an all-everything type of player with lots of upside. QB Jacoby Brissett has been efficient, but doesn't offer a ton of upside for DFS tournaments.
DFS Plays: Jaylen Samuels – WR/TE – N.C. State; Dak Prescott – QB – Mississippi St.
Prediction: Mississippi St.
Franklin American Mortgage Music City Bowl – Texas A&M vs. Louisville
Synopsis: Well, it appears QB Kyle Allen, who opened as the TAMU QB is on his way out, paving the way for the Kyler Murray show. The freshman standout has all the potential in the world to be the next big college football name, but he has had his growing pains this season. He gets a tough test against the Louisville Cardinals who don't budge much against the pass or the run.
I wrote all of that above earlier this week, then news came down that Kyler Murray is now transferring. Sounds like to me Sumlin is leaving to go elsewhere. Will Murray even play his last game? This has bad news written all over it and I certainly can't trust A&M to put up a good fight in this game. A&M has been weak against the run all season long, giving way to dual-threat QB Lamar Jackson and RB Brandon Radcliffe. Louisville would have some struggles with Murray if he plays. Even if he does, how can he give it his all knowing he's transferring? Why take the risk of getting hurt? Anyway, you can toss Jackson and Radcliffe in your DFS lineups. They are even more solid plays now.
DFS Plays: Christian Kirk – WR – Texas A&M; Lamar Jackson – QB – Louisville
Prediction: Louisville
Holiday Bowl – USC vs. Wisconsin
Synopsis: Since the departure of Steve Sarkisian, USC has been more of a run-oriented team despite having highly touted QB Cody Kessler and outside burner JuJu Smith-Schuster. Justin Davis and Ronald Jones have come on in the second half of the season for the Trojans. As for Wisconsin, its season has been somewhat of a mess. Stud RB Corey Clement has been sidelined for most of the season and QB Joel Stave has been very up and down. Wisconsin's defense hasn't disappointed as its one of the top units against the run. If Stave can shore up his mistakes, USC is very vulnerable and WR Jordan Westerkamp and company could find lots of success. Clement could play and if he does, then he's a very nice option at what will likely be at a very discounted price.
DFS Plays: JuJu Smith-Schuster – WR – USC; Jordan Westerkamp – WR – Wisconsin
Prediction: USC
Chick-fil-A Peach Bowl – Houston vs. Florida St.
Synopsis: This is one of the top bowl games I am looking forward to. Mostly it's because Greg Ward is one of my favorite college football players for DFS and one of the more exciting players to watch. He's got a tough test against ACC power Florida State, but FSU has shown some instability in containing dual-threat QBs. FSU came alive with Sean Maguire at QB, but RB Dalvin Cook is still the playmaker for this team.Houston was tough against the run, but it did not see the quality of offensive line and RB it will see in the Peach Bowl. Demarcus Ayers is the No. 1 wideout for the Cougars, and looks to rebound after putting up a goose egg in the AAC Championship game against Temple. Ward might be playing from behind and I am guessing his price will be depressed due to matchup, making him a great tournament play.
DFS Plays: Greg Ward, Jr. – QB – Houston; Dalvin Cook – RB – Florida St.
College Football Playoff Semifinal #1 at Capital One Orange Bowl – Oklahoma vs. Clemson
Synopsis: I think something is amiss in the final four of the CFB Playoff. I don't think Oklahoma is the fourth-best team of the bunch and considering Michigan St. wasn't even in the top 4 prior to championship week, it seems a bid odd that Oklahoma jumped them. I say "shenanigans," but what do I know? I believe the NCAA wants Oklahoma and 'Bama in the title game. Well, that's not going to happen. I think Clemson is a very good team in all facets of the game where Oklahoma has shown some weaknesses defensively. I also don't trust QB Baker Mayfield playing in a huge game like this. Don't get me wrong, he's talented, but he hasn't faced a defense such as Clemson at all this season. OU even opened as favorites in this game, but this team lost to Texas…..yes, Texas. It won't be easy, but a fire under DeShaun Watson might be even larger after he was denied the Heisman Trophy.
DFS Plays: Samaje Perine – RB – Oklahoma; DeShaun Watson – QB – Clemson
Prediction: Clemson
College Football Playoff Semifinal #2 at Goodyear Cotton Bowl – Alabama vs. Michigan St.
Synopsis: Love Connor Cook as an NFL-ready QB. Like to root for Michigan St. and I am certainly hoping for an upset, but I just don't see it happening. Alabama has been a monster team defensively this season and Derrick Henry is going to provide a heavy dose of ground and pound against Sparty. WR Calvin Ridley has been a great addition to the Tide's offense and he could very well have a big game as MSU has struggled more with the pass than the run this season. 'Bama is on a mission ever since it lost to Ole Miss and the train keeps chugging along into the NT game.
DFS Plays: Calvin Ridley – WR – Alabama; R.J. Shelton – WR – Michigan St.
Outback Bowl – Northwestern vs. Tennessee
Synopsis: Some of my favorite bowl matchups come late in the season, but this is not one of them. Northwestern is somehow just a two-loss team, and a team that defeated Stanford to open the season. I think they are vastly overrated and don't provide much at all in the way of DFS plays. They play defense and run the ball with RB Justin Jackson. Tennessee boasts dual-threat QB Josh Dobbs and a powerful run-first read-option attack with RBs Jalen Hurd and Alvin Kamara. I don't think this game is much of a contest as NW doesn't have the firepower offensively to play catch-up.
DFS Plays: Justin Jackson – RB – Northwestern; Joshua Dobbs – QB – Tennessee
Prediction: Tennessee
Buffalo Wild Wings Citrus Bowl – Michigan vs. Florida
Synopsis: Lowest game total on the board, so you might want to just move along from this one. Michigan has been mediocre defensively in the back half of the 2015 season while Florida has been dreadful offensively all season long. Gator RB Kelvin Taylor has flashed the upside, but also sometimes seems to have his head elsewhere. The Gators were shining offensively with Will Grier at QB, but with Treon Harris, scoring points becomes about as easy as scraping ice from your windshield with your fingernails. Michigan QB Jake Rudock found some success through the air late in the season thanks to stellar play from WR Jehu Chesson. I still don't like the hill the Wolverines will have to climb in this one.
DFS Plays: Jehu Chesson – WR – Michigan; Kelvin Taylor – RB – Florida
Prediction: Florida
BattleFrog Fiesta Bowl – Notre Dame vs. Ohio St.
Synopsis: I am actually surprised the O/U opened at 53.5 points for this game. I have a sneaky feeling there will be lots of points scored in this one. ND has been able to overcome all of the injuries you could imagine this season, yet they were right there in the National Title picture at the end. Ohio St. fell victim to inconsistencies and Michigan St. was able to end the Buckeyes' hope for a second straight championship. I could see Ohio St. being in a lull for this one after losing the Big 10 title game, but I trust Urban Meyer will have this team ready to play. They are a much better team with QB J.T. Barrett and I can't believe it took OSU as look as it did to figure that out. RB Ezekiel Elliott is the bellcow of the offense and has been Mr. Consistency all season long. Notre Dame QB DeShone Kizer and RB C.J. Prosise, fill ins thanks to injuries early in the season, have been a steady pair. WR Will Fuller is the main receiving threat.
DFS Plays: C.J. Prosise – RB – Notre Dame; Ezekiel Elliott – RB – Ohio St.
Prediction: Ohio St.
Rose Bowl – Iowa vs. Stanford
Synopsis: I felt Iowa was overrated all season long, and it wasn't because I just had this feeling, it's because they didn't have to play two of the tougher teams in the Big 10 – Michigan or Ohio St. I actually believe Iowa would've defeated Michigan, but Ohio St. wouldn't have had a problem taking down the Hawkeyes. Anyway, I am getting off topic. Iowa will have its hands full with am experienced Stanford team. Oh, and also with RB Christian McCaffrey, a Heisman runner-up. QB Kevin Hogan is a threat through the air and with his legs, but the offense runs through McCaffrey. The Cardinal could have a tough time getting McCaffrey going against Iowa's stacked defensive front. As for Iowa, it lets the hot hand carry the rock, but an injury to RB Jordan Canzeri could put LeShun Daniels and Akrum Wadley at the forefront of this offense.
DFS Plays: Jordan Canzeri – RB – Iowa; Christian McCaffrey – RB – Stanford
Allstate Sugar Bowl – Oklahoma St. vs. Ole Miss
Synopsis: For a brief moment, Oklahoma St. looked poised to sneak into the CFB Playoff picture, but then it faced tough opponents and the train derailed. Still a successful season, I am not an OSU buyer when RBs can barely run the ball past the line of scrimmage. QB Mason Rudolph airs it out to burner James Washington and slot man David Glidden. Marcell Ateman is big target for Rudolph in the red zone. Backup QB J.W. Walsh spells Rudolph in the red zone and is used to pound the ball up the gut on most occasions. As for Ole Miss, Jim Kelly protege Chad Kelly has burst onto the scene in the SEC. He looks like a top flight QB that could lead Ole Miss into the promised land one day soon. A premier bowl for Ole Miss, another team that fails to run the ball well, should have the Rebels up and ready to show what's to come in 2016. WR Laquon Treadwell is Kelly's favorite target and one of my favorite WR plays for DFS. I expect a shootout here.
DFS Plays: James Washington – WR – Oklahoma State; Laquon Treadwell – WR – Ole Miss
Prediction: Ole Miss
Taxslayer Bowl – Penn St. vs. Georgia
Synopsis: RB Nick Chubb, one of the top RBs in all of CFB, went down with an injury mid season, vaulting Sony Michel to lead back duties. Passing game woes have hindered the Bulldogs all year long and a 9-3 season wasn't good enough to keep longtime head coach Mark Richt around. I imagine the Bulldogs will be geared up to flex its muscles for Georgia alum and head coach Kirby Smart. As for Penn St., it took QB Christian Hackenberg a few games to get going, but he started playing consistently at the position, leading his team to a January bowl. I am still not convinced the guy has top-flight NFL talent, but he's been serviceable for the Nittany Lions, who also boast a solid RB in Saquon Barkley.
DFS Plays: Saquon Barkley – RB – Penn State; Sony Michel – RB – Georgia
Prediction: Georgia
AutoZone Liberty Bowl – Kansas St. vs. Arkansas
Synopsis: Kansas St. made it to a bowl? There's not much to say here other than the Wildcats are so very mediocre. QB Joe Hubener can do more damage on the ground than through the air, and that's all I've got to say about KSU. Arkansas is lead by budding QB Brandon Allen and RB Alex Collins, who took lead back duties after the injury to Jonathan Williams. Allen has shown the ability to hang with some of the top-scoring teams in the SEC and he should have no trouble airing it out against KSU and its 283 yards allowed through the air. Ironically, Arkansas has been even worse against the pass, but very stout against the run. Luckily, Hubener struggles to throw the ball accurately, thus boosting Arkansas' deficiencies in the secondary.
DFS Plays: Joe Hubener – QB – Kansas State; Brandon Allen – QB – Arkansas
Prediction: Arkansas
Valero Alamo Bowl – Oregon vs. TCU
Synopsis: It's a shame TCU had to battle late-season injuries to QB Trevone Boykin and WR Josh Doctson, otherwise we could be talking about TCU in a CFB Playoff semifinal game. Instead, we are left with a much more entertaining matchup as the Frogs face the Ducks (two menacing mascots, don't you think?). This game has all the makings of a shootout and I wouldn't be surprised if each team puts up 50. Oregon is cannon fodder against passing attacks while TCU has held its own defensively, it hasn't seen an offense quite like Oregon (Texas Tech would be a close second in comparison). Anyway, if Doctson can come back and play from a late-season injury, he would be my top play for DFS. The man was consistent all year and all year he was always underowned in tournaments. As for Oregon, Vernon Adams has been a solid QB when he's healthy, however the offense really churns when stud RB Royce Freeman is on. WRs Dwayne Carrington and Bralon Addison are solid WR options that can break away down field at any time.
DFS Plays: Royce Freeman – RB – Oregon; Trevone Boykin – QB – TCU
Prediction: TCU
Motel 6 Cactus Bowl – West Virginia vs. Arizona St.
Synopsis: This is the game that gets played right before the National Championship? Well, let's fight through it. West Virginia has shown flashes of some ability offensively, but QB Skyler Howard had trouble throwing passes accurately, so the Mountaineers changed their mindset mid-season and started running the ball a ton with RBs Wendell Smallwood and Rushel Shell. This is not a game for WVU to run as Arizona St. has been a stickler for allowing big games to rushing attacks. However, it's struggled mightily against the pass. Arizona St. has a slew of options at its disposal. RB Demario Richard was the lead dog for most of the season, but an injury forced Kalen Ballage into lead-back duties. He did so well that he saw more carries when Richard returned. Devin Lucien came on strong at receiver for the Sun Devils as he was QB Mark Bercovici's favorite target late in the season.
DFS Plays: Skyler Howard – QB – West Virginia; Devin Lucien – WR – Arizona State
Prediction: Arizona State
https://dailyoverlay.com/wp-content/uploads/2015/09/CFB-PowerFiveSmall.jpg
250
400
Stephen Monahan
https://www.dailyoverlay.com/wp-content/uploads/2018/07/logo.png
Stephen Monahan
2015-12-18 12:00:26
2015-12-18 12:00:26
CFB Power 5 - Bowl Edition