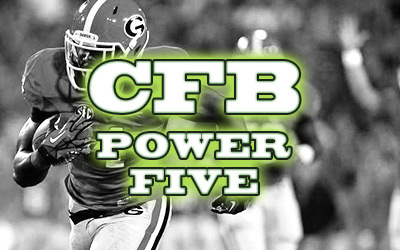 Sigh, it's the final regular season week of the 2015 college football season, BUT it's also the first week of the CFB postseason (in my book).
Lots of bowl/College Football Playoff decisions will be made by the outcomes of Saturday's championship contests.
The games everyone will have their eyes on:
Michigan St. vs. Iowa – Big 10 Championship and CFB elimination game
USC vs. Stanford – Pac-12 Championship – Can Stanford win and make it in the playoff?
Florida vs. Alabama – SEC Championship – Don't think Florida has a chance, but if they won that certainly would shake up the CFB Playoff.
Clemson vs. North Carolina – ACC Championship – DeShaun Watson and the Tigers look to clinch the No. 1 overall seed in the CFB Playoff and quite possibly the Heisman Trophy with a win.
There are a few other games on Saturday's slate, but nothing major will result of the outcomes.
This week also is a very small slate of games for daily fantasy purposes. DraftKings has 9 games that is an all-day slate. This also is the week of the CFB Daily Championships on DraftKings of which I have no entries.
The Power Five is going to be a little different this week. Instead of 5 picks at each position, I am instead going to break down each of the 9 games on the slate with my own little flare. It's going to come across casual, but it's how I perceive them for DFS purposes. Each game will have a few players that I like, but my official picks for the week will be in the form of my own "optimal" lineup.
Pricing is super tight and to sneak in the top tier guys you are going to have to find value elsewhere. I feel wide receiver has been fairly unreliable in the second half of the season. Stiffer competition, injuries and perhaps a lack of talent all could be to blame for this. Running back and QB have been consistent options for DFS purposes all year long.
I imagine the following players are going to be highly owned this week and will be top picks elsewhere around the industry:
Brandon Doughty, DeShaun Watson, Nick Mullens, Christian McCaffrey, Joe Hubener, DeMarcus Ayers, Nicholas Norris, JuJu Smith-Schuster, Tyler Higbee, Mike Thomas, Jalen Richard and Ito Smith.
There are lots of reasons why I feel these guys will be highly owned. Some are matchup, some are because of game projections, and some are recency bias. A big day from Timothy McVey last week could spark high ownership for him, but I am really unsure of how the industry will perceive him given the tough matchup and his lack of notoriety.
I have my optimal lineup posted here, but there are a few other players I love, but could not find a way to fit in due to salary restrictions: Donnel Pumphrey, Christian McCaffrey, Greg Ward, DeShaun Watson, Corey Coleman, Joe Hubener, K.D. Cannon and Devin Chafin. If you can fit these top guys in, by all means go for it.
Anyway, here's how I view each game this week and then my optimal lineup with a synopsis for each player.
Temple at Houston – AAC Championship
This game doesn't have an insanely high point projection, but it's projected to be close. I like Greg Ward and Ayers here. Ward might have low ownership because of recent injury concerns and matchup. I don't think Temple is all that great myself and has one good player, Jahad Thomas, who could really struggle against the Houston defensive front that allows a shade over 100 yards per game. P.J. Walker could get some points and would be a salary saver, but I don't think he lights up the stat sheet, especially since he doesn't really have a slew of talent to throw to. Ayers is still consistent enough and cheap enough despite all the mouths to feed at receiver in this offense. As for Houston RBs, that's just a huge toss up. If Farrow sits, then his backup is really cheap, but does Webb (and converted corner Brandon Wilson who you can't even select in DFS) offer a ton of upside against this defense?
Southern Miss at Western Kentucky – Conference USA Championship
Highest projected point total of the slate. People will be all over it. WKU should roll, so WKU QB Brandon Doughty is a safe play. Anthony Wales is pricey at RB for WKU, so I think I'd rather have Doughty at near the same price point. If Wales goes off, Doughty suffers cause I don't think this one is that close in the end. If it is, then the top Southern Miss receivers and RB Jalen Richard could have huge days. I like Richard over Ito because Richard gets the touches when the game is not a Southern Miss blowout. You can't go wrong with Nicholas Norris. He's cheap, lots of targets and catches a lot of balls, but he could be 50-80 percent owned and is a chalk salary saver. That doesn't mean that's a bad thing though. Taywan Taylor still has all the upside and with two straight "down" weeks, I like him most at his reduced price.
Texas at Baylor – Big 12 Regular Season Finale
Yuck. This game has a high projection and Baylor will dominate. Does Chris Johnson go buck wild? Possibly. Texas has held one team this season in check and somehow that was OU, otherwise, they have underperformed all season long. Devin Chafin is the play for me here, especially if Shock Linwood is active as I could see people pivoting to him, but Chafin gets the goaline work. Then there's Corey Coleman. He scares me a bit and I feel weird saying that about him, but the injury at QB has really hurt his production, especially with CJBayBay (just made up that nickname) as the signal caller. But his price is at such a bargain for the upside, he could very well make mince meat of that Texas secondary. TCU and OK St. actually have solid defenses most days, so I understand them trying to take away Coleman. I don't see Texas doing that, even though Texas is known as "DB-U." On Texas' side. I guess Chris Warren is a solid play if Gray sits, but I don't about that price and his team playing from behind. Same goes for Swoopes who is better suited for his current role when Heard is healthy rather than at starting quarterback. I just don't see Texas scoring many points at all. Briles likes to run up the score sometimes, so I wouldn't worry much about starters being pulled too early in the last regular season home game.
Florida at Alabama – SEC Championship
Derrick Henry and Calvin Ridley, that is all you need here. I wouldn't even play Ridley considering he will be matched up with Florida's stud corner Vernon Heargraves III. Florida is going to get steamrolled and Henry is matchup proof. But is he worth the salary in a potential low-scoring affair? I think Florida gets goose-egged here.
West Virginia at Kansas St. – Big 12 Regular Season Finale
This is the game I hate the most. Both teams are too inconsistent, but I guess I will side on KSU getting the win because it is in Manhattan, Kan. and they likely play up in their last game of the season. So what does that mean? Hopefully lots of Hubener and maybe Charles Jones. Kody Cook could be an awesome play at WR should Hubener get hurt but of course you can't count on that. Then there's Klein, who wrecked Tech, but is largely inconsistent. KSU can't defend the pass, but WVU has shifted to a running attack. Shelton Gibson has burned me too much lately to consider him, but he's a huge tourney play with the upside and cheap price against a porous pass defense. RB Wendell Smallwood, RB Rushel Shell and QB Skyler Howard are possible plays, but this has a let down game written all over it for me. I just don't have a good feeling on WVU as I think they are just not a good football team and Howard hasn't been consistent throwing the ball this year.
Air Force at San Diego St. – Mountain West Championship
Here we have another ugly game. SDSU seems to stop the run well, but this is an option team, so AF could have success moreso than a standard rushing attack. As for AF, it just allowed New Mexico to run all over them. Donnel Pumphrey is my guy and he's always solid for me. I will be rolling with him as a solid tournament play with potential low ownership. His backup Price, also sees touches, so could be a salary saver, however this game could be close and Price may not be needed as much. SDSU has the cheapest starting QB on the board. You could go that route to save money but it's not a very smart play considering Pumphrey's usage. AF has QB Karson Roberts, a backup to Nate Romine. He's been better as the season has progressed, but I am definitely not sold on him. As for Timothy McVey, outside of an unfortunate name, I could see many gravitating his way after one game because of his 60-point romp last week. I don't care for him personally, but I understand the play. Jacobi Owens is the other back that gets touches, but it looks like he might not see as many carries now.
Stanford at USC – Pac-12 Championship
I stand by my claim that Kevin Hogan is an NFL QB and worthy of rostering this week. This will be a different game than from earlier in the season as USC has been more of a running team since Sarkisian left. However, I think Kessler and JuJu could be a solid stack this week after posterizing Stanford earlier in the year. I would like to think though that Stanford's coaches would recognize what happened last time, and not let that happen again. Stanford has RB and Heisman hopeful Christian McCaffrey. He's a stud, we all know that. Last time he paid off his salary cause he was so cheap, but now he's elitely priced. You could do worse for points, but USC has been solid against the run. McCaffrey should easily get double-digit points through PPR and probably gets 100 yards, but will he get the TDs? I hope so cause I am rolling him out. I also like Austin Hooper here. Cheap TE (top target for Hogan) that could duplicate his totals from the previous matchup this year. Devon Cajuste was a decent receiver last year, but he's fourth on the team in catches and yards, so he's a dart throw. McCaffrey has forced this offense to load up on giving him touches, hindering Cajuste and burner Michael Rector.
UNC at Clemson – ACC Championship
One of the higher totals on the board, but I think expectations should be tempered. Clemson doesn't give up a lot of points or yards either through the air or on the ground. There's obviously extra motivation in the ACC title game, but I am competly off of Marquise Williams here. Great tournament play though, but I won't have him. I probably won't have any UNC players myself (unless I want a cheap receiving option) and I think Clemson controls this game from the start. DeShaun Watson is the play. They need this game to get to the CFB Playoff and Watson needs a great game to do that. If he does, he's clearly the front-runner for the Heisman. He should light this team up with his legs. UNC is great against the pass, but awful against the run. Watson and RB Wayne Gallman are great plays in this game.
Michigan St. at Iowa – Big 10 Championship
This is an interesting game that will go undervalued. A spot in the final four is up for grabs, and Connor Cook is healthy again. He's an Elite QB at a very cheap price. Iowa has allowed "just" 221 yards passing this season, however they haven't played an offense at all like MSU this season, so that lower total is misleading. Give me Cook and WR Aaron Burbridge, probably some shares of MacGarrett Kings and R.J. Shelton (cheap RB turned WR in the slot). MSU running backs do offer some value, but they split time. Iowa has shown it can be a force against the run as they have faced teams with better rushing attacks than MSU this season. As for Iowa, QB C.J. Beathard is the mad hatter and Matt VandeBerg offers some salary saving ability at WR. Their RBs are so wishy washy that I probably won't touch them, however, senior Jordan Canzeri looks to be the bellcow coming in. MSU has a solid front seven, but has been susceptible to the pass. Iowa has leaned on the running game though, so why fix what isn't broke?
Optimal Lineup
Connor Cook – QB- Michigan St. – Premium price for elite talent, likely underowned. Plays big in big games.
Kevin Hogan – QB – Stanford – Could easily go Hubener, but this is for tournament play. Hogan has a safe floor, but his ceiling is rather limited. However, Hogan has some wheels and has goalline TD potential. The lack of talent at receiver has limited this NFL prospect, but he's safe for 15-18 points at least.
Wayne Gallman – RB – Clemson – I wanted exposure to this game and Gallman is the cheaper option against UNC, which allows 200+ yards per game on the ground.
Jalen Richard – RB – Southern Miss – It took awhile, but after some research and discussion by some Daily Overlay staffers (The Bossman!), Richard became the play out of the Southern Miss backfield, not Ito Smith, whose gaudy numbers came in garbage time. This game has the highest point total and Richard is a senior who can catch passes out of the backfield. Lots of usage here at a cheap price in a high-scoring game.
Demarcus Ayers – WR – Houston – Ayers is matchup proof. His price doesn't equal his production and he's Ward's top target. Give me him everywhere at under $6000
Austin Hooper – WR(TE) – Stanford – Cheap option, top target for QB Hogan. had 17 fantasy points against USC last time out and USC's secondary hasn't improved at all, allowing 262 yards passing per game.
Taywan Taylor – WR – Western Kentucky – WKU has a ton of mouths to feed, but Taylor is still the No. 1 receiving option. His price has dropped because of a couple of "low" totals the past two weeks. He has just two games with less than 10 points. One was a complete blowout of Old Dominion and the other came the first week of the season against a stout Vanderbilt club. Don't worry here. Taylor is the optimum option for Doughty.
Aaron Burbridge – WR – Michigan St. – My most worrisome play of the slate, but I am not going to pick all of the easy options. Severely low ownership here as he is the most expensive WR on the slate. He gets what looks like a tough Iowa secondary, but they haven't played a high-profile passing attack all season long. Cook and Burbridge click and click in big games. He's a sleeper at a high price.
Nicholas Norris – WR – Western Kentucky – Norris has trap written all over him. He's vastly inexpensive and has high usage in multiple straight games. He's going to be the highest-owned player all around at $3300. It won't be a trap though and outside of injury, shouldn't disappoint. Doughty has showed confidence in him for weeks now with 28 catches and 3 TDs in his past 5 games.
Good luck this week, and perhaps I will see you around when bowl season begins!
https://dailyoverlay.com/wp-content/uploads/2015/09/CFB-PowerFiveSmall.jpg
250
400
Stephen Monahan
https://www.dailyoverlay.com/wp-content/uploads/2018/07/logo.png
Stephen Monahan
2015-12-04 15:35:12
2015-12-04 15:35:12
CFB Power 5 - Championship Week