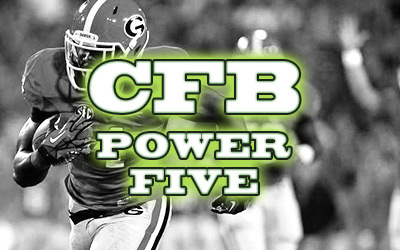 There are two narratives for this week's Power 5 selections.
The first involves the Big 12.
The second involves my picks – there are way more than usual.
So, the Big 12. It's about to get really good.
Last week, Oklahoma St. knocked off TCU in Stillwater. I feel no one is really talking about this victory. Perhaps it was a fluke? Josh Doctson got hurt in the second quarter and the Horned Frogs' offense seemed to sputter thereafter. There were fears his wrist injury was a season ender, but that's apparently not the case and is set to play against Kansas this week.
Now, I love Josh Doctson, he's appeared here many times and he is always underowned in DFS. But this week, I am staying away. Kansas is BAD. TCU needs Doctson the rest of the season. He may play, but this game is going to get out of hand early and I just can't see TCU keeping him out there for very long once the game gets to 35-0 after the first quarter.
Trevone Boykin is a fine play this week, but we will get to him later.
As for the rest of the Big 12, all eyes will be in Waco, Tx as the undefeated Bears get their first real test of the season when they welcome in 1-loss Oklahoma. There is a lot of DFS goodness surrounding this matchup, BUT I am not going to recommend either QB in that game. It's not because I don't think they will pay off, I just think they are going to be the top-owned guys in the late action. I certainly believe they are worthy in tournies and cash games. But if you have been a follower all season long, I don't like to just pick a play because it is obvious. Baker Mayfield and Jarrett Stidham are each under $8000, that game has a high O/U, and they are both plays you certainly need to consider. You don't need me to tell you that though, which is the point on why I am not using them as picks.
However, I am a little nervous about both plays. Oklahoma has been wishy washy on whether they want to flood plays to either the running game or pass. There's not a lot of balance. Jarrett Stidham is facing Baylor's toughest defensive opponent yet and is playing in a huge game that could certainly overwhelm him, causing him to struggle. Be careful with this game. It's possible Samaje Perine and Joe Mixon are used in heavy doses to limit the Bears offensive plays. Kansas State ran the ball down Baylor's throats last time out as has Iowa State. Texas Tech and West Virginia aren't as run heavy, but they had some success at times against the Bears. Oklahoma has all the skill players they need to attack however they need to be successful.
Again, I will have some plays that might seem obvious, but I think most are those I feel need consideration and I project them to see lighter ownership.
Now, the second narrative is about my picks.
Running backs are a staple in CFB DFS. Many collegiate offenses center around running back play, and with 120+ FBS schools, there are plenty of defenses that can't stop the run, or any offensive scheme for that matter.
A few weeks ago I gave 30 selections, because I wanted to provide volume. I forced those picks at times and it blew up in my face.
This week, especially at running back, I couldn't narrow the field to five because I loved these matchups so much. The running backs you are going to see all are used in high volume, and all are up against defenses that allow at least 170 rushing yards per game, if not more, or the running backs are matchup proof and you shouldn't ignore them despite some deceiving defensive numbers by their opponent.
This is the first time all year I have had a difficult time narrowing down selections at a position. Inevitably, some of these picks won't work out, or someone gets injured, a running pattern for me at times in NFL DFS.
I also have been a huge miss on value RBs, but I don't think that's going to happen this week.
Anyway, my point is I feel this is going to be a huge week for RBs and none of them are going to be named Leonard Fournette (tough matchup against Razorbacks). Receivers have been a huge let down this season and I just don't feel like paying up for them outside of a couple of guys is necessary.
So as my excitement awaits to tell you who I like this week, quarterback is another position that was difficult to narrow down because of the great matchups. J.T. Barrett is a guy I really like this week, but that's if he plays. After his arrest, suspension and a possible hamstring injury, it's not clear upon publication of this week's Power 5 if Barrett is going to be the starter. So, keep your ears posted, but he's not on my list this week.
Anyway, let me wipe of the drool hanging from the side of my lip and then I'll provide you some short analysis for all of these picks (28 in all)…
Quarterbacks
Joe Hubener – Kansas State – $6,500 and Patrick Mahomes – Texas Tech – $8,500 – Early
Analysis: Did you see Hubener put up a 150-yard rushing burger and 2 TDs up on Baylor? Have you seen how teams have attacked Texas Tech of late? How does Kansas State use it's offense? If you answered "yes, yes and running game" then you know why I love Hubener. He's up against my Red Raiders who continually show they don't care to learn how to stop running attacks. They have annually shown they cannot stop running QBs, so with that, you should play Hubener, a lot. Tech allows 273 yards rushing to the opposition, so I don't know how you can go wrong with ol' Joe. As for Patrick Mahomes, he's the reason why I even keep watching Tech play this year. As frustrating as that team has been, Patrick Mahomes is a guy I love to watch. I am tired of the Johnny Football comparisons, but he's the real deal. Kansas St. in bottom 10 in yards allowed through the air in the FBS and Mahomes has averaged 42 fantasy points per game at home. Mahomes, sweet Mahomes!
Connor Cook – Michigan State vs. Maryland – $7,400 – Early
Analysis: Cook is probably the most NFL-ready quarterback in college football. Coming off a loss where the Spartans were handed a loss thanks to a blown call at the end of the game, I expect MSU to come out firing on all angry cylinders. Cook has thrown 4 TDs in the past two games and is facing another secondary that struggles stopping the pass.
Trevone Boykin – TCU vs. Kansas  – $10,100 – Early
Analysis: I've expressed my concern over Josh Doctson's usage, but that doesn't mean Boykin is going to be unreliable. He gets points through the air or on the ground, both of which Kansas struggles mightily to stop. Boykin had a very bad outing against Oklahoma St. in the Horned Frogs' loss last week, so I expect a huge recovery against the Jayhawks who allow 582 yards per game.
Greg Ward – Houston vs. Memphis – Late
Analysis: Ward hasn't reached 30 points in the past three games, but this week he is up against the Memphis Tigers in one of the more underrated games of the entire day. Memphis gives up gobs of yardage through the air, 290 yards per game to be exact. Ward makes things happen on the ground, that's well documented. Homefield comfortability also leans toward Ward's favor in this matchup. I think his recent "struggles," which are more about his team having games out of hand than anything, push his ownership levels down this week, especially with the other QBs around his price point.
Gunner Kiel – Cincinnati vs. Tulsa – Late
Analysis: Award for the lowest-owned QB in my quarterback recommendations might go to the Gunslinger they call Kiel. Three straight 30-point efforts have pushed Kiel's price into the upper tier this week. His matchup also helps with that price push as he faces Tulsa, which allows 303 yards passing per game. Kiel has plenty of receiving options and if Tulsa can finally put together some offense, that could raise Kiel's ceiling even more.
Kevin Hogan – Stanford vs. Oregon – $6,800 – Late
Analysis: The Cardinal don't have a major passing attack, but Hogan is another quarterback with NFL ability. He also can run the ball effectively when needed, but it's hard to ignore his matchup against the Ducks, who allow 319 yards passing per game. Hogan should go under the radar as usual but he could easily score 4-5 times his value this week thanks to the uptempo Ducks offense and their porous ability to stop opposing offenses through the air.
Running Backs
Sony Michel – Georgia vs. Auburn – $6,600 – Early
Analysis: The first of the running back bunch this week is Sony Michel, whose 25 carry, 165-yard effort shows that Georgia is going back to the basics. And they should. Not only has quarterback play been a struggle all season long, Auburn has been burned on the ground all season long. Allowing 191 yards per game to opposing rushing attacks, the Tigers' D provides ample opportunity for Michel to reach Todd Gurley/Nick Chubb-like fantasy points.
Kelvin Taylor – Florida vs. South Carolina – $6100 – Early
Analysis: The son of Fred Taylor is the man in the backfield in Gainesville. South Carolina has ceded 208 yards rushing per game this season and with the struggles at quarterback since the suspension of Will Grier, the Gators should rely heavily on the athleticism of 50 Degrees Kelvin (hey, everyone should have a clever nickname).
Charles Jones – Kansas St. vs. Texas Tech – $4,100 – Early
Analysis: Well I've talked about Joe Hubener, now it's time to talk about Charles Jones. He's toted the rock 36 times the past two games, but there's always potential that Justin Silmon steals some carries this week. Regardless, Jones is very cheap option with 30-point potential considering the Red Raiders' defensive woes.
Christian McCaffrey – Stanford vs. Oregon – $8400 – Late
Analysis: A dark horse for the Heisman trophy this year, Christian McCaffrey has been Stanford's major source of offense this season. A big test this week as he and the Cardinal take on Oregon. The Ducks' pass defense has been very suspect, but it's rush defense has holes in it as well. McCaffrey's price has come down since his huge effort against UCLA a few weeks ago. His floor is right around 20 points each week with major upside. He's not only mandatory in cash games, but a tournament staple as well.
Elijah Hood – UNC vs. Miami – $6,600 – Early
Analysis: I went back and forth between Hood and UNC quarterback Marquise Williams this week. Miami has shown they too cannot stop the running game. I am going Hood due his price vs. Marquise, who doesn't show a consistent ability to pay off his price despite the upside. Hood gets a lot of the work in the red zone and goal line, and with Miami giving up 192 yards per game on the ground, Hood should see a large amount of carries with two-TD potential.
Derrick Henry – Alabama vs. Mississippi St. – $8,600 – Early
Analysis: So Derrick Henry is back in the race for the Heisman Trophy don't you think? After thumping LSU for more than 200 yards and 3 touchdowns, the Crimson Tide's Face of Fear is primed to run it down the throats of the Bulldogs, who allow nearly 170 yards rushing per game. Bama should be able to control the tempo of this game on defense with MSU funneling its offense through Dak Prescott, a dual-threat option that has had more struggles this year than last year. Bama squeaked out a victory against MSU last year, but since its loss, the Crimson Tide are playing motivated and focused. Henry's usage should warrant high floor, high ceiling results.
Wendell Smallwood – West Virginia vs. Texas – $6700 – Early
Analysis: Smallwood has seen a significant jump in price, but rightfully so as he has put up some DFS tournament-winning performances the past few weeks. Due to this price hike and opponent (which actually has been soft against the run this year), I see low ownership for Smallwood. Texas shut down Kansas last week, but who hasn't? Now they travel to take on WVU in Morgantown, one of the toughest places to play in college football. Smallwood and the Moutaineers should find much success in the running game. Let's just hope Rushel Shell doesn't vulture anymore goal line touchdowns.
Mike Warren – Iowa St. vs. Oklahoma St. – $5600 – Early
Analysis: I swear this might be my favorite running back play of the week. Mike Warren is one of the best up-and-coming RBs in college football. The Cyclones have shown their commitment to feeding him the ball in droves every game and even in tough matchups, Warren has been able to reach double-digit fantasy points. His price has come back down and he is facing the undefeated Cowboys who have a let down game written all over them after throttling undefeated TCU in surprising fashion last week. The Cowboys and QB Mason Rudolph have had some struggles on the road this season, and Iowa State usually plays well at home against greater opponents, even if it's in a loss. Warren is going to see very low ownership levels, but he has huge potential against the Cowboys who have allowed DeAndre Washington, Wendell Smallwood and Aaron Green have success on the ground (at least 98 yards rushing and a touchdown each). Warren is the better back out of the three, in my opinion. He can get it done.
Wayne Gallman – Clemson vs. Syracuse – $6500 – Early
Analysis: Better call Gall…Gallman that is. He's Mr. Consistency for the top-ranked Tigers, rushing for 100 yards or more in 6 out of the last 7 games with 5 TDs. He's scored at least 23 fantasy points the past three games and has started to see passes out of the backfield in the past four games. The Cuse have been gashed on the ground all season, including a 162-yard, 3 TD and 6 catch performance by Florida State underclassman Jacques Patrick two weeks ago. Gallman has explosiveness and can burst through a hole to find open space in the middle of the defense. Wayne is a steady RB play that will likely yield lower ownership than many others in the early slate.
Dalvin Cook – Florida St. vs. N.C. State – $8900 – Early
Analysis: Hey that Wayne Gallman guy put up 172 yards and a touchdown against N.C. State two weeks ago. Don't you think Dalvin Cook can do the same AND more?
Ezekiel Elliott – Ohio St. vs. Illinois – $8400 – Early
Analysis: The questions surrounding J.T. Barrett at quarterback this week have me pivoting to Ezekiel Elliott. Even if Barrett plays, Zeke is still nearly guaranteed allotment of 20 fantasy points or more. Ohio State has been team that seems to start slow every week, but piles it on after halftime adjustments. Zeke is going to see carries, no matter who is at quarterback. He's a must have at only $8400.
Devontae Booker – Utah vs. Arizona – $8500 – Late
Analysis: We've made it to the late wave of games and the train of running back options continues with Booker T. He's the yin and the yang of the Utes offensive scheme and facing a Rich Rod defense allowing 178 yards rushing per game, he's prime for another big game against another soft defense. In four of his last 5 games, Booker has scored at least 27 fantasy points, all against plum matchups where the team has had struggles to stop the run.
Donnel Pumphrey – San Diego St. vs. Wyoming – $8300 – Late
Analysis: I believe this is only the second or third time this year we have been able to use Mr. Pumphrey for DFS purposes on DraftKings. He's a huge sleeper this week and the last time I recommended him, he showcased why he is one of the more underrated fantasy running backs. Of course he plays for a fairly obscure team that gets little to no coverage, but he's the workhorse and he's expensive. Those are both great things for us in DFS because he is going to have less than 5 percent ownership this week with all of the names available at his price point. Wyoming is battling Kansas for worst FBS college football program. Allowing 222 yards rushing per game, this is a cake walk for Pumphrey. He comes into Saturday's contest with 5 straight 100-yard performances and four straight 30+ point outings.
Paul Harris – Hawaii – $4500 and Marteze Waller – Fresno St. – $5000 – Late
Analysis: Ever heard of Paul Harris and Marteze Waller? It's very possible you haven't. Harris has etched out the lead back role for Hawaii while Waller has been a staple in the Fresno offense for the past couple of seasons. What's great about this matchup is that Fresno and Hawaii leak rushing yards like Niagara Falls. Fresno St. gives up 245 yards rushing per game while Hawaii is even worse at 261 yards per game. Both of these backs have stellar matchups and are very cheap. They also will have lower ownership levels in tournaments thanks to the late start and the unknown name factor.
Jeremy McNichols – Boise St. vs. New Mexico – $7600 – Late
Analysis: I am telling you, the matchups keep on coming. Now we have Jeremy McNichols, the athletic and swift bell cow for Boise, taking on the Lobos of New Mexico who are allowing 194 yards rushing per game. McNichols also has seen a significant price drop despite four straight 100-yard performances to go along with 6 TDs. He's also got 15 catches for 136 yards and a score in that span as well. Boise should have no trouble scoring points in this game and McNichols can chew the clock until the game gets too far out of hand.
Paul Perkins – UCLA vs. Washington St. – $7200 – Late
Analysis: I hope Paul Perkins' 23 touches from last week are a continued sign of what's to come for the Bruins veteran RB. When given the lion's share of the carries, Perkins' easily has 40-point upside. A dip in price thanks to a dip in usage and some injury concerns has also lowered Perkins' fantasy floor. Luckily, he's facing Washington State's bottom 15 rush defense as the Cougars allow 206 yards per game on the ground.
Wide Receivers
Jakeem Grant – Texas Tech vs. Kansas St. – $6500 – Early
Analysis: Texas Tech at home? Check. Price drop? Check. Patrick Mahomes as your quarterback? Check. No. 1 receiver? Check. See where I am going here? Like Mahomes, Grant has performed vastly better at home, averaging 34 fantasy points per game. Kansas St.'s underwhelming pass defense only helps the argument that Grant should be in every one of your DFS lineups this week.
Aaron Burbridge – Michigan State vs. Maryland – $7,200 – Early
Analysis: Connor Cook makes the list, so should his No. 1 receiver. Coming in with four straight 100-yard receiving performances, Burbridge has a solid chance to make this week number 5 in a row. Cook has enjoyed some success throwing to MacGarrett Kings and R.J. Shelton, but it's clear Burbridge is the lead receiver. Gone are the days of Burbridge falling in the $5500 range. His production and upside might keep his price around the 6500 or more range the rest of the year. Still, he's one of the top receiving options for the early slate.
Calvin Ridley – Alabama vs. Ole Miss – $5200 – Early
Analysis: Ridley has continuously made improvements at receiver as his freshman campaign has progressed. He's caught at least 7 passes in four straight games, now he's just got to hit paydirt to truly make value. Up against Mississippi St. will provide it's challenges since the Dogs allow just a clip above 200 yards passing per game. But Ridley is clearly going to be the Tide's go-to receiver for many years to come. His price is nearly under $5000 and I feel he's got 30-40 point potential in him. The problem is that Bama is a run-first offense. Ridley will see the targets and the looks. All it will take is a touchdown for him to pay off this week.
Demarcus Ayers – Houston vs. Memphis – $5,500 – Late
Analysis: This is an easy call this week. Ayers is the top receiving option for the Cougars and his price has seen a steady decline. This week his performance should exceed his price as his team is up against Memphis and their bottom-10 pass defense. He has at least 5 catches in each game this season and is overdue for a big performance. This is the time for him to rise up in a game that will see a huge volume of points and should stay close until the end.
Shaq Washington – Cincinnati vs. Tulsa – $6100 – Late
Analysis: Shaq hasn't shown the ability to be able to put up a 35-40 point game. Cincy does have a lot of receiving options, so the usage is spread amongst all of the Bearcats receivers. Shaq has the most consistency at the WR position. He averages 6.5 catches per game and is facing Tulsa and its 303 yards allowed per game to the pass. He has TDs in the past two games, and this week should be an easy third.
Corey Coleman – Baylor vs. Oklahoma – $8600 – Late
Analysis: I am not going to doubt Corey Coleman, ever. The dude is the best receiver in football and has 100 yard games in every contest but one this season. Coleman is averaging 7 catchers per game to go along with 147 yards and 2.5 TDs per game. To think anything less of him this week is uncivilized.
https://dailyoverlay.com/wp-content/uploads/2015/09/CFB-PowerFiveSmall.jpg
250
400
Stephen Monahan
https://www.dailyoverlay.com/wp-content/uploads/2018/07/logo.png
Stephen Monahan
2015-11-13 18:00:44
2015-11-13 18:00:44
CFB Power 5 - Week 11