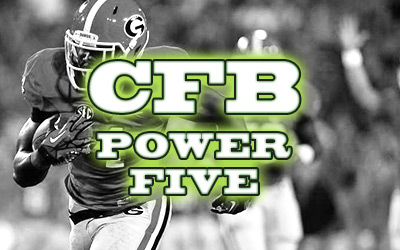 We are getting down to the end of the college football regular season. And that is evident not only by the month of the year, but because College Football Playoff rankings have been released.
I don't know if there was anyone surprised by the revelation of the top 4 teams in the country.
And I am damn certain there's not a team in the country that can beat Alabama.
Last year, I didn't think Alabama should've even made the playoff.
So what do I know?
I'm just a dude sitting behind a computer recommending DFS plays.
Anyway, it's Week 11, let's freaking go!
QUARTERBACKS
Kyler Murray – Oklahoma – $10,800
Analysis: Let me preface this pick by saying that if you can figure out before lock on who the Navy starting QB will be or which QB will get the stats, that's where you are going to find awesome value this week. I for one, have no clue who that will be as of right now. So with that, I'll just shoot up the pricing guide and take Kyler Murray No. 1 overall this week against rival Oklahoma State in Bedlam. OU is coming off a lucky win against Tech and OSU got caught napping against Baylor. But this series always provides fireworks, no matter who is good or bad. Murray has been awesome and is certainly making his case for the Heisman of DFS, averaging 38 fantasy points per game this season. Lock button in cash. Oh, and this total is hovering around 80 points.
Gardner Minshew – Washington State – $8,700
Analysis: Washington State has a great defense and a potent Air Raid offense. They have actually been in some low-total games this year. This week happens to be one of the higher totals for them as they travel to take on Colorado. Minshew is nearly a lock button behind Kyler Murray based on volume alone plus pricing. WSU barely runs the ball and Minshew will throw, throw, throw, adding a small floor to his fantasy output with his legs. Washington State is averaging nearly 400 yards passing per game and Colorado has yet to face an offense this season even close to the pace and frequency of passing that the Cougs maintain in a single game.
Jordan Ta'amu – Ole Miss – $8,000
Analysis: Assuming he is healthy and plays all game, Jordan Ta'amu is one of the sneakier plays on the board based on price and matchup. A&M seems daunting, but they have allowed more than 20 points to multiple teams this season. Ole Miss is a very potent offense with passing weapons all around, averaging 540+ yards of offense per game. A&M is certainly stout against the run, but has leaks in its pass defense. The tempo and passing frequency I expect from Ole Miss should keep the Aggies on their heels defensively. Aggies have allowed an average of 243 passing yards per game, which is skewed a bit by lesser offenses earlier in the year. Ta'amu also can make magic happen with his legs, adding a stellar floor and ceiling to his projected fantasy performance.
Kellen Mond – Texas A&M – $7,400
Analysis: I couldn't pull the trigger on South Carolina's QB last week despite the numbers saying Ole Miss is a great target for passing attacks. They have been a sieve all year, but you have to go with boosting a lesser passing QB in these situations because the defenses are that bad. Mond is a guy who struggles passing the ball sometimes, but mostly to superior defensive opponents. He can run if he needs, but with this game having a projected total near 70, Mond has a higher ceiling than normal, thanks in part by Ole Miss' lack of ability to defend the pass, surrendering nearly 290 yards and 36 points per game.
Taylor Cornelius – Oklahoma State – $7,700
Analysis: Our very own Matt Butler has his own shade regarding Cornelius and his beloved OSU Cowboys. And sure, he's been disappointing this season. But this is DFS and the Big 12, where defenses really don't matter (because they barely exist). This Bedlam game, as mentioned above, is at a 79 O/U. You want to play guys in this game and a cheaper QB with volume and rushing ability below $8K certainly screams value.
BONUS: Nick Fitzgerald – Mississippi State – $5,700
Analysis: Eighteen, 16, 23, 28, 20, 16, 15 and 19. Those are Fitzgerald's rushing attempts in all of his games this season. He's averaging 24 pass attempts and 2.4 touchdowns per game this season. His road splits are massively lower than his home splits, and he and his offense take on Alabama in Tuscaloosa. So you probably scoffed at me when you saw his name pop up knowing his matchup. Well, it is a little crazy, but we are talking tournaments here and Fitz is price adjusted for his matchup. But you are getting a $9K QB for about half the price. The spread is around 25 points in favor of Bama. I understand all signs point against Fitzgerald, but if you are looking for value for 15-20 points, his price allows you to stack, stack, stack and he will barely be owned. I do admit that this is truly a dart throw, but my gut and instincts suggest he sticks out like a sore thumb due to his price and volume.
https://dailyoverlay.com/wp-content/uploads/2015/11/CFB-PowerFiveSmall.jpg
250
400
Stephen Monahan
https://www.dailyoverlay.com/wp-content/uploads/2018/07/logo.png
Stephen Monahan
2018-11-08 05:02:40
2018-11-08 05:02:40
CFB - Power 5 - Week 11