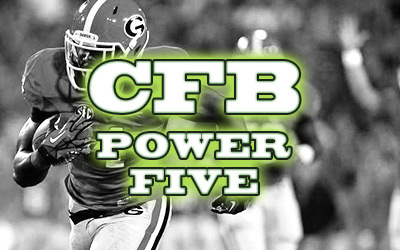 One of the best plays you will ever see that was really never meant to be…
Knees were down, penalties were missed…in all, it was an ugly affair as Miami pulled its best Cal-Stanford impersonation (minus the band on the field) to defeat Duke. It's one of the wilder plays you will ever see and the officiating crew clearly got it wrong (thus their suspension).
I am very glad the play was not overturned post-completion. That would set an eerie precedent and officials' error is part of the game. People are not perfect, thus asking referees to be perfect in a sporting event is an impossible goal. As Forrest Gump kind of stated in the movie — "Sh*t happens."
Speaking of that line, what the hell, J.T. Barrett????
I guess I jinxed his aura or something after talking about being excited for his return as the starting quarterback for the Buckeyes.
College students can make awful decisions, myself included. Hopefully he, like a lot of us, has learned something from his knuckleheadedness. It's back to Cardale Jones this week, so fire up the Ezekiel Elliott train because that's who the Buckeyes are going to need to carry the load at least for one more game.
But until then, we will roll into Week 10 with a full head of steam (and I am very saddened by the idea that the college football season is nearing its end).
Quarterbacks
Connor Cook – Michigan State vs. Nebraska – $6,700 – Late
Analysis: Well this analysis will be short. What can Nebraska do well? Stop the run (108 yards per game allowed). What can Nebraska not do very well? Stop the pass (315 yards per game). Cook is super cheap for someone who could very well throw 4 to 5 TD passes. To whom you might ask? That's coming.
Skyler Howard – West Virginia – vs. Texas Tech – $7,500 – Early
Analysis: Hey remember when I talked about how Nebraska was awful against the pass? Yea, I just did it. Guess who is the 1B in awful protection against the pass? Yep, Texas Tech (who also lets buffaloes run wild through its front 7). The Red Raiders surrender 305 passing yards per game, and the white flag will come out when Howard, who can also run the ball a bit, gets done with Tech in Morgantown.
Joshua Dobbs – Tennessee vs. South Carolina – $8,000 – Early
Analysis: It's obvious the Volunteers are run oriented. Dobbs runs, throws a little. Jalen Hurd runs a lot and backup Alvin Kamara has been seeing some run in both the running and passing games. It's a good thing the Volunteers are a run-first team because they get a juicy matchup against the Gamecocks. Anyone watch what freshman sensation Kyler Murray did to them last week and his running back Tra Carson? Well if you missed it, Murray had 20 carries for 158 yards and a score. He just so happened to go 20-for-28 for 223 yards and TD pass. Dobbs can run and pass and I can't even begin to further explain any more how much I love Dobbs, who is likely to see low ownership with the other QBs on the board in the early slate.
Kyler Murray – Texas A&M vs. Auburn – $7,400 – Late
Analysis: Well hey there Kyler Murray, welcome to college football. I've decided I like it when writers to use the word plum to describe a matchup and so I am indoctrinating it into my list of adjectives to use for DFS writing. A plum matchup for Murray again this week after going postal on South Carolina. The Tigers travel to Kyle Field, which is just an added bonus for Murray and co. The Tigers also allow 252 yards passing per game and another 191 yards rushing on top of that. I think those are conceivable numbers for the new Aggie QB after he basically did that last week.
Greg Ward – Houston vs. Cincinnati – $8,600 – Early
Analysis: Greg Ward had a tough matchup last week against SEC foe Vanderbilt. That didn't stop Houston from winning handily, but it did depress Ward's ceiling at his price point on both DraftKings and FanDuel. No worries though, his price has dropped and his opposition is a walk in the park. This game has a total of 70 points in Vegas, which bodes well for Ward, who is the focal point in the running game while being able to make accurate throws downfield to his slew of talented receivers. Cincinnati hasn't faced a talent like the Tyler, Texas product, but are still allowing a solid 230 yards passing and 172 yards rushing per game. Houston's defense is suspect to the passing game, a strength of the Bearcats, thus that means more opportunities for Ward to put points on the board, too.
Bonus: Jared Goff – California vs. Oregon – $7,900 – Late
Analysis: I like the bonus round. It's fun. There's a ton of top-tier QBs in the $8000+ range that you can choose from. Goff isn't one of those $8000 QBs, he's just a shade under it on DraftKings. He's about where his price should be considering he doesn't grab points using his legs. But Goff has a 10-foot putt with no break when we compare matchups. He the Bears take on Oregon's secondary allowing 318 passing yards per game. With a projected total of 76 points, this game is going to be littered with fantasy points. Now Goff hasn't really flashed more than 30 points in game but one time this season. This is his best matchup though and I expect him to sling the ball all over the place against the Ducks.
Running Backs
Christian McCaffrey – Stanford vs. Colorado – $8,300 – Early
Analysis: McCaffrey had a bit of a disappointing outing against one of the worst rush defenses in Washington State, but thanks to that effort that still garnered 20 fantasy points, La Flama Blanca (his new nickname given by me) sees his price drop by about $1,000 AND he gets to try to burn another hapless rush defense. The Buffaloes have steadily climbed the ranks of apathetic rush defense this season. They have now allowed more than 200 yards per game to opposing runners, making McCaffrey potential home run play. All he has to do is step up to the plate, call his shot and swing.
Wendell Smallwood – West Virginia vs. Texas Tech – $6,400 – Early
Analysis: That price is particularly high for Smallwood, but the yards Tech allows defensively is much more monumental. You can go back to Skyler Howard above or I can remind you that Tech surrenders 270 yards rushing per game. 270! Smallwood is the bell cow in the running game, and while the price is stiff, you can get away with it in tournaments because Tech's defense really is that bad.
Royce Freeman – Oregon vs. California – $8,500 – Late
Analysis: Royce Freeman is one of the best running backs in college football. In my eyes, he's the best not named Leonard Fournette. Unfortunately for fantasy purposes, the Ducks have all kinds of weapons on offense, so Freeman sometimes goes under utilized. He always has that monster upside as he can break away for a long touchdown at any time. This game between Oregon and California has the highest total on the board for the night slate and Cal allows about 164 yards per game. Guess who torched this defense a few weeks ago? Devontae Booker (34 carries, 222 yards, 2 TDs, 4 catches, 45 yards, 1 TD). If the points come in bunches like the projections say, Freeman might exit the field with an oxygen tank in tow.
C.J. Jones – UCF vs. Tulsa – $4,300 – Early
Analysis: The first week of the season, for a Thursday night slate, I recommended a guy by the name of William Stanback. He was UCF's starting running back going into the season. He didn't even play in the game. So after 9 weeks, I am ready to trust a UCF running back. There's a few reasons for this: 1. Jones is facing Tulsa's rush defense that allows around 229 yards on the ground per game. 2. He's the starting running back, the juice, the rock toter. Interim coach Danny Barrett has said C.J. is his guy and that they are going to commit to a run-first approach. That's smart considering Tulsa can't stop a snail sliding through super glue.
Jalen Hurd – Tennessee – vs. South Carolina – $6,300 – Late
Analysis: Have you Hurd? The Gamecocks' were just gashed by Tra Carson and Kyler Murray of Texas A&M last week. This week it might get even tougher as Josh Dobbs and the Volunteers welcome the Gamecocks to Rocky Top. Dobbs has some fluctuation in his stat sheet. The up-and-down production really could be attributed to the competition – it's either been really stout or a blowout. His production has come against the middle-of-the-road teams (with Florida being the outlier) and we have that here in this game.
Bonus: Tra Carson – Texas A&M vs. Auburn – $5,000 – Late
Analysis: Last week Carson rumbled for 122 yards on 21 carries with 1 rushing score. So why not call Carson's number again this week as he faces Auburn's 194 rushing yards allowed per game? We will still need to be slightly nervous considering we don't know if Murray's game last week was a fluke or if he's ready to be quarterback at the collegiate level. My money is on Murray and Carson lighting up the Camecocks and their 200+ rushing yards allowed per game.
Wide Receivers
Aaron Burbridge – Michigan State vs. Nebraska – $6,700 – Late
Analysis: Connor Cook has thrown the deep ball down the sidelines, now it's time for Burbridge to run under it and let it drop. If you recall a few moments ago, I informed you of that paltry Nebraska secondary. Well Burbridge is the focal point of the passing game. He has 27 catches for 416 yards in his last three games. What Burbridge has the least of are touchdowns. He has just one over that span, but that's OK. Burbridge should see a lot of volume and passes coming his week.
Shelton Gibson – West Virginia vs. Texas Tech – $5,500 – Early
Analysis: It's no secret of how bad Tech's defense really is. It's so bad that some of the prices for the top skill players for the Mountaineers have jumped. Gibson is one of those people, but his matchup is so ridiculous that one big play will make you forget how much you spent on him. He's Howard's favorite target and should be able to find gaps in the secondary in this one.
Gabe Marks – Washington St. vs. Arizona St. – $6,600 – Early
Analysis: I really don't know how Marks' price hasn't moved up into the top-tire of pricing considering what he has done this year. He's the lead dog of the Cougars facing the Sun Devils' pass defense which has allowed around 260 yards passing this season. Marks has just one game where he has caught less than 6 passes. That number was 5. I expect lower ownership in tournaments as others will be on Laquon Treadwell and Keyarris Garrett most likely. They are around the same pricepoint. Marks probably will have higher ownership than I suspect, but either way, I think he's a solid option with a cheaper price tag.
Josh Doctson – TCU vs. Oklahoma State – $8,300 – Early
Analysis: Corey Coleman, no matter the price, always seems to have high ownership in tournaments. Who never seems to get respect is TCU's No. 1 stunner – Josh Doctson. He's the most underrated receiver in college football, in my opinion. All he does is catch touchdowns and never seems to have high ownership (unless it's a shorter slate). Roster Doctson with confidence as he faces Matt Butler's Oklahoma State Cowboys who won in a shootout against Tech in Lubbock last week. Doctson is expensive, but how can you not trust him to score 40 this week?
Keyarris Garrett – Tulsa vs. UCF – $6,800 – Early
Analysis: I almost hate recommending this guy for the disaster that he put on the board in an amazing lineup against SMU. But I am OK with this as Garrett's price also has come down due to a lack of production last Saturday. Garrett is the No. 1 option for Dane Evans, so don't let those low numbers last week dupe you into thinking Garrett is not the guy n Tulsa. He very much is.
Bonus: Darren Carrington – Oregon vs. California – $5,200 – Late
Analysis: Darren Carrington burst back onto the CFB scene a couple of weeks ago. So far he has caught 10 passes for 232 yards and 3 TDs through the air. Carrington's matchup sets up for more fantasy gold. California allows more than 250 yards passing for the game. and Carrington is clearly the number 1 receiving option for QB Vernon Adams. This might be the last time you see Carrington in the $5,000 tier. The talent is there and so is the upside for tournaments.
https://dailyoverlay.com/wp-content/uploads/2015/09/CFB-PowerFiveSmall.jpg
250
400
Stephen Monahan
https://www.dailyoverlay.com/wp-content/uploads/2018/07/logo.png
Stephen Monahan
2015-11-06 18:00:45
2015-11-06 18:00:45
CFB Power 5 - Week 10