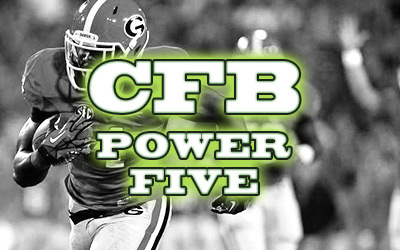 The end is near.
No, not the world, as far as I know.
But three things are nearing their finale.
Sadly, the college football regular season.
Monahan pregnancy
Quite possibly DFS college sports
We are nearing the biggest rivalry week of the year (next week) in the college football season. That's also when my favorite holiday of the year (Thanksgiving) comes around. And it will most likely be the week my daughter will be born (scheduled to be induced on the 25th).
So while I am waiting in the hospital and off for a week for the holiday, I should be able to crank out one of the final Power Five writeups of the year.
That third part of my list above is interesting. Apparently, Massachusetts wants to regulate daily fantasy sports. Included in that will be not allowing players under 21 and no college sports. Now it remains to be seen how far this will permeate, but it's regulation of DFS that could pass, and regulation is needed. I just hope that regulation won't remove college sports from the fray. College sports are still allowed to be bet on in Vegas, and if we are calling DFS a form of gambling, then college sports should be included.
Anyway, I plan on writing a rebuttal to all the negative DFS speak out there. I hope I can get it in before my daughter is born or shortly thereafter. I had planned to write it this week, but after the events in Paris, I felt what I had to say about this topic wasn't really that important.
For now, let's concentrate on Week 12, which will be without Josh Doctson as a DFS option and possibly Trevone Boykin. The slates for DraftKings are a bit odd this week, but we will make do with what is provided to us.
Also, I would like to apologize for recommending Greg Ward, Wayne Gallman, Devontae Booker and Trevone Boykin last week. I believe I've chronicled here or in my "What Happened in Vegas?" articles about the injury jinx I have going for players that I love each week. It's getting pretty ridiculous, even so that people in my season-long leagues give me grief over mentioning said players publicly.
Cherish these last few weeks of college football DFS, it's possible we may not have this in 2016.
Quarterbacks
Perry Hills – Maryland vs. Indiana – $6500 – Early
Analysis: Anyone and everyone can throw on the Indiana Hoosiers. They are the worst pass defense out of all the FBS schools. Allowing a 341 yards passing per game and another 170 on the ground, Hills has the perfect storm brewing for his dual-threat ability. His price has risen of late, but his ownership should be down due to his price, and some not-so-stellar performances the past couple of games.
J.T. Barrett – Ohio St. vs. Michigan St. – $7800 – Early
Analysis: Price has come down and the Ohio St. captain gets a solid matchup against the Michigan St. defense that allows more than 250 yards passing per game. Even if Michigan St. can contain Barrett, he has the weapons that can stretch the outside and middle of the fields. With Ezekiel Elliott in the backfield, this must keep Sparty honest for the pass and the run. The lanes should be open for Barrett tuck and run if he needs to. I expect this game to be somewhat high scoring with Barrett leading his team to a huge victory over a conference rival.
DeShaun Watson – Clemson vs. Wake Forest – $8700 – Early
Analysis: I don't like the matchup, but starting running back Wayne Gallman isn't expected to play, leaving Watson as the inheritor of more offensive usage. Wake is a deceptive defense, but Clemson has shown that they are matchup proof even against tough defensive units. Watson should have no trouble putting up points on the ground in this one, especially if the Tigers employ a running back-by-committee approach.
Keenan Reynolds – Navy vs. Tulsa – $8100 – Late
Analysis: After torching SMU for 137 yards on the ground and 4 touchdowns, we could very well be chasing points here. Chris Swain is the starting tailback for the Midshipmen, so he's also a very strong play against Tulsa's 220 rushing yards allowed per game. Tulsa is even worse against the pass, so Reynolds could sneak in a few big plays through the air thanks to the option-first attack his offense employs. He could be slightly overpriced, but that would be great for ownership since he easily has 40+ point potential this week.
Dak Prescott – Mississippi St. vs. Arkansas – $8000 – Late
Analysis: I fully expect Dak to be under 10 percent this week on DraftKings. He was a quarterback you could easily stay away from against Alabama. However, Dak still put up 300 yards passing and 15 fantasy points without a touchdown. This week's matchup is much more DFS friendly as Arkansas has been killed through the air all year (282 passing yards allowed per game). Prescott will most likely be without DeRunnya Wilson, so there's some caution there, but he has other capable receivers (see below).
Luke Falk – Washington St. vs. Colorado – $8300 – Late
Analysis: Colorado is a team that gets thumped by the run, however Washington St. doesn't really run the ball much. We know Mike Leach likes to throw the ball and throw the ball alot. Falk is a shoe-in for 40-50 passes and Colorado's pass defense is going to struggle in this road game as they have shown to be susceptible to the pass as well. Falk's price is down some, but without a dual-threat potential, his ownership will be lower than it should be.
Running Backs
Travon McMillian – Virginia Tech vs. UNC – $7600 – Early
Analysis: McMillian is one of the few backs from the early slate that I want to firmly recommend. McMillian took over lead back duties around Week 6, and since then he's more than solidified the bulk of the carries. Virginia should play tough in Blacksburg against the Tar Heels who have allowed more than 200 yards rushing per game. This could be a let down game for UNC who completely waxed the Hurricanes last week. Three straight 100-yard performances for T-Mac coming into this contest, and considering it's legendary coach Frank Beamer's final home game of the season, VT is going to want to send him out in style. The Sandman, cometh.
Tyler Ervin – San Jose St. vs. Hawaii – $8400 – Late
Analysis: Hawaii has hot garbage for a defensive unit. Allowing 252 yards rushing on the ground against one of the best running backs in the Mountain West – Tyler Ervin. SJSU isn't playing for much, but Hawaii isn't either. The season is drawing to a close and I expect the Spartans and Ervin to want to play well to help improve any potential NFL draft stock the seniors may have. Ervin is a senior and at his price point in a late game, his ownership for DFS should be down, especially with the other fellas in the top tier of pricing.
Christian McCaffrey – Stanford vs. California – $8600 – Late
Analysis: It's too bad Stanford has 2 losses this season because it's going to hurt a lot of potential postseason affairs. They likely are going to have a difficult time getting into the College Football Playoff (unless they can beat Notre Dame) and the losses might hurt the Heisman potential for McCaffrey, who has been one of the best players in all of the FBS. He gets to showcase his talents against versus Cal, who allows nearly 200 yards rushing per game to opposing runners. Even if the band was all over the field in this one, McCaffrey could find a hole to the end zone. Deploy with confidence.
Donnel Pumphrey – San Diego St. vs. UNLV – $7900 – Late
Analysis: Pumphrey paid off for us last week, so the bucket is going back down the well for more. UNLV is ceding 203 yards rushing per game. Averaging 117 rushing yards per game with 12 TDs in 10 games to go along with 24 catches for 325 yards and two more scores in the passing game, Pumphrey is the perfect workhorse to run roughshod over the Rebels.
Paul Harris – Hawaii vs. San Jose St. – $5800 – Late
Analysis: Harris was super duper cheap last week and he was able to do some damage for your fantasy lineups. This week his price has increased and he needs around 24 points to pay off in tournaments. With a home game and playing for pride, I expect Harris to find running room against SJSU, which allows 207 yards rushing yards per game. I won't be staying up to finish this game on Saturday/Sunday, but I am hopeful Harris continues to rack up the carries and yards.
Ralph Webb – Vanderbilt vs. Texas A&M – $4400 – Late
Analysis: My favorite value play of the late games is one Ralph Webb. Why his price has dropped despite his production is beyond me. Is it a trap? I sure hope not and here's why. He's averaging 23 carries per game and faces an A&M defense that leaks 210 rushing yards per game. He's the offense. The Vandals are at home and with A&M QB Kyler Murray inexperience resulting in turnovers, Webb could see some extra red zone work as well.
Bonus: Brandon Ross – Maryland vs. Indiana – $3,300 – Early
Analysis: Ross has been named the starter for the Terps, and there's little chance to expect someone to overtake his job since fellow RB Wes Brown has been suspended. Indiana not only gives up passing yards in drove, they also give up yards in chunks on the ground (170 per game). Ross easily provides a cheap salary that could be a big sleeper play and easily pay off in a potential shootout.
Wide Receivers
Juju Smith-Schuster – USC vs. Oregon – $7000 – Early
Analysis: The Trojans have certainly committed to running the ball since the departure of Steve Sarkisian. However, the Oregon Ducks are allowed 315 passing yards per game. The fast pace of the Ducks' offense should provide more passing opportunities than normal and Smith-Schuster is the top receiving option for QB Cody Kessler. Juju's price has dropped and he shouldn't have a problem finding space against a quacked-up defensive unit (yes, I just did that).
Robby Anderson – Temple vs. Memphis – $4500 – Early
Analysis: Receiver this week is not my favorite position. In fact, it's been a fairly woeful position in recent weeks. I don't trust it at this moment, and there are lots of teams out there this week that spread the ball around alot. Temple gets a favorable draw defensively against the Tigers who allow 290 yards through the air per game. Robby Anderson is the top receiving option for QB P.J. Walker. While Anderson's stats aren't lighting up fantasy lineups each week, he is a cheap option that could easily payoff and then some. Temple is projected to score nearly 30 points this week, and with Memphis being a relatively formidable rush defense, the Owls could soar mightily through the air this week.
Gabe Marks – Washington St. vs. Colorado – $6900 – Late
Analysis: Gabe Marks is the most trustworthy members of the Cougar's receiving corps. Dom Williams is not a close second. Want to pair them up with Falk against Colorado? Be my guest. That could pay off handsomely. However, I am going to just stick with Marks who has been as consistent as paying taxes. In 10 games, he's averaging 8 catches for 95.7 yards and has 1.3 TDs. That's about 26 fantasy points per game. How could you not love that production at the affordable price of $6900?
Fred Ross – Mississippi St. vs. Arkansas – $4600 – Late
Analysis: Ahh, my favorite receiver play of the week (Do those normally go well when I make that call?). Anyway, no DeRunnya Wilson against the Razorbacks' plush secondary makes Ross a great play at this price. He's got back-to-back 100-yard games and should see a heavy dose of targets from QB Dak Prescott, who could be throwing a lot again this week as I expect the Bulldogs to be playing from behind against a stout rush defense. Fred Ross is a boss.
Corey Coleman – Baylor vs. Oklahoma St. – $7600 – Late
Analysis: A disappointing outing for Baylor and Corey Coleman last week. Luckily, we get a reduction in price for 30-40 point fantasy potential, and probably low ownership. Oklahoma State has not been a slouch defensively, but with Oklahoma looming next week, perhaps the Bears catch them napping. Even if the Pokes are on point, I expect Stidham (also a great price this week) to force feed Coleman after 3 catches in a blowout loss to OU. Recency bias should favor us in tournaments and he is still a solid cash game play with a high floor.
If I don't get around to writing this next week because of the birth of my daughter, I hope you have a Happy Thanksgiving. Enjoy the food and fanfare with your family. I know I will be extra thankful for what life has provided me this year and beyond. I hope you are too.
https://dailyoverlay.com/wp-content/uploads/2015/09/CFB-PowerFiveSmall.jpg
250
400
Stephen Monahan
https://www.dailyoverlay.com/wp-content/uploads/2018/07/logo.png
Stephen Monahan
2015-11-20 17:26:36
2015-11-20 17:26:36
CFB Power 5 - Week 12