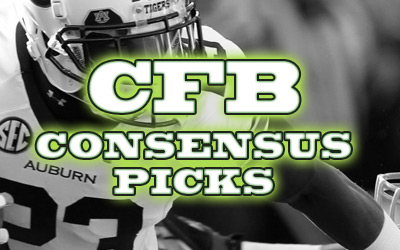 Here we arrive at the final Saturday of the regular season.  We have the Iron Bowl, the Egg Bowl and Bedlam along with in-state rivalry games in Florida, Georgia, North Carolina, Kentucky, Virginia and Kansas ('Hawks and 'Cats will resemble a pillow fight).  Let's not forget that Jim Harbaugh gets his first stab at Urban and the Bucks.  Tomorrow is a literal wall-to-wall college football viewing party.  It starts at 11am CT with the Bucks and Wolverines, then ends with ND/Stanford at 6:30 and Bedlam at 7pm.  I'll be in Stillwater for the game (freezing my tail off) watching what is now the Big XII title game thanks to TCU knocking off the Baylor Bears tonight.  It's late so let's get to the Consensus picks.
Quarterback
Highly Touted
Deshaun Watson (8x) – He looks to finish off an undefeated regular season for Clemson.  He has topped 300 yards passing in 3 of his last 4.  In the lone outlier game of that bunch, he ONLY threw for 297.
Recommended
Dak Prescott (6x) – In a 51-50 win in Fayetteville last week, Prescott threw for 508 yards and five touchdowns.  He will look to go out on a big note in his final game in front of the StarkVegas crowd.
Marquise Williams (5x) – Rivalry games tend to bring out the best in players.  UNC has lost 6 of the last 8 to NC State and Williams would like to turn that around.  If they aren't looking towards next week's matchup against the top-ranked Tigers, UNC should take care of business and put up a big crooked number in the process.
Suggested
Paxton Lynch (4x) – Memphis has lost three in a row and Lynch's fading stats have been a big part of that.  He'll get a chance to light up a poor SMU defense on Saturday.
Matt Davis (4x) – Davis takes on a Memphis defense that has given up over 30 points in each of their last three outings.  Davis has thrown for under 200 yards in four of his last five, though his legs do create havok, but I'd be weary of this play.
Austin Appleby (4x) – Appleby got his starting job back last week as David Blough was out with a concussion. Appleby threw for 259 and a touchdown against a stingy Iowa defense.
Nate Sudfeld (3x) – Sudfeld threw three touchdown passes and added another on the ground against Maryland last week.  The Hoosiers can become bowl eligible with a win and the senior would like to go out on that note.
Skyler Howard (3x) – Howard has had an up-and-down year, mostly down lately.  Howard has thrown for less than 200 yards in six of his last seven.  You've got to be pretty bad to throw for under 200 yards in a Dana Holgorson offense.
Baker Mayfield (3x) – Mayfield has become one of the front-runners in the Heisman race.  The weather is going to be downright disgusting in Stillwater tomorrow night.  The precipitation might taper off by gametime but temps will be in the upper 20's/lower 30's with wind chills even lower.
Mike Bercovivi (3x) – Bercovici threw for over 300 yards and two touchdowns while adding another on the ground against Arizona last week.
Running Back
Highly Touted
Derrick Henry (9x) – Henry basically had a bye week against Charleston Southern last week as he only toted the rock nine times.  He'll look to continue his Heisman campaign in the Iron Bowl against an Auburn defense that has shown some holes this season.
Wendell Smallwood (8x) – Smallwood has topped 100 yards in 7 of his last 8 outings.  He went for 115 and two touchdowns last week.
Donnel Pumphrey (8x) – Seven straight games of over 120+ yards for Pumphrey.  He has 14 touchdowns on the season.
Recommended
Leonard Fournette (6x) – Fournette got back over the 100 yard mark last week against Ole Miss.
Joe Williams (6x) – In relief of the injured Devontae Booker, he ran for 121 yards against UCLA last week.
Suggested
Ezekiel Elliott (4x) – Michigan has a stout defensive front.  Plus, I have a hard time putting trust in a guy that blasted his coaching staff after last week's loss.
Mike Warren (3x) – He ran for 195 yards, averaging almost 9 yards per carry against Kansas State last week.  The freshman is a stud!
Wide Receiver
Highly Touted
Jordan Payton (7x) – He went over 1000 yards for the season with his 105 yard performance.  That being said, he hasn't caught a touchdown pass in the last five weeks.
Isaiah Jones (7x) – Once again, this all depends on who starts at quarterback.  Pay attention because is Summers starts, then you need to sit Jones.
Rashard Higgins (7x) – Higgins makes his second straight appearance in the Consensus article.  He's gone over 100 in his last two games.
Recommended
Laquon Treadwell (6x) – Treadwell has found paydirt in each of the last six games.  He'll look to make his presence felt in his first Egg Bowl after missing last year's game due to injury.
Sterling Shepard (6x) – Baylor ran for over 300 yards against Oklahoma State last week.  I'd expect Lincoln Riley to keep the ball with Perine and Mixon.  I'm fading Shepard tomorrow.
Shaq Washington (5x) – He hasn't topped the 100 yard mark in over a month.
Fred Ross (5x) – In the last three games, Ross has 29 receptions for 383 yards and three touchdowns.
James Washington (5x) – Rumor out of Stillwater is that Mason Rudolph may have a legit foot injury.  If true and JW Walsh gets a lot of snaps tomorrow, the outside receivers in the OSU offense will be irrelevant.
Suggested
Juju Smith-Schuster (4x) – The super-Soph has struggled a bit the last two games.  The struggles likely have more to do with Cody Kessler than Smith-Schuster though.
Simmie Cobbs (3x) – He had a big week last week but I'd have a hard time placing any trust in him.  Only three touchdown catches on the year.
DeAngelo Yancey (3x) – Same thing as Cobbs above.  Big game last week but no trust to run this guy out there. Although, one could say he found rapport with Appleby and it could continue tomorrow.
Big play stack options are Prescott-Ross and Mayfield-Shepard.  I'd favor the first option over the Sooners one, mainly due to the weather.  There were two more stack options and both came from the Purdue-Indiana game. However, as I said, I would not put a lot of trust in either of those.  Good luck and let's get that cash!
Follow me on twitter at @mbutlerOK.
https://dailyoverlay.com/wp-content/uploads/2015/09/cfbConsensusSmall.jpg
250
400
Matt Butler
https://www.dailyoverlay.com/wp-content/uploads/2018/07/logo.png
Matt Butler
2015-11-28 00:03:05
2015-11-28 00:03:05
CFB - Week Thirteen (SATURDAY) - Industry Expert Consensus