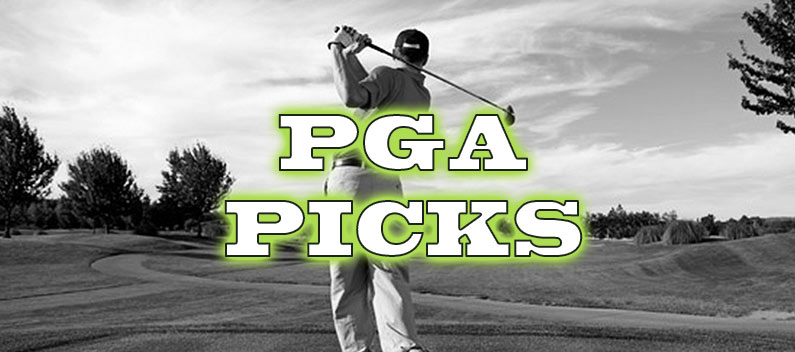 Up next is the Farmers Insurance Open.  It's a tournament that has been played under varying names since 1952, and it's been hosted by Torrey Pines in La Jolla, CA since 1968.  So if you like course history, this is going to be a great week.
You might have thought we were done with multi-course events after last week's CareerBuilder Challenge; not so fast.  Only two courses this time, but definitely something you need to consider.  On Thursday and Friday, the field will play one round each on the North and South Courses.  Those who make the cut will finish up with two rounds on the Torrey Pines South.  It's a standard Friday cut; no shenanigans like last week.
The North Course is a shorter (and easier) track.  It's 7,052-yard par 72, and it played an average of 1.8 strokes UNDER par in 2015.  Remember, only one round on this one.
The South Course is a beast.  It's a 7,698-yard Par 72 and played an average of 1.5 strokes OVER par in 2015; making it the 6th toughest course on tour last season.  With three of four rounds taking place on the South, you're probably going to want to focus on longer hitters.  At nearly 7,700 yards, the shorter guys have almost no margin for error.
2015 Farmers Insurance Open
1. Jason Day -9 (won in four-way playoff)
T-2. Scott Stallings -9
T-2. Harris English -9
T-2. J.B. Holmes -9
T-5. Charles Howell III -8
T-5. Alex Prugh -8
T-7. Martin Laird -7
T-7. Shane Lowry -7
T-7. Nick Watney -7
T-7. Jimmy Walker -7
There's a lot of course history to sift through with a lot of these guys having played this event 6+ times (and a handful at 10+).  The players who have found success at Torrey Pines have tended to be long hitters with good ball striking numbers.  This is the profile I put together:
Stroke Differential
Strokes Gained: Tee-to-Green
Strokes Gained: Putting (less important)
Driving Distance
GIR
Ball Striking
Birdie or Better %
Scrambling
Par 5 Scoring
Birdie or Better from 200+ Yards
PICKS!  PICKS!  PICKS!  PICKS!  PICKS!  PICKS!  PICKS!  PICKS!  PICKS!  PICKS!
Jason Day $12,000 (6-1)
It's always something with Day.  The Moose (@TheMoosenomics) referred to him as "Jason Dayquil" last night, and it was so perfect that I felt like I needed to mention it here.  If you don't mind a little NSFW banter, be sure to follow him on Twitter for some good PGA DFS info.  Back to our favorite infirmary patient…
Last night, I thought I was done for the week.  I got an early start on my lineups, and they all looked great.  I had the right percentages, didn't have any real weak spots, my plays were nicely mixed and matched, etc.  But I was all-in on Day.  I viewed him as the clear "spend-up" choice, and it just worked given the other golfers I wanted to use.  Then it came out that Day is sick.  The other members of his family have been battling a viral infection for a couple of weeks, and Jason has recently fallen victim.  He pulled out of the Pro Am on Tuesday, but he remains confident he will be ready for Thursday.  Ugh…
We've seen this before with star players pulling out of pro ams only to be perfectly fine come Thursday (Day even won the Barclays after pulling out of the pro am).  I'm not too concerned about Day, but I am enough to bump him down a little bit.  Whereas I was previously using him in 80% of my lineups, I'm now down to about 33%.
Pros
Defending champion
Top-10 last year in SGT2G, SGP, distance, GIR, scrambling, birdie %, and par 5 scoring (only 25th in ball striking)
Closed out the TOC with a fantastic 65 (-8) on Sunday
Class of the field
Cons:
Most likely to actually die on the course
Dustin Johnson $11,100 (15-1)
At first glance, his course history might not be all that impressive.  He's averaged just under 60 FP per start in 7 tries at Torrey Pines.  I'm going to point out that his most recent (and worst) finish at this event was his first tournament back after a long suspension.  We can probably ignore that one.  His three previous starts here resulted in 108, 69.5, and 60 FP.  That 108 was a T-3 in 2011 where he finished behind Bubba and Phil (more proof this is a bomber's course).  I think he has the tools to succeed here, and he'll probably go a little overlooked with most players gravitating towards either Day (spend-up) or Snedeker (course horse + save some $$$).
Pros
Length
Birdie rate
Dominates par 5s
Top-10 in both GIR and ball striking so far this year
Cons
Could be a little rusty
Unimpressive track record at Torrey Pines, would have expected more previous success
Justin Rose $10,900 (20-1)
There's something in my subconscious that's really pushing me to play Rose this week, and I'm going with it.  He's played here 7 times before and never once has he eclipsed 72 FP.  SOUNDS GREAT!  WHERE DO I SIGN?!
Those results notwithstanding, I'm going to lay out why he should succeed here.  Let's take a look at his 2014-15 stats:
Stroke Differential: 6th
Strokes Gained: Tee-to-Green: 6th
Driving Distance 14th
GIR: 9th
Ball Striking: 4th
Proximity: 21st
Birdie or Better %: 4th
Par 5 Scoring: 4th
Birdie or Better from 200+ Yards: 10th
And it's not like he's playing scrub events/courses.  He's elite in (almost) every area you'd want this week.  The only knocks on his game would be he's a poor putter (#100) and scrambler (#94).  The putting isn't that big of a concern, as it hasn't traditionally been a prerequisite for success here (J.B. Holmes was in the playoff last year), but the scrambling is a little more troubling.  With three rounds on a 7,700-yard course, there are going to be a fair share of missed greens.  Maybe that's his problem?  In any event, I'm willing to risk it.  I'm betting that his combination of length and ball striking wins out.
Pros
Might be the best tee-to-green player in the field
Phenomenal profile
Low-owned with elite talent
Cons
History of failure at Torrey Pines
First tournament in nearly two months
Harris English $8,500 (65-1)
We move from a couple of great golfers with okay course history to an okay golfer with great course history.  For golfers with at least three career starts at this tournament, English comes in with the second highest average DK point total at 72.83 (trailing only Brandt Snedeker).  His best finish was a T-2 last season where he lost in a four-man playoff to eventual winner Jason Day.  Harry actually raced out to a two-stroke lead after two rounds, posting an impressive -10 (68-66), before closing out the weekend at +1 (73-72).
Pros
Strong course history (3/3 cuts made + T-2 last year)
Solid ball striker
Decent length
Good putter/scrambler
Very good on par 5s and from 200+
Cons
"Meh" form (T-56 at Sony)
He's Harris English
Jamie Lovemark $8,300 (60-1)
Lovemark is sure to be one of the most popular plays this week.  He's finished T-9, T-7, and T-6 in his last three, and if that wasn't enough… his game is tailor made for this tournament (long, birdie-maker), and he attended TORREY PINES HIGH SCHOOL (LOCATED LESS THAN SIX MILES FROM THE COURSE)!  Um, yeah… I would like to use him in my lineups, please.
You might ask, if all of that is true, then why hasn't he fared well in five tries here?  I'll attempt to explain/rationalize/whatever…  Lovemark played this tournament for the first time in 2008.  He was 19 and posted 66.5 FP (T-39).  Next year he finished T-60.  He missed the cut in 2011 and 2012, but he was dealing with back problems that eventually led to surgery.  In 2014, he returned and posted 68 FP (T-28).  I think he's trending towards a breakout week at Torrey Pines, and $8,300 is actually pretty cheap for what you're getting.
Pros
Attended high school less than six miles from the course
Big time bomber and birdie-maker
Relatively strong course history given his circumstances (3/5 cuts made)
He's on that NBA Jam level fire
Cons
Will be one of the highest-owned plays of the week
Weakish GIR and ball striking numbers
Though it can be explained away, has never finished better than T-28 in five tries (not going to cut it at $8,300)
Daniel Berger $8,200 (55-1)
Berger train, CHOO CHOO!  Some of you are already on board, and the rest probably just left.  I know, it's terrifying.  It's okay, we'll power through.
He played Sony two weeks ago, and it was a nice little "ho-hum" tuneup (all four rounds under 70).  Last year, he finished T-24 at Farmers (76 FP), and I think his game should produce results here.  As a bonus, he's a nice pivot off of Lovemark.  My pivot last week was Lingmerth off Molinari, just sayin'…
Pros
Long (currently #4 in the field in distance for 2015-16)
Great ball-striker and birdie-maker
Excels on par 5s (#8 in par 5 birdie or better % last season)
T-24 last year despite third round 77
Under-priced given class
Cons
Brendan Steele $7,800 (85-1)
He's been a bit of a roller coaster of late (T-17, CUT, T-3, CUT, T-34), but he's got a game made for this course.  I'm starting to sound like a broken record at this point, but he checks all the boxes: length, SGT2G, ball striking, birdies, etc.  Like Monta Ellis, he have it all.  He's 4/5 in cuts made at this tournament while topping out at 83.5 FP (a number you'd gladly take, this will be a low-scoring week).
Pros
Good price and relatively safe (4/5 in cuts made)
Tools to succeed: length, GIR, birdie %
Native Californian (resides within three hours of the course)
Cons
Might not have the top-end upside others in his price range have (only 1 PGA Tour win)
Patrick Rodgers $7,600 (70-1)
I think Patrick Rodgers is my favorite play this week.  He's like Jamie Lovemark at nearly $1k less and half the ownership (at least I think he'll be lower-owned).  Though he's from Indiana, Rodgers played his college golf at Standford.  I know, I'm stretching it here as Stanford and Torrey Pines aren't all that close, but it's better than nothing!
Granted, the wraparound season features diluted fields and relatively easy courses, but Rodgers has been fantastic so far in 2015-16.
Stroke Differential: 7th
Strokes Gained: Tee-to-Green: 3rd
GIR: 3rd
Ball Striking: 3rd
Birdie or Better %: 19th
Par 5 Scoring: 3rd
Birdie or Better % from 200+ Yards: 3rd
As you can see, he does everything I'm looking for.  He's been averaging roughly 297 off the tee this year, but he finished at 307 last season (9th on tour).  I don't think he magically lost 10 yards, so I expect that number to bounce back up.
Pros
Length
Ball striking
Birdie %
Price
Cons
First-timer
Hasn't played in over two months
Consistency
Si Woo Kim $7,600 (70-1)
I'm actually a tiny bit worried about him this week, but I'm just going to play him until the wheels fall off.  At this point, you know who he is.  He continued his streak of pristine play with a T-9 at the CareerBuilder Challenge; making it four straight top-20 finishes for the 20-year old from South Korea.  So far this year, he's murdering par 5s (4.42 strokes per with birdie or better 58.11% of the time) and gaining an impressive 1.34 strokes v. the field per round.  He should probably be a little more expensive.
Pros
Four straight top-20s and two straight top-10s
Only $7,600
Solid all-around game
Cons
Only decent length (295 avg.)
Putter ran hot last week, but not sure that trend continues
Relatively low birdie %
First-timer
Tony Finau $7,500 (75-1)
At this point, you have to think some people will be jumping ship.  That's a mistake, though.  Look for Tony to get right in La Jolla.  You have to think his length will prove useful this week.  Also, Torrey Pines features poa annua greens, and since 2013-14, Finau has the 7th most strokes gained on that particular type of turf (courtesy of @futureoffantasy).  He might not be in the best of form, but you know he has the talent.  At $7,500, he's certainly worth the risk.  Here's to a nice bounce back performance!
Pros
One of the longest hitters on tour
Excellent on poa annua greens
Solid showing in his first Farmers start last year (T-24)
Cons
Shaky form (T-64 and CUT in two 2015-16 starts)
Recently switched from Callaway to Nike clubs
Keegan Bradley $7,300 (110-1)
Dufner last week, Keegan this week?  Bradley grades out very well here, and it really shouldn't be all that surprising.  He's an elite ball striker, crushes par 5s, and finished #10 on tour last season in driving distance.  I'm sold.  But if you need a little more…  I just mentioned Finau was #7 on tour in strokes gained on poa annua courses; do you know who #8 is?  It's Keegan Bradley.
Pros
Strong statistical profile (distance, ball striking, birdie-making, etc.)
Poa annua specialist
Three finishes with 71.5 FP or more in five tries at Torrey Pines
Excellent price
Cons
Coming off MC at Sony
Might be preferable options in his price range
Smylie Kaufman $7,300 (110-1)
Kaufman looks so good it almost feels like a trap.  He's 7/7 in 2015-16 cuts made with a WIN and four top-15 finishes.  He's averaging 91.8 FP per over that stretch if you're into rostering golfers who score lots of DK points.
So his form is golf's equivalent of a volcano eruption, how does this course set up for Smylie's game?  In a word?  Excellent.  He's got the requisite distance off the tee (300 avg.), and he's elite in most key statistical areas (stroke differential, ball striking, birdie %, and scoring from distance) .  Like I said, at only $7,300, it seems too good to be true.
Pros
Cons
…except it's his first time playing this tournament.  That's all I could come up with.
Harold Varner III $7,000 (150-1)
I think he might be @ZachWoodsGolf's favorite DFS golfer.  Is that not enough?  Okay…  How about top-30 in distance, ball striking, birdie %, and par 5 scoring?  That enough?  T-5 and T-13 in two of his last four events?  Oh, and he's only $7,000.
Pros
Solid statistical profile
Price
Swag
Cons
Rookie & first-timer at Farmers
FLIERS!  FLIERS!  FLIERS!  FLIERS!  FLIERS!  FLIERS!  FLIERS!  FLIERS!  FLIERS!  FLIERS!

Here are some sub-$7k plays you can use if you're looking for some salary relief.
Morgan Hoffmann $6,900 (130-1)
Hudson Swafford $6,800 (170-1)
Cameron Percy $6,500 (N/A)
Ollie Schniederjans $6,500 (300-1)
Ryan Ruffels $6,500 (500-1)
Good luck this week!  Here's to hoping I can take down the Winter Golf Classic; you guys can have all the other GPPs.
oreo
https://dailyoverlay.com/wp-content/uploads/2015/07/pga-picks1.jpg
352
795
Stephen Moriarty
https://www.dailyoverlay.com/wp-content/uploads/2018/07/logo.png
Stephen Moriarty
2016-01-27 21:41:11
2016-01-27 21:41:11
Double Stuffed PGA Picks: Farmers Insurance Open