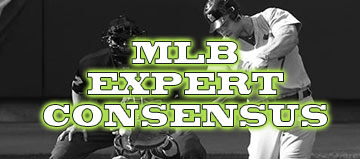 The industry experts have posted their selections for tonight's 11-game MLB slate and there are a few obvious teams to stack hitters from tonight with the Cardinals, Yankees and Rangers as the only teams to have at least three hitters make the list. On the pitching side, there is a nice mix of high-priced aces and value options to choose from.
If you are a fan of this Industry Expert Consensus article then you will love our newest feature only available to Email Subscribers, called the "Weighted Consensus". In the Weighted Consensus, we provide a more in-depth version of the MLB Consensus that take into account each expert's current DailyOverlay scored to generate weighted rankings. If you have ever wondered how to differentiate between two players that were selected by the same number of experts then this is the tool you need. We also list all players selected by at least two experts. Sign up now for a small fee and get emails for this feature as well as the rest of our free content.
Scroll to the bottom of the article for the "Top Stacks" section that lists out the teams with the most hitters being recommended by the experts today. Also, be sure to check each team's lineup when it is released and watch the weather before finalizing your lineups tonight.
SP
Max Scherzer (10x)
Jaime Garcia (8x)
Noah Syndergaard (7x)
Kenta Maeda (6x)
Yu Darvish (5x)
Taijuan Walker (3x)
Jameson Taillon (3x)
C
Brian McCann (8x)
Yadier Molina (3x)
Salvador Perez (3x)
1B
Matt Adams (9x)
Chris Davis (6x)
Alex Rodriguez (1B/3B) (5x)
Prince Fielder (4x)
Brandon Moss (1B/OF) (3x)
2B
Jurickson Profar (10x)
Rougned Odor (5x)
Brian Dozier (3x)
Derek Dietrich (2B/3B) (3x)
SS
Eduardo Nunez (SS/3B) (8x)
Aledmys Diaz (5x)
Jhonny Peralta (4x)
Didi Gregorius (3x)
3B
Matt Carpenter (9x)
Justin Turner (7x)
OF
Bryce Harper (9x)
Carlos Beltran (8x)
Nomar Mazara (5x)
Matt Holliday (4x)
Kike Hernandez (4x)
Chris Young (4x)
Giancarlo Stanton (3x)
Hyun Soo Kim (3x)
Brett Gardner (3x)
Jacoby Ellsbury (3x)
Top Stacks of the Night
Cardinals (7) – Adams, Carpenter, Diaz, Holliday, Peralta, Molina, Moss
Yankees (6) – McCann, Beltran, Rodriguez, Gardner, Ellsbury, Gregorius
Rangers (4) – Profar, Odor, Mazara, Fielder
Hope you find the right combination to cash! Want to see sample lineups we build using the Consensus list then check back at DailyOverlay about an hour before first pitch for our Lineup Construction series.
https://dailyoverlay.com/wp-content/uploads/2016/04/mlb-expert-consensus.jpg
159
360
Brad Richter
https://www.dailyoverlay.com/wp-content/uploads/2018/07/logo.png
Brad Richter
2016-06-08 19:33:43
2016-06-08 19:33:43
MLB – Industry Expert Consensus – June 8th