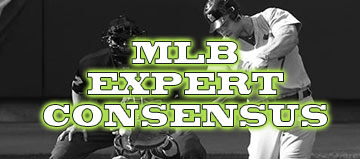 A 14-game slate tonight but I'd be shocked if all 14 actually played. There are some major weather concerns on the east coast so make sure to check prior to locking and loading this evening. The experts were all over the board today with only four stack options and only one(!!) option at catcher. Some big money arms on the bump tonight but none in too favorable matchups. Should be an interesting night. Good luck!
The Weighted Consensus for the MLB is where we publish an in-depth version of rankings every day that considers each expert's current DailyOverlay score to generate a Weighted Consensus ranking.  To calculate the Weighted Rank Score, each expert's DailyOverlay score for hitters and pitchers is weighted on a sliding scale from 1 to 5 with the top expert in the current standings being weighted with a five while the last place expert is weighted with a one. This method gives the higher rated experts picks more weight when compiling the overall player rankings for the day. We will include all players that generate a Rank Score of at least 8.0.
The MLB Weighted Consensus article will be part of the premium content every day except Wednesday and the weekend this season. Sign up now for a FREE 7-day trial so you don't miss any of the content here at DailyOverlay.
Scroll to the bottom of the article for the "Top Stacks" section that lists out the teams with the most hitters being recommended by the experts today. Also, be sure to check each team's lineup when it is released and watch the weather before finalizing your lineups.
Let's play ball!
SP
| | | | | | | |
| --- | --- | --- | --- | --- | --- | --- |
| Name | Pos | Team | Price | Cash % | GPP % | Rank Score |
| Noah Syndergaard | SP | NYM | 10800 | 68% | 48% | 38.03 |
| Yu Darvish | SP | CHC | 7800 | 30% | 26% | 20.21 |
| Zack Greinke | SP | ARI | 11800 | 30% | 26% | 15.84 |
| Gerrit Cole | SP | HOU | 13900 | 23% | 22% | 15.27 |
| Nick Pivetta | SP | PHI | 7200 | 13% | 14% | 12.09 |
| Josh Tomlin | SP | CLE | 4400 | 17% | 18% | 10.33 |
| Mike Leake | SP | SEA | 5800 | 5% | 7% | 8.02 |
C
| | | | | | | |
| --- | --- | --- | --- | --- | --- | --- |
| Name | Pos | Team | Price | Cash % | GPP % | Rank Score |
| Yan Gomes | C | CLE | 3600 | 16% | 14% | 10.79 |
1B
| | | | | | | |
| --- | --- | --- | --- | --- | --- | --- |
| Name | Pos | Team | Price | Cash % | GPP % | Rank Score |
| Carlos Santana | 1B | PHI | 4400 | 31% | 22% | 24.18 |
| Wilmer Flores | 1B/3B | NYM | 3000 | 19% | 14% | 16.22 |
| Joey Gallo | 1B/OF | TEX | 4000 | 14% | 11% | 15.64 |
| Edwin Encarnacion | 1B | CLE | 4500 | 9% | 9% | 13.66 |
| Anthony Rizzo | 1B | CHC | 4900 | 9% | 9% | 9.42 |
2B
| | | | | | | |
| --- | --- | --- | --- | --- | --- | --- |
| Name | Pos | Team | Price | Cash % | GPP % | Rank Score |
| Whit Merrifield | 2B | KC | 4300 | 15% | 13% | 12.67 |
| Rougned Odor | 2B | TEX | 2900 | 11% | 10% | 12.09 |
| Cesar Hernandez | 2B | PHI | 3900 | 8% | 8% | 11.27 |
| Adam Frazier | 2B/OF | PIT | 2800 | 11% | 10% | 10.70 |
| Asdrubal Cabrera | 2B | NYM | 3900 | 11% | 10% | 10.49 |
| Ozzie Albies | 2B | ATL | 5100 | 8% | 8% | 10.41 |
| Matt Carpenter | 2B/3B | STL | 3500 | 8% | 8% | 9.73 |
SS
| | | | | | | |
| --- | --- | --- | --- | --- | --- | --- |
| Name | Pos | Team | Price | Cash % | GPP % | Rank Score |
| Francisco Lindor | SS | CLE | 5200 | 22% | 18% | 22.05 |
| Marcus Semien | SS | OAK | 3900 | 8% | 9% | 10.41 |
| Manny Machado | SS | BAL | 5200 | 11% | 11% | 9.48 |
| Chris Taylor | OF/SS | LAD | 4000 | 10% | 10% | 9.43 |
| Jean Segura | SS | SEA | 3900 | 11% | 11% | 9.07 |
3B
| | | | | | | |
| --- | --- | --- | --- | --- | --- | --- |
| Name | Pos | Team | Price | Cash % | GPP % | Rank Score |
| Wilmer Flores | 1B/3B | NYM | 3000 | 19% | 14% | 16.22 |
| Justin Turner | 3B | LAD | 3700 | 18% | 16% | 15.87 |
| Jose Ramirez | 3B | CLE | 5100 | 12% | 12% | 14.69 |
| Matt Carpenter | 2B/3B | STL | 3500 | 8% | 8% | 9.73 |
OF
| | | | | | | |
| --- | --- | --- | --- | --- | --- | --- |
| Name | Pos | Team | Price | Cash % | GPP % | Rank Score |
| Rhys Hoskins | OF | PHI | 4400 | 23% | 19% | 18.39 |
| Mookie Betts | OF | BOS | 5900 | 23% | 19% | 17.79 |
| Shin-soo Choo | OF | TEX | 3400 | 23% | 19% | 16.64 |
| Joey Gallo | 1B/OF | TEX | 4000 | 14% | 11% | 15.64 |
| Nelson Cruz | OF | SEA | 4200 | 19% | 15% | 15.19 |
| Odubel Herrera | OF | PHI | 4400 | 19% | 15% | 15.10 |
| Brandon Guyer | OF | CLE | 2800 | 14% | 13% | 13.39 |
| David Peralta | OF | ARI | 3900 | 19% | 15% | 11.07 |
| Adam Frazier | 2B/OF | PIT | 2800 | 11% | 10% | 10.70 |
| J.D. Martinez | OF | BOS | 5100 | 14% | 13% | 9.78 |
| Chris Taylor | OF/SS | LAD | 4000 | 10% | 10% | 9.43 |
| Andrew Benintendi | OF | BOS | 4400 | 10% | 10% | 9.22 |
| Giancarlo Stanton | OF | NYY | 5000 | 14% | 13% | 8.59 |
| Jorge Soler | OF | KC | 4200 | 10% | 10% | 8.19 |
Top Stacks of the Night
Indians (5) – Gomes, Encarnacion, Lindor, Ramirez, Guyer
Phillies (4) – Santana, Hernandez, Hoskins, Herrera
Rangers (3) – Gallo, Odor, Choo
Red Sox (3) – Betts, Martinez, Benintendi
Hope you find the right combination to cash! Follow me on Twitter @mbutlerOK
https://dailyoverlay.com/wp-content/uploads/2016/04/mlb-expert-consensus.jpg
159
360
Matt Butler
https://www.dailyoverlay.com/wp-content/uploads/2018/07/logo.png
Matt Butler
2018-05-15 20:31:33
2018-05-15 20:31:33
MLB - Industry Expert Consensus - May 15th