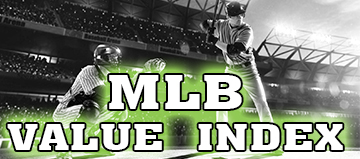 So today is my birthday…
That's all I have to say about that.
But it is also a 5-game evening slate in the majors, and one of those games features Coors Field with the Padres. This will probably be one of the few times you will want to target Padres this season. They and the Rockies all will likely be the chalk on this slate.
Since we only have 5 games, I am not going to provide a full set of picks for the Index. I will have a pitcher and then a few bats that I like for today.
Remember, the Index becomes premium content today through Wednesday and then opens up as a freebie Thursday and Friday. BUT, the good news is that you can start a free 7-day trial to our premium content if you haven't yet. If you have burned the trial and haven't signed up, I will still have a couple of picks free every premium day and then you can make the decision to subscribe if you like what you read, or helps you win some money (I am hoping for both!).
With that said, let's get to the picks. Today you will get the pitcher I like best and a bat for free, to see the rest, that is up to you!
Analysis: In his first start since offseason elbow surgery, deGrom fired 6 scoreless innings with 6 Ks and 2 hits to the Atlanta Braves. Now, deGrom might look like a shoe in, but he is facing a Phillies team that scored 12 runs in the first innings two nights ago and then got to Stephen Strasburg for 3 earned runs on Sunday. I am not expecting for deGrom to get lit up, but if the Phillies are swinging the stick well, there's a decent chance deGrom could give up a couple of runs in a more hitter-friendly ballpark. In 63 ABs against the current Phillies roster, deGrom has given up just one home run and a .190 average. He's tough against both sides of the plate, giving up less than a .300 wOBA to righties and lefties, gives up less than a HR/9 to both sides of the plate, and strikes out both sides at a 9 K/9 rate.
Analysis: Well, I thought we were going to get Trevor Cahill in this spot, but now we get Zach Lee. Blackmon had the BvP numbers against Cahill, but I i don't really care because Zach Lee hasn't shown to be much better. In limited action in the majors in 2015, Lee owned a .643 wOBA and a .563 batting average to lefties. Now, those numbers are obviously not sustainable over a season, but this is Coors and everything gets inflated in this ballpark most days. Blackmon is a stud who is a leffy, leads off and for the past three seasons, hits RHP very well, owning a .303 batting average, a .369 wOBA and a .201 ISO against RH pitching. Needless to say, Blackmon is worth every penny tonight.
https://dailyoverlay.com/wp-content/uploads/2017/04/MLB_Value_Index-360x159-1.jpg
159
360
Stephen Monahan
https://dailyoverlay.com/wp-content/uploads/2018/07/logo.png
Stephen Monahan
2017-04-10 09:00:51
2017-04-10 09:00:51
MLB Value Index - April 10