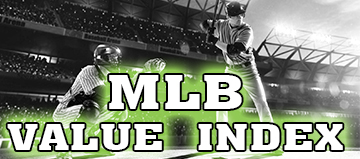 Oh thank god….
Baseball is back. It was only 4 days, but damn was it a long four days.
I played WNBA and CFL in its stead, along with a watered down PGA field, and it still didn't fill the void.
Maybe I have a problem, eh?
Anyhow, who didn't think Judge was going to dominate the home run derby?
He's quickly becoming a top-tier player. Maybe it's because he's a Yankee or it's because he's that damn good.
Nonetheless, we have a full 15-game slate to get back into the fold and kick off the second-part of the season.
Pitching options today are solid, lots of well-known names to choose from with Jacob deGrom, the lone stud standing out to me. But there's a lot of value, and if there's one thing I have had fun playing, it's cheap pitching and paying up for bats.
It's Friday and that means today's content is free. We will get back to the regular routine on Monday.
Analysis: The good thing about all of these well-known pitchers is that we have some great BvP numbers to support our stance on particular plays. This happens to be one of them. Gerrit Cole, I hate to say this, is probably a worthy option tonight. The Cardinals have a lot of RH bats, which Cole can keep in check. But the one guy he cannot and has not in this lineup is Carp, who is 12-for-32, 1 2B, 4 HRs, and 3 walks. In the leadoff spot now, Carpenter has crushed RH pitching. He owns a 45% hard contact rate, a .373 wOBA and a .237 ISO.
Analysis: Court is in session people, all rise! What a great catchphrase, right? Anyway, Judge is Judge and he's the top option high-priced bat for me. He's up against a lefty with regression coming and at Yankee Stadium, where Judge owns a .377 average and has hit 21 of his 30 home runs. Do I need to go over his numbers against lefties? They are insane. He's also got a couple of hits off of Pomeranz, tonight's starter for the Red Sox. Oh, it's also THAT rivalry game. We will see if the Derby HR curse is real.
Analysis: Man I like a lot of 3B today, starting with Donaldson. He was really heating up before the break and his price is still super depressed. Tonight the Blue Jays take on the Tigers and starter Justin Verlander, who has struuuuuuggggled this season. Verlander also is a reverse-splits pitcher and Donaldson can mash RH pitching with the best of them. Verlander has allowed a 39% hard contact rate and a .322 wOBA to opposing bats this season. Against Verlander in his career, he's 6-for-15 with a double and 3 walks.
Analysis: While Carlos Carrasco is in a great spot, I will pay down for deGrom at home, but hey if you have been following me, that shouldn't be a shock. Colorado is in town, but that doesn't worry me either. DeGrom has a great track record against them so far. Outside of CarGo, the Rockies have not hit deGrom well at all. Overall, they are 9-for-75 with 2 HRs, just 4 walks and 17 Ks. The Rockies are only 16th in team wOBA against RH pitching and strike out at a 22% clip.
Analysis: Speaking of BvP, the Mariners make a great case today on whether it can be ruthlessly trusted or if BvP can be with flaws. They take on James Shields today, and I am hoping they are going to fly under the radar. The first of two Mariners on the Index is Seager, who checks in at a nearly free price tag and gets a ballpark boost. Seager is 7-for-17 with 3 HRs and 3 walks against Shields and Shields is the worst pitcher on the slate against lefties this season. Against southpaw bats, Shields has allowed a .430 wOBA, a 3.94 HR/9 rate, a .240 BABIP and a 31% hard contact rate.
Analysis: The All-Star Game MVP gets a gorgeous matchup in his first game since being crowned. As stated above, Shields has been a lefty's best friend. Cano has even better success against Shields than Seager – 37-for-90 with 9 doubles, 2 triples, 5 HRs, 17 RBIs and 7 walks.
Analysis: Sometimes you just have to swallow your pride and do what you know is right. Normally, I HATE rostering Cueto and I HATE playing bats against. But we are getting a deflated price for Cueto tonight against the Padres, the second-to-worst team in the league against RH pitching this season. The Pads have a .302 team wOBA against them and strike out 25.6% of the time. Cueto could easily troll us all because to me, he's way overrated, but he also could go 7 strong with 7 Ks and 2 ER in his only outing against the Padres this season.
Analysis: Posey vs. a lefty. Yea, no surprise I would like this matchup. The Giants taking on Clayton Richard, and while the G-Men have been awful against lefties, Posey has not. He's even got BvP to back it up. Against Richard, he's 11-for-27 with 2 doubles, 2 HRs and 3 walks…and ZERO strikeouts. Posey is under $4K and becomes a lower-owned, late-night hammer at catcher.
https://dailyoverlay.com/wp-content/uploads/2017/04/MLB_Value_Index-360x159-1.jpg
159
360
Stephen Monahan
https://dailyoverlay.com/wp-content/uploads/2018/07/logo.png
Stephen Monahan
2017-07-14 05:17:22
2017-07-14 05:17:22
MLB Value Index - July 14