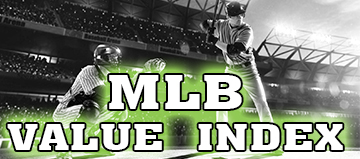 I really hate slates where I feel I can't spend all of my salary.
That was my approach last night. I didn't want Lester and Archer seemed too expensive for a road trip to Yankee Stadium.
I rostered Godley and Flexen mostly and had some hedge stacks of course, but not a lot of shares of Archer.
But because of my process, I found myself spending up for all the bats and it just didn't work out. I don't like to leave salary on the table in baseball no more than $700. Taking players like Judge, Stanton, Pollock over Schwarber is what I found myself doing in order to spend most of the salary left. I had a lot of Rays in most of my lineups, too, and they cost me as well.
There was a lot of value on last night's slate and I hope you were on the right side of those plays.
Flexen was not a smart play. The Padres are hot, the kid was making his first start on the road, and he just didn't have the command coming up from Double-A. I at least thought he could limit the damage and pile up the Ks, but hey, it happens and like I've said what feels like a thousand times, we let it go and move on.
So moving on we shall, to a full 15-game bonanza.
We have a lot of familiar names up at the top of the pricing model that people will gravitate too, including the return of Houston ace Dallas Keuchel. But man are there a lot of gas cans!
As we get to my official picks, let's look at my rankings for today's slate.
Catcher
Gary Sanchez
Salvador Perez
Buster Posey
Martin Maldonado
Brian McCann
First Base
Freddie Freeman
Edwin Encarnacion
Chris Davis
Hanley Ramirez
Wilmer Flores
Second Base
Jose Altuve
Robinson Cano
Chris Taylor
Rougned Odor
Carlos Asuaje
Third Base
Kris Bryant
Adrian Beltre
Manny Machado
Josh Donaldson
Jedd Gyorko
Shortstop
Paul DeJong
Didi Gregorius
Jean Segura
Francisco Lindor
Xander Bogaerts
Outfield (Outside of Trout, Judge, Stanton and Harper, duh!)
Yoenis Cespedes
Mookie Betts
Corey Dickerson
Nomar Mazara
Charlie Blackmon
Pitchers
Alex Wood (safest matchup)
Julio Teheran
Jaime Garcia
Danny Salazar
David Price
Stacks
New York Yankees
Houston Astros (if Springer returns)
Texas Rangers
St. Louis Cardinals
Washington Nationals
Analysis: It was really hard for me to peg down only a few bats I liked as I think this slate is a stack 'em up slate and plug in the value. Dickerson sticks out for a lot of reasons – high upside, playing in Yankee Stadium, on a road team, facing Tanaka who sucks against lefties, and Dickerson has some loaded BvP – 8-for-18 with 2 doubles, 3 HRs, and a walk. Tanaka has sucked against lefties this season, allowing a .340 wOBA and more than 2 home runs per 9 innings.
Analysis: Say it isn't so? Ugh. I hate wanting to be in love with Teheran but I am here today. The Phillies are not any good, we know that and away from Sun Trust Park, Teheran can be trusted, sporting a 6-1 record and a 2.70 ERA. He has given up 23 home runs this season, including 10 on the road, but he's owned a lot of the Phillies' bats in his career – 30-for-124, 0 HR, 5 RBI, 10 BB and 26 Ks. This season, the Phillies are striking out 22.8% of the time.
Analysis: Again we are targeting bad offenses. The A's are dead last in team wOBA against lefties and are near the top in strikeouts against lefties. Garcia is an extreme ground ball pitcher and gets to face in a big ball park that sucks the life out of offenses. He's pitching for his new team and will want to put on a show for his new mates.
Analysis: There is a alot of cream at the top tonight, but it's Mike Trout who I love the most. Facing a lefty in a hitter's paradise, Trout takes on the Blue Jays and starter J.A. Happ. Against Happ, Trout is 4-for-12 with 2 doubles and 5 walks. Trout is on another level this year and has been hot since coming back from an injury.
Analysis: Two days in a row? Why yes! He fair decently yesterday, but now faces a lefty that gives up a lot of hard contact. In fact, I think the Cardinals are very sneaky today against lefty Robbie Ray, who still commands a lot of regression against RH bats this season (2.96 ERA, 4.27 xFIP with 38% hard contact allowed). Against lefties this season, deJong sports a .461 wOBA, a .424 ISO and a 31% hard contact rate.
Analysis: Mother Nature's sauna has hit Texas. I twas well over a 100 degrees at first pitch of the Rangers 22-10 loss to the Marlins on Wednesday night. This is also the game Adrian Beltre got tossed out of the game in the 8th inning for not standing in the batter's circle, which no one ever does. It was a prick move, but Beltre handled it with class. The man is on a quest for 3,000 hits and he is just five hits away. He wants to accomplish this feat in front of the home crowd. The Rangers take on Chris Tillman, who is about as good of a pitcher as Jennifer Tilly. Beltre is 8-for-18 with 2 doubles and a home run against him, too. The stars are aligning for Beltre tonight. There are a lot of 3B options worth playing, so I don't know if I will go all in, but I am definitely going overweight on my ownership tonight.
https://dailyoverlay.com/wp-content/uploads/2017/04/MLB_Value_Index-360x159-1.jpg
159
360
Stephen Monahan
https://www.dailyoverlay.com/wp-content/uploads/2018/07/logo.png
Stephen Monahan
2017-07-28 04:04:00
2017-07-28 04:04:00
MLB Value Index - July 28