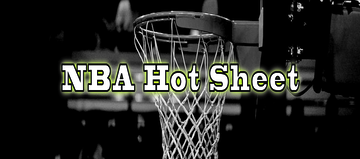 Why is the NBA scheduling a big nine-game Thursday slate on the opening day of March Madness? We could even see some overlay on DFS sites as people either decide to skip the NBA slate or just forget about it with all the March Madness action. Well if you do play, below are my top DFS options on the slate. Also, here are a few other guys that just missed the cut: Damian Lillard, Kris Dunn, Nicolas Batum, LaMarcus Aldridge, Thaddeus Young and Damion Lee.
The grid below is a snapshot of today's slate that shows the overall rating for each position for each team. The numbers highlighted in red are the positions that are in the top 25% of their position for the slate and indicate good plays. Meanwhile, the numbers highlighted in blue are the positions that are in the bottom 25% of their respective position for the slate and are positions to avoid.
Hot Sheet for March 15th
Droppin' Dimes
James Harden (HOU) – If I'm paying up for one of the high-priced studs on Thursday's slate, give my Harden in what should be a high-scoring affair against the Clippers. I've been sucked in by the Chris Paul narrative against his former club each time the two teams have played this year but it has not worked out as Harden has led the way averaging 38.0 points and 7.5 assists in the two previous matchups with the Clippers who have allowed the 3rd most points to opposing SGs this season.
Blake Griffin (DET) / Andre Drummond (DET) – Using both Drummond and Griffin was a successful strategy when Griffin first came over to the Pistons. With both of their salaries surprisingly reasonable (especially on DK) in a pace up spot against the Nuggets tonight could be a good night to "stack" up the Pistons' big men as the Clippers have allowed the 2nd most points to opposing PFs and 6th most points to opposing centers over their last five games.
Kyle Lowry (TOR) – Minutes is often a concern with Lowry as the Raptors like to use their bench and have blown out a lot of teams this season. However, a matchup against the Pacers in Indiana shouldn't be so easy so look for Lowry and the starters to play more minutes than their season averages. In two games against the Pacers this season, Lowry has averaged 37 minutes while putting up 17.5 points, 8.5 rebounds, 8.0 assists and 1.5 steals per game.
Ricky Rubio (UTH) – Rubio put up a dud in his last outing with just four points and nine assists but in his previous three games he was heating up averaging 21.0 points, 8.7 rebounds and 6.3 assists per game. Look for Rubio to get back up to those numbers in a prime matchup against the Suns who have allowed the most points and rebounds to opposing PGs to go along with the 3rd most steals this season.
Taurean Prince (ATL) – Prince has taken over on the offensive end for the Hawks in the last two games with Kent Bazemore going down for the season. In those two games, Prince has averaged a whopping 31.5 points per game while adding 7.0 boards and 5.0 assists. He should continue to get mid-30 minutes going forward against the Hornets who have allowed the 4th most points to opposing SFs over their last five games.
Jusuf Nurkic (POR) – Nurkic posted 23 points, seven rebounds and four assists against the Cavaliers earlier this season back when they had viable, healthy big men available like Kevin Love and Tristian Thompson. Now the Cavaliers may be down to Jeff Green and Ante Zizic to try to slow down Nurkic if Larry Nance Jr. is out. Nurkic should have his way down low against the Cavs interior defense that has allowed the most points and rebounds to opposing centers over their last five games.
Ben McLemore (MEM) – McLemore continues to see 30+ minutes most nights with the Grizzlies severely short-handed in the backcourt. He has reached double-digit points in six straight games while making contributions in rebounds, assists, steals and blocks giving him a solid floor that has allowed him to reach 5x his currently salary in five of his last six games. A matchup with the Bulls in a game where both teams are fighting for extra ping pong balls against a defense that has allowed the 5th most points, 4th most rebounds and most assists to opposing SGs this season is a good formula for McLemore to reach value again.
Jeff Green (CLE) – As I mentioned in the Nurkic writeup the Cavaliers could be minus Nance on Thursday in addition to the other big men that remain out (Love/Thompson). Green should see a significant bump in minutes giving an opportunity to put up good fantasy numbers despite a tough matchup against the Blazers. Green did post a solid line in a previous meeting this season with 10 points, four rebounds, five assists and a pair of steals in 25 minutes of action.
Michael Kidd-Gilchrist (CHA) – My recommendation of Kidd-Gilchrist requires a little bit of a leap of faith. He could see an increase in minutes if Jeremy Lamb is ruled out and MKG has posted solid numbers against a weak Hawks defense this season averaging 14.5 points and 4.0 rebounds in two meetings. The Hawks have allowed the 2nd most points to opposing SGs and SFs over their last five games and MKG has averaged 27.5 minutes in his last two games. If you can afford Nicolas Batum, great, but if you want some cheap value in a similar spot then give Kidd-Gilchrist a look.
Follow me on Twitter @Rotopilot
https://dailyoverlay.com/wp-content/uploads/2017/10/NBA-HotSheet.bmp
159
360
Brad Richter
https://www.dailyoverlay.com/wp-content/uploads/2018/07/logo.png
Brad Richter
2018-03-15 16:13:03
2018-03-15 16:13:03
NBA – Hot Sheet – Thursday (March 15)