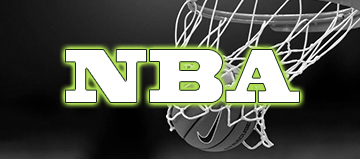 There are plenty of injury situation to evaluate and keep an eye on leading up to tipoff of Monday's eight-game NBA slate. So, monitor the newswire and come back here to see who benefits in the What If Matrix.
Programming Note: I will be on vacation (Vegas, baby!) starting on Wednesday this week, so I will only be writing my NBA What If Matrix and NBA Hot Sheet articles today and tomorrow (Tuesday). These will also be my last NBA articles of the season as we plan to wrap up all of our NBA coverage at the end of this week so that we can turn our attention to the upcoming MLB season next week.
This article will attempt to list all of the relevant injury situations to monitor for the day's NBA slate and provide guidance on which players will benefit with either an increase in minutes or usage or both if that player is ruled out. I will also place an asterisk (*) by players that I think are worth DFS consideration if that player is ruled out. Players that have been out for at least five consecutive games I will not list as general playing time and usage patterns should be established.
This will NOT be an interactive article that is continually updated throughout the day as I hope to capture all of the potential relevant injury situations that could impact DFS lineups for the night and pre-determine what players benefit. Ideally, you monitor late-breaking news leading up to tipoff, find out a player is ruled out and come check the matrix below to see who the players are you should consider for your DFS lineups based on that news.
NBA What If – Monday, March 19
Team
Player
Status
If OUT
Bucks
Tyler Zeller
Questionable
Thon Maker (minutes)
Bulls
Kris Dunn
Out
Cameron Payne (minutes)*
Jerian Grant (minutes)
Denzel Valentine (usage)*
Antonio Blakeney (usage)
Bulls
Zach LaVine
Out
Justin Holiday (minutes)
Antonio Blakeney (minutes)
Denzel Valentine (minutes)*
Bulls
Lauri Markkanen
Out
Bobby Portis (minutes/usage)*
Noah Vonleh (minutes)
Cristiano Felicio  (minutes)
Denzel Valentine (usage)*
Bulls
Noah Vonleh
Questionable
Cavaliers
Cedi Osman
Out
Jeff Green (minutes)*
Cavaliers
Rodney Hood
Out
Jordan Clarkson (minutes)
JR Smith (minutes)
Kyle Korver (minutes)
Cavaliers
Larry Nance Jr.
Out
Jeff Green (minutes)*
Ante Zizic (minutes)
George Hill (usage)
Cavaliers
Kyle Korver
Questionable
Jordan Clarkson (minutes)
JR Smith (minutes)
George Hill (usage)*
Cavaliers
Kevin Love
Questionable
Jeff Green (minutes/usage)*
Ante Zizic (minutes)
LeBron James (usage)*
Grizzlies
Andrew Harrison
Questionable
Mario Chalmers (minutes)
Wayne Selden (minutes/usage)
Grizzlies
Marc Gasol
Questionable
Deyonta Davis (minutes)*
Jarell Martin (minutes/usage)*
Tyreke Evans (usage)*
JaMychal Green (usage)*
Heat
Dwyane Wade
Out
Tyler Johnson (minutes)
Wayne Ellington (minutes)*
Heat
Hassan Whiteside
Out
Kelly Olynyk (minutes)*
Bam Adebayo (minutes)*
James Johnson (minutes)*
Josh Richardson (usage)
Goran Dragic (usage)*
Hornets
Cody Zeller
Out
Frank Kaminsky (minutes)
Willy Hernangomez (minutes)
Hornets
Nicolas Batum
Out
Michael Kidd-Gilchrist (minutes)
Jeremy Lamb (minutes/usage)*
Kings
None
Knicks
Courtney Lee
Questionable
Frank Ntilikina (minutes)
Trey Burke (minutes/usage)
Lakers
None
Nets
Dante Cunningham
Out
Rondae Hollis-Jefferson (minutes)*
Jarrett Allen (minutes)*
Jahlil Okafor (usage)
Nets
Allen Crabbe
Probable
Caris LeVert (minutes)*
Joe Harris (minutes)
Nuggets
Garry Harris
Out
Will Barton (minutes/usage)*
Devin Harris (minutes/usage)
Jamal Murray (usage)
Pacers
Domantas Sabonis
Out
Trevor Booker (minutes)
Thaddeus Young (minutes/usage)*
Myles Turner (usage)
Pacers
Myles Turner
Questionable
Al Jefferson (minutes)*
Lance Stephenson (usage)
Pistons
None
Sixers
None
Spurs
None
Warriors
Stephen Curry
Out
Quinn Cook (minutes)
Shaun Livingston (minutes)
Nick Young (usage)
Andre Iguodala (usage)
Draymond Green (usage)*
Warriors
Klay Thompson
Out
Nick Young (minutes/usage)
Quinn Cook (usage)
Draymond Green (usage)*
Warriors
Kevin Durant
Out
Andre Iguodala (minutes/usage)
Nick Young (usasge)
Draymond Green (usage)*
Warriors
Omri Casspi
Out
Jordan Bell (minutes)
Warriors
Quinn Cook
Probable
Shaun Livingston (minutes)
Warriors
Andre Iguodala
Probable
Jordan Bell (minutes)
Nick Young (minutes)
Warriors
Kevon Looney
Probable
Jordan Bell (minutes)
Warriors
Zaza Pachulia
Probable
JaVale McGee (minutes)
Warriors
Patrick McCaw
Probable
Nick Young (minutes)
Quinn Cook (minutes)
https://dailyoverlay.com/wp-content/uploads/2018/07/nba.jpg
159
360
Brad Richter
https://www.dailyoverlay.com/wp-content/uploads/2018/07/logo.png
Brad Richter
2018-03-19 17:59:06
2018-03-19 17:59:06
NBA – What If – Monday (March 19)