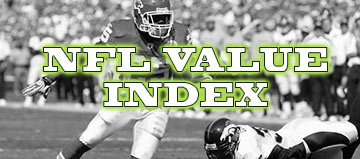 Week 1 is in the books! It's fantastic to know we can just absorb and think about NFL and fantasy football through January. I absolutely love it. No other DFS sport is more fun to try and piece together like a puzzle.
If you missed last week, we've divided what used to be the Value Index into two separate takes for daily fantasy football.
We have the Cash Game Index, which will be graded by our DO staff, and the GPP Index, where we take a look at contrarian and pivot plays from chalkier players.
Writing that second one is going to tough this week, just saying.
A feature of the Cash Game Index is to review my cash game lineup from DraftKings the previous week, then get to our plays for the current one. I will open up some of the plays for the week, but moving forward, you will need a monthly subscription to access the full slate of picks!
Let's review Week 1. Below is my cash game lineup, using only plays in last week's Cash Game Index.
Cash Game Lineup Week 1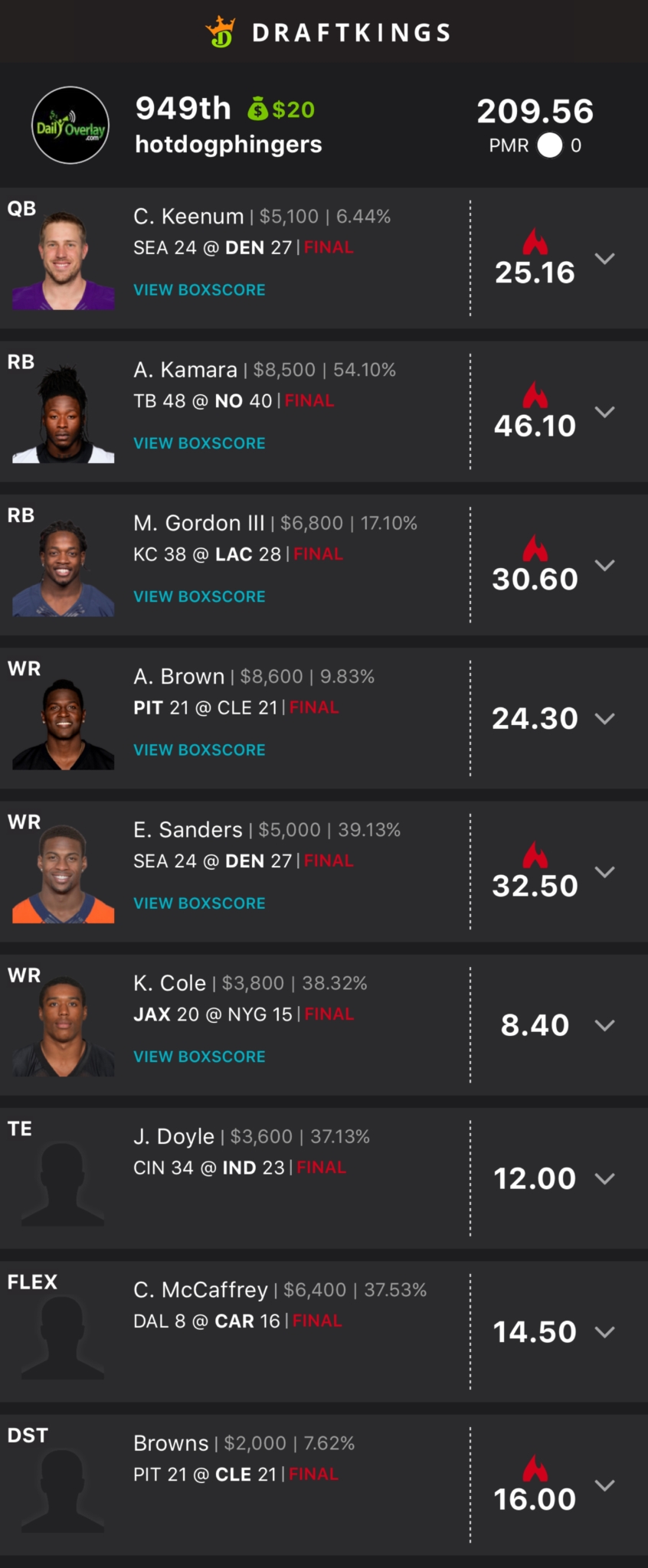 Analysis: My biggest qualm this week was playing James Conner. I didn't and quickly regretted it early on. But when I locked in this lineup, I didn't feel I needed Conner to do well and I was indeed correct. I was back and forth between  DJ/Kamara/Conner with A.J. Green and this lineup. I loved Gordon and CMC for weeks, so I stuck to my guns instead of allowing the Tinker Fairy to get the best of me. I think this is most points I've ever scored in a cash game, that I can recall. But it was a sweat to get here and I finished middle of the pack in those contests.
Week 2 still offers some flexible/soft pricing, but the value might be a little more difficult to come by. We also have to keep in mind about Hurricane Florence. Her current path doesn't seem to affect Florida, but it could in Atlanta. Only when it makes landfall on Friday and check on its status each day will we really know what to expect in that area. The Carolinas and Virginia are going to get hammered, but Carolina will be in Atlanta this week.
Another thing to consider are the Los Angeles Chargers traveling West to East for an 11 a.m. game in Buffalo's home opener. I hate these scenarios because history shows that teams in this travel pattern typically struggle. However, they are playing Buffalo who the Ravens easily manhandled. The Chargers have a much better offense than Baltimore, but it will take some difficulty for me to consider any offensive weapons. Melvin Gordon might be the only guy I want to use based on volume. I expect them to be chalky, but other than LAC's defense, I don't think I can trust them in cash games this week.
So who can I trust for cash this week? Hopefully just enough to get us to the cash line once again!
Now let's take a look into Week 2!
QUARTERBACKS
DeShaun Watson – Houston Texans – $6,300
Analysis: You can spend down at QB this week in all lineups. This might be the cheapest we see Watson all season. Marcus Mariota's availability may determine my exposure to Watson in cash. Either way, he's got rushing upside and one of his weapons is my favorite play of the entire slate. Can you guess who? For what it's worth, Tennessee gave up 2 TDs through the air to Ryan Tannehill.
Patrick Mahomes – Kansas City Chiefs – $6,100
Analysis: After one game, Mahomes (my boy) looks like the real deal, lighting up the Chargers for 256-4. Mahomes has rushing upside and raises his floor if needed, but he doesn't run unless he has to. Love this Chiefs/Steelers game to shoot. There isn't a player Pittsburgh has to shutdown Tyreek Hill.
Jimmy Garoppolo – San Francisco 49ers – $6,000
Analysis: Yea, he had a rough first game against Minnesota. Jimmy G needed to lose a game as a starter. Now the Niners return home and draw the Lions who were absolutely torched by the Jets for 48 points. Jimmy G may not have his favorite weapon in Marquise Goodwin, which might hurt Jimmy G's upside, however Dante Pettis looks pretty good if Goodwin is out. Niners run tons of plays and there are plenty of weapons that can shred the Lions.
Tyrod Taylor – Cleveland Browns – $5,900
Analysis: Bad weather conditions abound, Tyrod and the Browns almost pulled off the upset of the Steelers. The Bucs already pulled off the big upset in New Orleans against the Saints. Now the Browns come to town and get a chance to do it again. Recency bias will draw ownership to Tyrod and all of his weapons against the Saints, who were lit up by Ryan FitzMAGIC in Week 1. I think I am talking myself on Tyrod in cash as I type….
Matt Ryan – Atlanta Falcons – $5,700
Analysis: I hate Matt Ryan. He's so overrated and doesn't look for Julio Jones enough, which is hard to believe considering Julio had double-digit catches and over 100 yards in their opener. This play is me price enforcing a situation where the Panthers dominance over the Cowboys will be skewed. Ryan put up two of his best performances against Carolina last season, scoring more than 20 points in each matchup. Ryan has a full force of weapons, including Devonta Freeman, and adds Calvin Ridley to his arsenal.
https://dailyoverlay.com/wp-content/uploads/2016/09/NFL_Value.jpg
159
360
Stephen Monahan
https://www.dailyoverlay.com/wp-content/uploads/2018/07/logo.png
Stephen Monahan
2018-09-12 05:54:34
2018-09-12 05:54:34
NFL - Cash Game Index - Week 2