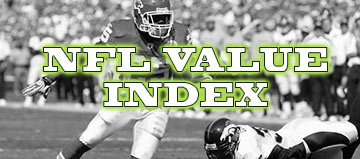 DailyOverlay crushed Week 14, weighted heavily by our very own bossman and his 5th place finish in FantasyDraft's Carolina Million Live Final.

So congrats to Greg, our glorious leader, on his haul.

This writer would've been lining his wallet with hundies if Tom Brady could've had just a smidge of dominance against the Dolphins instead of a complete donkey show. I'll take my large chunk of change, but I when I am so close to winning so much more, it's hard not to focus on what you could've done better during the week.

The easy answer for me would've been to swap Brady for Big Ben, but I thought Brady was in such a smash spot, I was confident Brady would score 25-30 points against a Dolphins squad he torched for 4 TDs a few games ago.

My oversight was probably not factoring Gronk's absence as more of a factor, even though I thought Hogan's return would help fill that void.

Maybe the process was right, the Dolphins just played their Super Bowl.

Either way, I hope the process this week leads to bigger and better things on my end, but especially for you.

As for Week 15, a couple of things to consider and keep an open mind about as the week progresses.

New England and Pittsburgh is clearly the chalk game people want players from.

The Eagles may not be the same offense with Nick Foles at QB.

Tight end sucks.

The Packers' wideouts are priced as if Aaron Rodgers is returning.

Oh, Aaron Rodgers might be returning.

Will we get Angry Brady after back-to-back underwhelming performances?

Will Alvin Kamara be limited in his return from a concussion in a game where the Saints are 16-point favorites?

And there are a ton of injuries to monitor prior to lock.

Before today's picks, let's get to this week's raw points rankings!

Quarterbacks

Tom Brady
Cam Newton
Ben Roethlisberger
Aaron Rodgers (if he plays)
Russell Wilson
Running Backs

Le'Veon Bell
LeSean McCoy
Leonard Fournette
Todd Gurley
Mark Ingram
Wide Receivers

Antonio Brown
Josh Gordon
Devin Funchess
Michael Thomas
Marquise Goodwin
Tight Ends

Rob Gronkowski
Evan Engram
Delanie Walker
Jimmy Graham
Evan Engram
Defense/Special Teams

Jacksonville Jaguars
New Orleans Saints
MInnesota Vikings
Philadelphia Eagles
Washington Redskins
Analysis: An in-game injury derailed what looked like Mike Davis making value against a tough Jags defense last week. He mustered 15 carries for 66 yards and a couple of targets. Even at $3,700, his 7.5 fantasy points wasn't a lineup killer. Despite the injury, he has practiced in full late in the week, a good sign that he is ready to take on a Rams' defense that has been a fantasy point sieve to running backs all season long. The Rams allow 120.4 yards per game and are second overall in fantasy points allowed to RBs. They have allowed more than 100 yards to opposing RBs in 5 of their last 6 games and 4 rushing TDs in that span. Davis has clearly taken the No. 1 RB role and has at times alleviated some pressure from Wilson for having to do it all. The issue for Davis will always be health, but if he can log a full game, I expect 20+ carries and a handful of targets in a potential shootout. There's also a chance for rain, which could favor Davis and the Seattle running game as well.

Analysis:  I am going to ride or die with Cam Newton this week. I want to play Tom Brady and Big Ben in the potential highest-scoring game of the day, but I am going to find my exposure to it elsewhere in my lineups this week. Cam is just far too cheap in a plum matchup that I can't possible overlook. Not to mention, I think Cam's floor and ceiling are raised should Aaron Rodgers suit up and play in this game in Carolina. I've been picking on the Packers for weeks now and it's paid off most of the time (except Mike Effing Evans two weeks ago). DeShone Kizer, a strong-armed, potentially inaccurate running QB, completed 20-of-28 passes for 214 and 3 TDs (also 2 picks), but just 7 yards on the ground, though granted the Browns didn't have to do a whole lot in the second half of that game. Point being, Cam is a former MVP whose usage as greatly increased since the departure of Kelvin Benjamin. He's got an enormous floor due to his rushing ability and goalline carry possibility. He's got his tight end playing almost 100 percent of snaps as well. The Packers have allowed 13 passing TDs in their past 6, including 9 in the past three (all multiple TD pass efforts). Cam is the offense and I think he's a safer play now than earlier in the year, especially with Carolina winning and in the thick of the playoff race.

Analysis: What? You are surprised Josh Gordon is nearly $7K this week? He should be a lot more and was well on his way to a monster game, but the Browns didn't pass much in the second half. They still lost the game, and have that winless chip on their shoulder. The name and helmet decal look menacing for this Browns' offense, but the absence of Jimmy Smith showed how important he is as we saw Antonio Brown dash and gash this secondary on Sunday night. Josh Gordon isn't AB, but he's a close 2nd or 3rd as far as talent and upside potential on this slate. AB racked up double-digit catches and 200 yards against the Ravens last week and despite Corey Coleman hanging around, I think the Browns really want to push passes to Josh Gordon and let him go all out every week for the rest of the year. Gordon's price is still tolerable (and too cheap in my opinion), but he's a great tournament play (and I'd argue cash play) due to people seeing his box score last week and opponent this week.
Analysis: Josh Gordon, Corey Coleman, Antonio Brown, Mike Wallace, Golden Tate and Marvin Jones have all torched this Packers' secondary since Week 9. Green Bay is 5th overall in fantasy points allowed to receivers this season. The good news here is not only the matchup, but that Funchess almost is the lone receiver in this offense. It's a small, concentrated usage and target share on this squad and Funchess is in the forefront. Again, I think this play is enhanced if Aaron Rodgers plays, but is still solid and safe for cash games if A-Rod doesn't suit up. The Packers' secondary is still banged up, but even if they are "healthy," the secondary is the Packers' greatest weakness. Cam and Funch obviously have a great rapport and Cam looks his way in the red zone as he is tied for 1st at 11. He's a possession receiver that isn't going to break off splash plays, but with his role and rapport with Cam, this matchup looks solid for this duo.
Analysis: Welcome to the Week 15 Gio Bernard play from Week 14. We have to pay much more for Drake, but I expect Drake to be one of, if not the most, owned running back of the week. Damian Williams doesn't look to be coming back soon and the Dolphins don't really have much for RB alternatives, so Drake should get another chance to hog all of the RB usage in this Miami offense that somehow outscored New England in victory last night. Let's just hope this isn't a let down spot for Miami on the road at Buffalo, one of the worst run defenses around. In his two games without Williams and Ajayi, Drake has carries of 25 and 23 with target totals of 6 and 5 and 8 catches total. Buffalo is the worst run defense in the league and allow the most fantasy points to the position, including 100-plus yards to Old Man Winter (Frank Gore) last week. Drake has looked good with a lot of burst and eyes for finding open space. If Miami plays even remotely well, Drake should eat and entrench himself as the workhorse back once again.
Analysis: As I mentioned above, tight end absolutely sucks this week. Unless Ertz gets ruled out again, I really see the only comfortable TE plays at the top, including Gronk who is coming off a 1-game suspension. I normally don't like to pay all the way up for any player, but there are always exceptions (Brady last week). This week it's going to be Gronk so that I get exposure to the Steelers/Pats game. I did a little digging in these matchups since 2013. The Steelers are normally great against opposing tight ends, but if you look at their opponents over the course of this season, they really haven't played many teams with even respectable tight ends. They have faced Travis Kelce and Delanie Walker. They held Kelce in check, but I am not worried about that here as the Pats have so many more weapons and spread out the usage whereas in KC, Kelce can be doubled at all times, checked off the line by multiple players and blanketed. If you do that with Gronk then Cooks, Hogan, Amendola or the two RBs can all make life difficult for opposing secondaries. But the icing on the cake for me was looking back at Gronk's game logs against Pittsburgh. He has either had 90+ yards or a TD in each of his 5 games against Pitt. He didn't play in one of the two matchups in 2016, but in the one he did play, he went for 4-94-1. In 2015, Gronk put up a 5-94-3 spot. Back in 2013, Gronk excelled, hauling in 9 passes for 143 and a score. In 2011, that was the only year Gronk didn't score against Pitt, but still put up 94 yards on 7 catches. In his first game against PItt back in 2010 (for what it's worth), Gronk had 5 catches for 72 yards and 3 scores. My point to all of this record keeping review is that Gronk has basically smashed in this spot every time.
https://dailyoverlay.com/wp-content/uploads/2016/09/NFL_Value.jpg
159
360
Stephen Monahan
https://www.dailyoverlay.com/wp-content/uploads/2018/07/logo.png
Stephen Monahan
2017-12-15 06:40:00
2017-12-15 06:40:00
NFL Value Index - Week 15