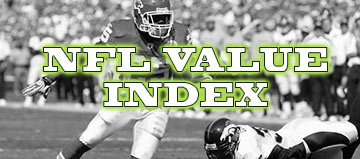 While I cherish the NFL regular season, the next two weeks are some of the best sports on television.
I love the first two weeks of the NFL playoffs. Two games on Saturday, then two games on Sunday.
It's the most wonderful time of the year (until MLB Opening Day).
On the surface, there appears to be some obvious teams that could smash, and Vegas believes it to be true.
The four games this week are (in order of play Sat-Sun):
Tennessee at Kansas City, Atlanta at LA Rams, Buffalo at Jacksonville and Carolina at New Orleans.
And injury news and its results could greatly impact the slate, and open up a ton of value.
The news you should be monitoring closely regarding injuries are that of LeSean McCoy, Devonta Freeman and to an extent, DeMarco Murray.
If Shady can't go, Mike Tolbert and Marcus Murphy become awesome value plays despite facing the Jags.
If Devonta can't go, Tevin Coleman becomes the value play of the slate, hands down.
Unfortunately, we likely won't know what to make of these two running backs before the first game Saturday. We have to prep for Devonta's potential absence and McCoy's. As for Murray, I just can't see him playing two weeks after suffering a third-degree tear of his MCL. Derrick Henry showed why he's clearly the better RB anyway in Week 17.
You will likely have to organize your lineups to be able to swap to adjust to the injury reports this week, so keep that utility spot flexible on DraftKings. As for the no swap sites, I won't be touching them.
This week's Index will focus more on who will be the basis of my lineups rather than identifying any actual value plays. Without further ado, here's the guys I will have the most weight on in the Wild Card round.
Analysis: I guess there's always an argument for fading Gurley in any tournament, but with 4 games and a fade, you will be well behind the pack if he goes off. I am not really sure where to pinpoint Gurley's ownership this week considering his price. If his name were Le'Veon Bell, I would certainly think it would be an automatic plug and play for most people. However, there's not a lot of value at the moment so cuts may need to be made. In cash games, Gurley, a run-heavy, pass-catching back against the Falcons, who are a sieve for pass-catching backs, face off this week in the Rams first playoff game for a lot of the players on their team. I think you have to factor in the experience of the Super Bowl-run experienced Falcons and a bunch of guys new to the stage. However, the Rams have a coach who I think we all need to trust for fantasy purposes and they are going to lean on what got them to this point, and that's the man chomping on the cheeseburger in the .gif above. He's the No. 1 RB on the slate and a guy I will be overweight on.
Analysis: My second favorite running back (and yes over Kamara/Ingram) is Mr. Fournette. He's a 3-down, goalline back who can catch passes out of the backfield. The Jags are the easy favorites in a home game against a Bills squad that back-doored their way into the postseason. The Bills may be without Shady McCoy, too. Now Blake Bortles can always torpedo things in a hurry, but the Jags have decreased Fournette's workload late in the season and weren't afraid to still give him more than 20 touches in a meaningless game last week. Whatever is ailing him, Fournette has played through all season and I see no reason to jump ship against the WORST run defense in the NFL and on this slate. I see a romp and stomp by the Jags.
https://dailyoverlay.com/wp-content/uploads/2016/09/NFL_Value.jpg
159
360
Stephen Monahan
https://www.dailyoverlay.com/wp-content/uploads/2018/07/logo.png
Stephen Monahan
2018-01-04 03:55:00
2018-01-04 03:55:00
NFL Value Index - Wild Card Week